10 Crazy, Curious Facts About Martial Law and People Power Revolution
Fun bits of trivia surrounding the original EDSA Revolution. (We use the word "fun" loosely.)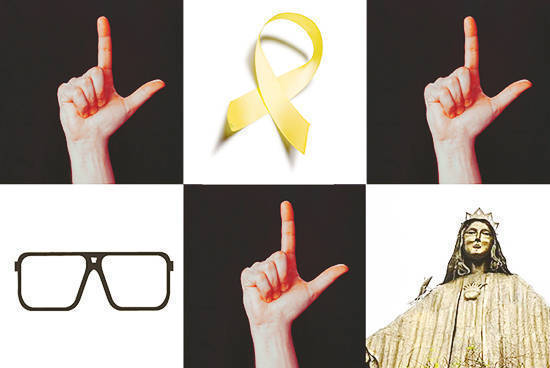 (SPOT.ph) When Ferdinand Marcos placed the entire country under Martial Law, he went to great lengths to celebrate it as the start of "The New Society." As far as descriptions go, it's right on the money. He didn't say better, or even simply good. Just new. Different.
A few loyalists and some pundits argue that the dictatorship wasn't completely bleak. Arts and culture thrived through Imelda Marcos' efforts, but-let's use Taylor Swift album titles so everyone can understand-for the fearless who wanted to speak now (well, then), the achievements were tainted with red.
People disappeared, a great senator was gunned down on the tarmac, and the media couldn't even give opium to the masses. There's a reason why our friendly neighborhood journalists are iffy about the Anti-Cybercrime Law. The freedom to speak our minds in little comment boxes, blogs, and social media accounts is something that throngs of people marched to fight for-armed with faith and flowers. As far as ritualized celebrations go, the anniversary of the People Power Revolution is one that is worth reflecting on.
What happened then is impossible to condense into one article. There are books (plural) that document what happened during the Marcos era, leading up to the "revolution that surprised the world," and if those books make up the main course, consider these fast facts as appetizers.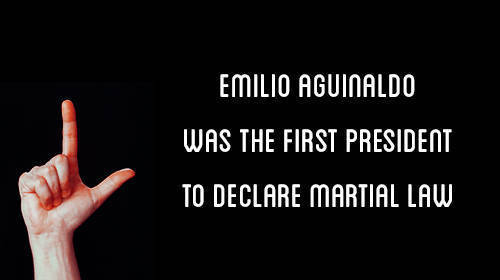 ADVERTISEMENT - CONTINUE READING BELOW
Did you know: Emilio Aguinaldo was the first president to declare Martial Law.
Regardless of how you feel about Aguinaldo, the reason behind his declaration is much easier to swallow than that of Marcos. But his first position was as dictator of a dictatorial government.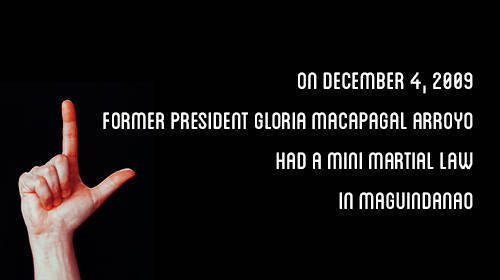 CONTINUE READING BELOW
Recommended Videos
Did you know: On December 4, 2009, former President Gloria Macapagal Arroyo had a Mini Martial Law in Maguindanao.
This declaration was made after government forces were sent to raid the Ampatuan clan's compound to find out if the claims that the political family had army equipment were true.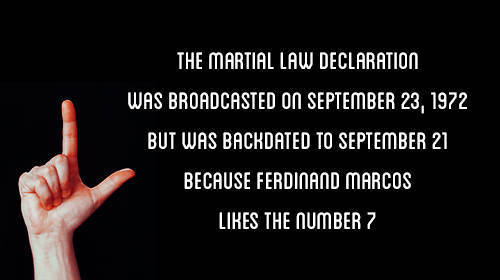 ADVERTISEMENT - CONTINUE READING BELOW
Did you know: We're commemorating the wrong date, Martial Law was declared on September 23.
According to reports, former President Marcos was obsessed with numerology. Proclmation No. 1081 was antedated to September 21, because 21 is divisible by seven. (We can't help but remember a certain senator's speech about the unlucky number 13 for his family.)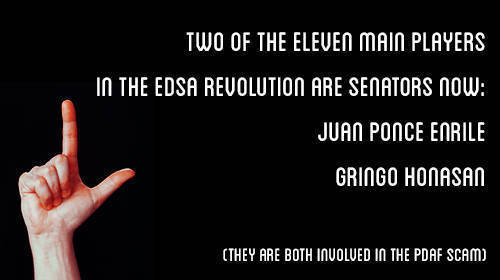 Did you know: Two of the 11 main players in the EDSA People Power Revolution are incumbent senators.
Juan Ponce Enrile is 90 years old. There should be a list of events (and people) he survived (including the ambush...oh no wait, that was fake). The probability is high that even if the PDAF Scam accusations are true, he's not going to live to hear its conclusion.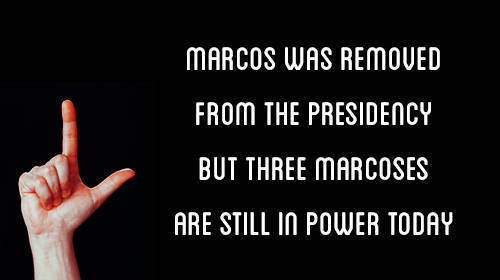 ADVERTISEMENT - CONTINUE READING BELOW
Did you know: We're such a forgiving nation, three Marcoses are still in power today.
We have Senator Bongbong Marcos, Governor Imee Marcos, and Representative Imelda Marcos.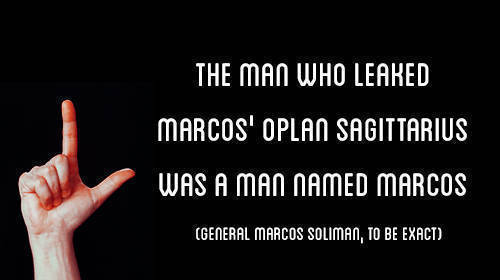 Did you know: The man who leaked Marcos' plan was a man named Marcos.
According to Ferdinand Marcos and the Philippines: The Political Economy of Authoritarianism by Albert F. Celoza, the man who received Oplan Sagittarius was General Marcos Soliman. Soliman was allegedly digusted with the plans, prompting him to talk to Ninoy Aquino. Former President Marcos was smart enough to give different zodiac codes to his "allies," and when Aquino talked about "Sagittarius," Marcos knew who the rat was. Soliman died shortly after the plan was revealed. Some say he had a heart attack, some say it was just an attack.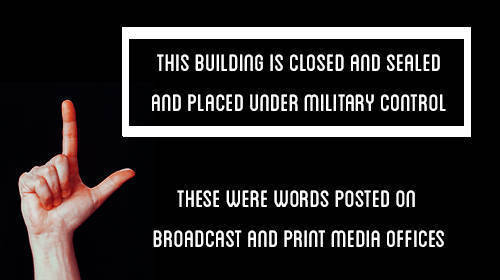 ADVERTISEMENT - CONTINUE READING BELOW
Did you know: The words "THIS BUILDING IS CLOSED AND SEALED AND PLACED UNDER MILITARY CONTROL" were posted on broadcast and print media offices when Martial Law was declared.
Anything you say can and will be held against you. Especially if it's true.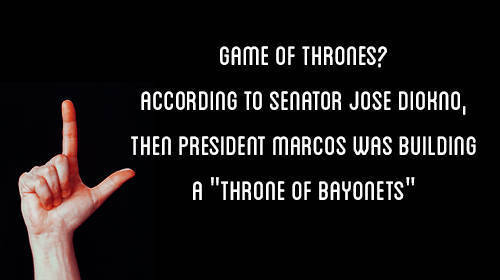 Did you know: Senator Jose Diokno delivered a powerful speech against Marcos with the title, "Throne of Bayonets"
Ninoy Aquino's speeches on the Senate floor were events in themselves, but equally vocal was his ally Senator Jose Diokno. The two of them were Marcos' most formidable foes.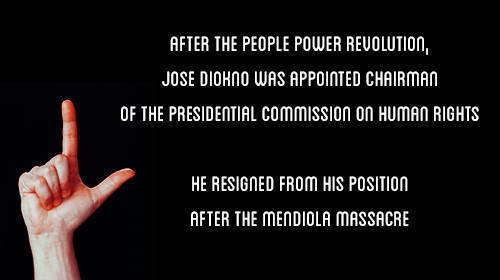 ADVERTISEMENT - CONTINUE READING BELOW
Did you know: Senator Diokno really cares about the people.
Senator Jose Diokno died on February 27, 1987. Before his death, he had expressed severe disappointment when government forces killed 15 farmers who were holding a peaceful rally in Mendiola. Diokno resigned as Chairman of the Presidential Commission on Human Rights, feeling grief at the thought that somethings had not change after when the dictator had left.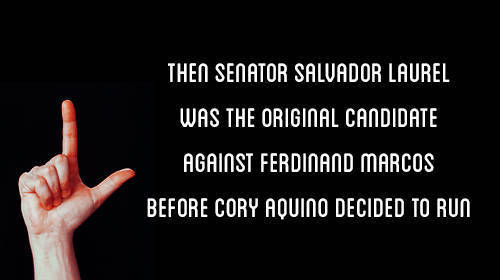 Did you know: Salvador "Doy" Laurel's story feels a little similar to Mar Roxas.
Doy Laurel was an imposing man and was the most ambitious among the opposition to run against the dictator, but when Ninoy Aquino's widow decided that she would stand against the oppressive regime, Laurel conceded his candidacy to her. She eventually became president, thanks to People Power, and he became her vice president. In 1992, he finally had the chance to run but lost to the candidate his president supported, Fidel V. Ramos.
ADVERTISEMENT - CONTINUE READING BELOW
Share this story with your friends!
---
Help us make Spot.ph better!
Take the short survey
Load More Stories