Yuck, kadiri! New York "birthplace" of Cronuts™ shut down due to "severe mice infestation"
It needs to be said again: "Yuck!"
Caught on video! The rodent was caught on camera as it scurried inside a shelf full of baked goodies.
Chef Dominique Ansel may be a pastry genius, but the fact that his bakery got shut down by New York City's Department of Health and Mental Hygiene for what it terms as a "severe mice infestation" is simply disgusting. There's just no other way to describe it. (Yes, the city's health department is really named that way. For proof, just click the link.)
Yoni Bashan of The Wall Street Journal reports: "Customers who arrived at the Dominique Ansel Bakery in SoHo late Friday, April 4, found a 'Closed' sign hanging from its door alongside an official closure notice issued by the city's health department, which said the bakery could only reopen once issues inside had been rectified."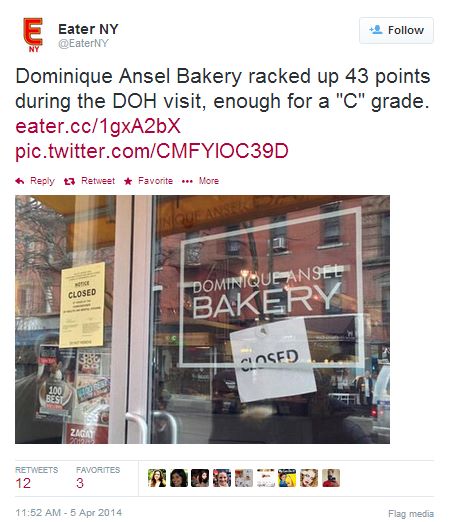 Ansel's bakery was already popular to begin with, but it gained even more fame when he came up with Cronuts, which were deemed so delectable that people would line up for it and even buy it from the so-called "Cronut black market." He also recently launched the Cookie Shot Glasses filled with milk.
Well, we wonder what hardcore Cronut fans think now. Maybe this really means Cronuts are not meant to be forever.
For more on this story, log on to the website of The Wall Street Journal.
ALSO READ:
Load More Stories