If you were just 17 years old, would you hook up with 35-year-old Hollywood star James Franco?
There's a world of difference between cute and creepy...and what he did wasn't cute.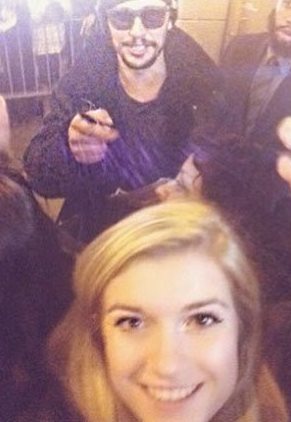 The Instagram photo that started it all. That's 17-year-old Lucy Clode in the foreground and you-now-who signing autographs in the back. (Screenshot from Clode's Instagram page, which has since been deleted, presumably by Clode herself.
Sure, this is not a Freddie Aguilar situation, but if you were just 17 years old, you should probably not entertain the idea of hooking up with a 35-year-old man...even if he is James Franco. That's an 18-year age gap, mind you. If you were 17, that would mean that Franco is theoretically old enough to be your father. (Then again, if you were indeed a starstruck-out-of-your-wits teen, you would not listen to anyone who would say it's a bad idea.)
ADVERTISEMENT - CONTINUE READING BELOW
CONTINUE READING BELOW
Recommended Videos
Franco fans initially speculated that his clumsy Instagram attempt to pick up 17-year-old Scottish lass Lucy Clode was probably a "promo stunt" for his upcoming movie Palo Alto, which, by the way, is based on the novel he wrote. However, Franco recently admitted that he had, indeed, tried to hook up with Clode. BBC reports that in an interview on the U.S. talk show Live With Kelly and Michael, Franco apologized for what he did.
Franco had said, "It's the way that people meet each other today, but what I've learned, I guess because I'm new to it, is you don't know who's on the other end. When you meet in person you get a feel for them, you don't know who you're talking to. Unfortunately in my position, not only do I have to go through the embarrassing rituals of meeting someone, but if I do that, then it gets published for the world so it's doubly embarrassing." (We don't know, though, if this really qualifies as an apology.)
ADVERTISEMENT - CONTINUE READING BELOW
Here's how the sordid mess began.
Franco met Clode when she was New York. She and her mother had been right outside the venue of Franco's Broadway show, Of Mice and Men. According to Clode, Franco then suggested that they keep in touch. He allegedly asked her to tag him in an Instagram photo. (See photo above.) They then started messaging each other. (See below.) The rest is now social media history, as Clode later posted screenshots of her conversation with Franco. (We got these screenshots from The Daily Mail.)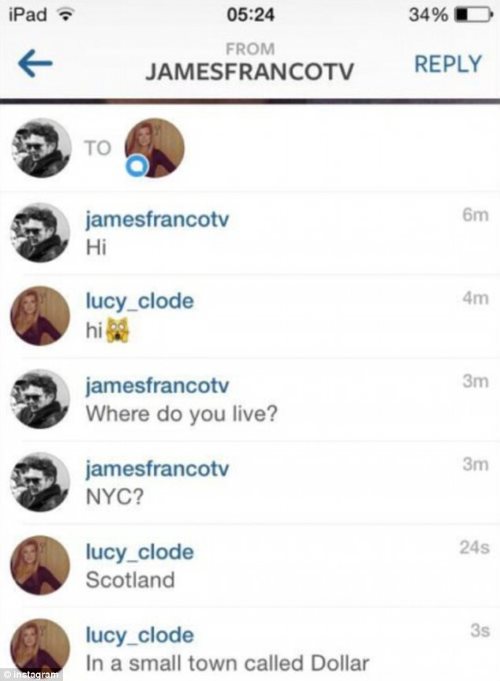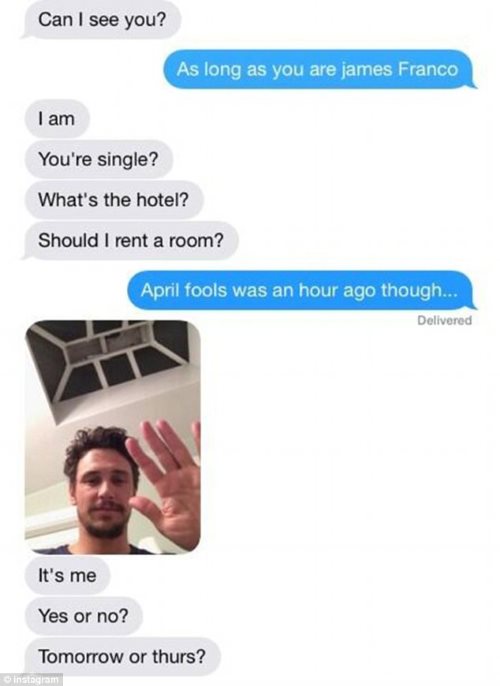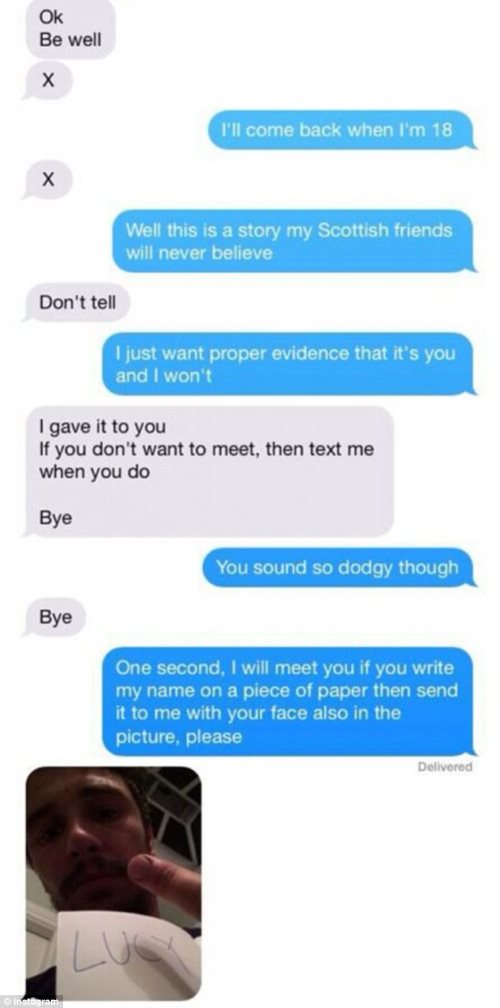 ADVERTISEMENT - CONTINUE READING BELOW
For more on this story, log on to the websites of the BBC and The Daily Mail.
Load More Stories