Coolest Offices in Manila: Team Manila
The design team behind the most popular image of Rizal works in a space that's just as unique and creative.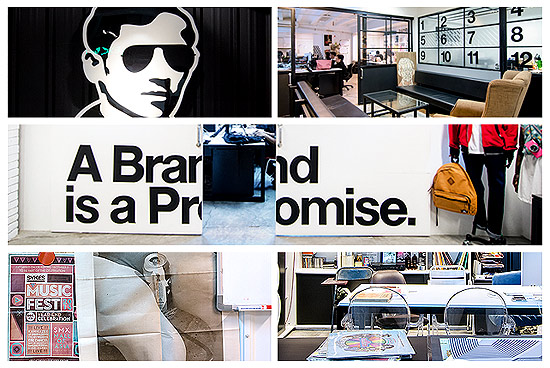 (SPOT.ph) Known for putting Rizal's iconic face on the map of modern Manila, Team Manila has made Filipino pride more popular than it's ever been. What started out as a partnership between Mon Punzalan and Jowee Alviar in 2001 has now evolved into a 35-man team that churns out hip, relevant products through the Team Manila Lifestyle brand, or produces design solutions under the Team Manila Graphic Design Studio. The brand collectively focuses on the quirks, perks, and idiosyncrasies of being Filipino in today's world.
ADVERTISEMENT - CONTINUE READING BELOW
Their contemporary, urban aesthetic, hinging on the simplicity and boldness of the Helvetica typeface is everywhere in their latest office. "We were the first tenant of the space so when we got it, everything was bare," recounts Jowee. They decided to keep the industrial finish, polishing up the floors, creating a ceiling, but working in raw, untouched elements such as faux bricks, powder coated metal, and even roofing materials as cladding for the walls.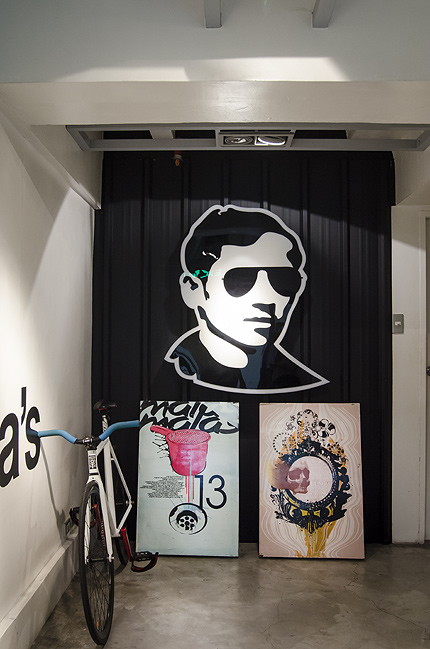 ADVERTISEMENT - CONTINUE READING BELOW
The foyer holds a bold image of Team Manila's iconic Rizal-with the sunglasses on. Artwork from a show about Filipino pamahiins lie below, along with a bike, encapsulating the aesthetic of the design collective through a well-kept, understated vignette.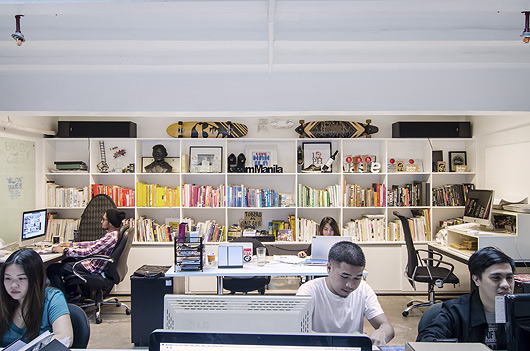 Walking through the office takes one to the nerve center of Team Manila, where a large open space plays host to designers on their computers. What makes the space less cubicle farm and more out of the box is the wall-to-wall shelves that hold a wide array of knickknacks, from shoe design prototypes to random Tubero signs picked up on the road, design books arranged according to color, and a slew of awards the company has won over the years. Music is played to keep the creative buzz going, and graphic posters are tacked up on galvanized metal doors and dividers to keep the inspiration coming.
ADVERTISEMENT - CONTINUE READING BELOW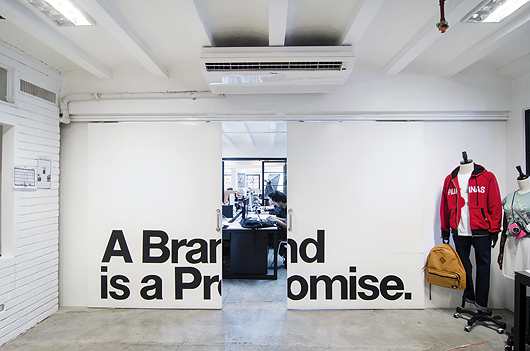 The main space is made separate from the quieter administrative area through a sliding door, mostly left open to keep the space airy. When the creatives get a little noisy, however, they close the doors revealing a hidden TM logo on one side, and a relevant, motivational brand-inspired quote on the other.
ADVERTISEMENT - CONTINUE READING BELOW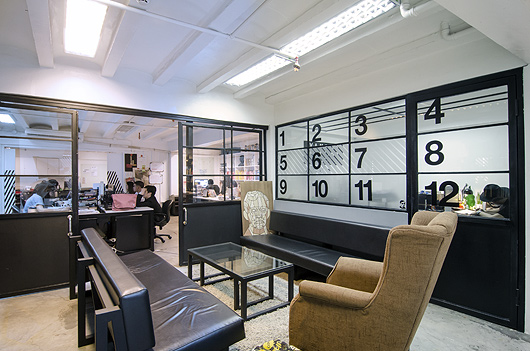 Walking further into the space takes you to a cozier nook with a warmer, wood-based palette. Offices of both Mon and Jowee are situated in the more private area, along with a small studio set-up for in-house shoots they need for the web and other marketing materials, plus a small room for their brand marketing and R&D. What used to be a room devoted to silkscreen was transformed into a more private space, enclosed by a black metal wall with windows lined up with numbers to symbolize the months of the year. "The idea is we get to stick Post-it notes for every month," explains Jowee.
ADVERTISEMENT - CONTINUE READING BELOW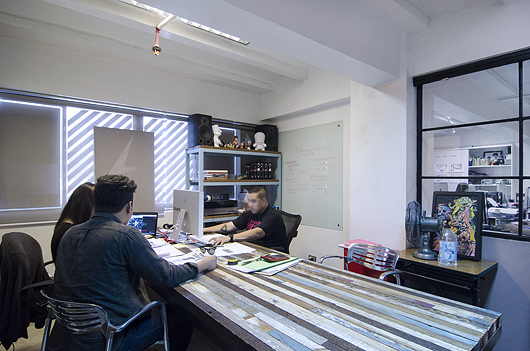 Mon's office is separate from the space through some open shelving which houses everything from books to Apple gadgets to an old Macintosh CPU. The furniture in his space is fashioned out of reclaimed wood sourced from Bulacan, designed by Team Manila under their Kubular line.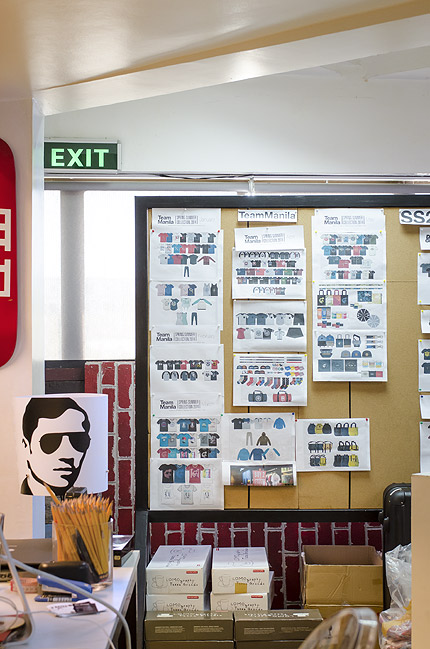 ADVERTISEMENT - CONTINUE READING BELOW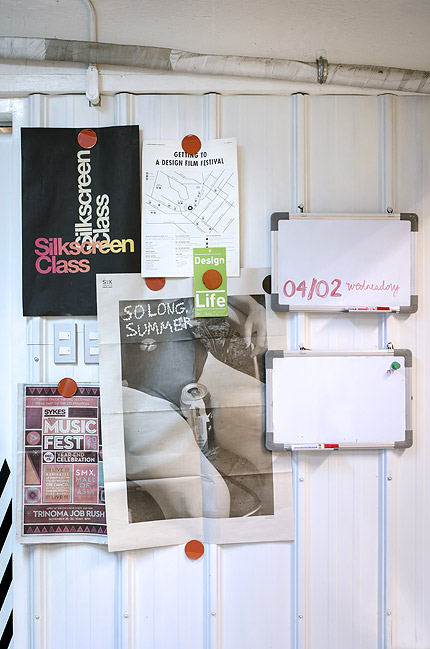 Jowee's open office, at the far end of the space, displays everything from skateboards to a Rizal floor lamp, typographic posters, prints they've done out of silkscreen projects, vintage Filipino vinyl records and old books on anything Filipiniana. Lived in and continually evolving, the office is a living and breathing space that shows the visual strength Team Manila has become known for through the years.
ADVERTISEMENT - CONTINUE READING BELOW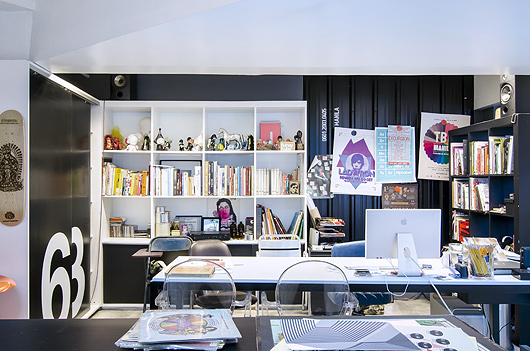 "We started out in a home office in Parañaque, moved to a Makati townhouse, transferred to condos after that, and this office has us on our fifth transfer," Joey remarks. While the iconic shades-wearing Rizal has definitely seen a lot of the metro through the collective's office transfers over the last 13 years, it is clear that the hero makes his indelible mark wherever he goes-making nationalism cool again, thanks to Team Manila.
ADVERTISEMENT - CONTINUE READING BELOW
Also read:
Coolest Offices in Manila: Terry SA
Recommended Videos
Load More Stories