Top 10 Most Iconic Pinoy Comic Strip Characters
From Ikabod to Kikomachine to Larry Alcala's creations: a look at 10 komiks regulars that have become part of Pinoy pop culture.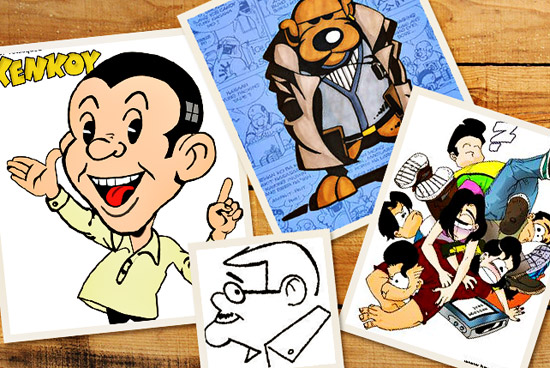 (SPOT.ph) When most comic book readers in the country talk about Philippine comics, they often mean classic superheroes like any of the Mars Ravelo creations, or perhaps modern classics like Trese and Zsazsa Zaturnnah. But in newspapers, there is a similarly rich trove of colorful characters that deserve more recognition.
To choose just 10 of the most iconic is a Herculean task-Larry Alcala alone created easily more than a dozen strips, populated by hundreds of characters (which is why his work appears on this list twice!)-but we've done our best, and we've selected the 10 Philippine komiks characters and strips that have achieved icon status. For the most part we've selected those who have stood the test of time (or we feel have the ability to do so!).

ADVERTISEMENT - CONTINUE READING BELOW
From beerkada.net
10. Beerkada by Lyndon Gregorio (1998-present)
Lyndon Gregorio's comic strips have been around since 1998 in the Philippine Star, but it's in how the cartoonist has been able to build a loyal following around him, through the numerous print compilations and a very active presence online, that has earned Beerkada's characters status as an icon. By following a close-knit barkada from college to adulthood, interweaving pop-culture commentary into stories that follow the joys and angst of becoming an adult, Gregorio's characters-Glen, Jimmy, Alan, and company-serve as a mirror into his audiences' lives. Appearing as well as Spoofs shirts, buttons, San Miguel Beer endorsements, and other merchandise, all that Beerkada 's missing is the inevitable TV gag show and movie.
CONTINUE READING BELOW
Recommended Videos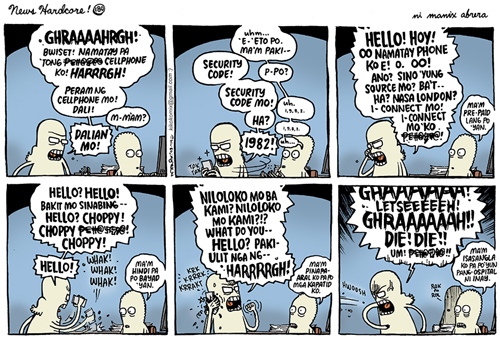 From kikomachinekomix.com
9. Kikomachine/Hardcore by Manix Abrera (2000-present)
Whether his Kikomachine strips on the Philippine Daily Inquirer, or the News Hardcore series in other publications, chances are you'll be able to tell a Manix Abrera strip when you see it. Part of it can be attributed to his idiosyncratic sense of humor, deftly balancing smart observational wit with an infectious appreciation of the absurd. But it's also his distinctive art style as well, particularly when he makes use of those (mostly) nameless gingerbread characters: stripped of clothing and other details, staying just a hair above nursery stick figures, yet somehow just as filled with personality and life as any. It's not hard to see one's self in any of these characters, so elegant in their simplicity that they achieve a kind of universal appeal.
ADVERTISEMENT - CONTINUE READING BELOW

From mb.com.ph
8. Baltic & Co. by Roni Santiago
Roni Santiago is one of the most prolific cartoonists in the country, having created classics such as Planet op di Eyps, Mr & Mrs, Noon at Ngayon, and Kuyug. His Baltic & Co. strips, however, about a hot-headed boss and the colorful cast of employees that surrounds him, stand out as one of his best. The strips nimbly shift from workplace comedy, to slice-of-life looks at domestic life and marriage, to timely sociopolitical commentary, thanks to a strong ensemble. At one point adapted into a TV sitcom in the mid-1970s starring Bert Marcelo and Mely Tagasa (the only actress who can fill in the shoes of Miss Tapia), Baltic & Co. continues to be serialized in the Manila Bulletin.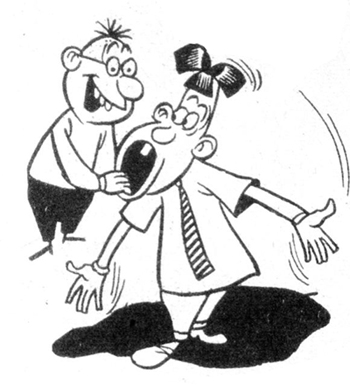 ADVERTISEMENT - CONTINUE READING BELOW
7. Kalabog en Bosyo by Larry Alcala
He will always be the undisputed Dean of Filipino Cartoonists, and the late great Larry Alcala's influence on generations of cartoonists is undeniable. Among his many creations, bungling detectives Kalabog en Bosyo hold the distinction of being the first to make use of Taglish, as well as be adapted into a series of films starring Dolphy and Panchito as the title characters.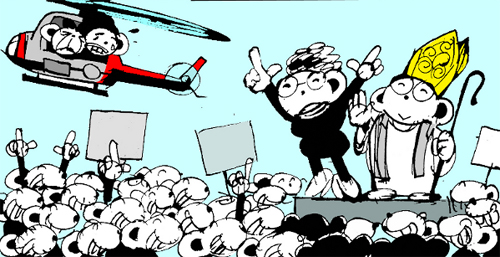 From ikabod.com
6. Ikabod by Nonoy Marcelo (1978-2002)
A product of the political climate of the late 1970s, Nonoy Marcelo's Ikabod often reflected the state of the ordinary Filipino, albeit veiled in the thin veneer of the fictional Dagalandia and its rodent residents. The biting satire continued until 2002, a sad year for the Filipino komiks milieu, as this was the year that two of its giants, Marcelo and Alcala, died.

ADVERTISEMENT - CONTINUE READING BELOW
From mb.com.ph
5. Pupung by Tonton Young (1983-present)
Tonton Young's Pupung debuted in Tempo in 1983 before finding a permanent home in its sister publication, the Manila Bulletin, thereafter attracting a strong following with the cartoon's family-friendly sense of humor and obsession with the Filipino favorite pastime, basketball. Any of the characters in the strip-bald and long-chinned Lolo Dom, the rotund Inday, the vertically-challenged household servant Jordan, and even the kind-hearted Pupung himself-can easily fill this, so distinctive are their designs and personalities.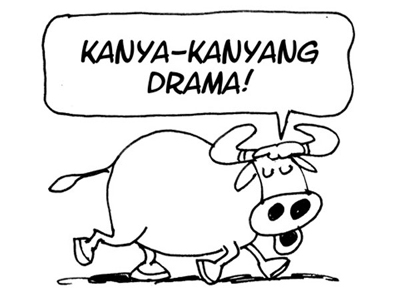 4. Guyito by Jess Abrera
The father of cartoonist Manix Abrera (whose Kikomachine appears in the ninth spot on this list), Jess Abrera is one of the pillars of the Philippine Daily Inquirer 's stable of cartoonists, responsible not just for his own A.Lipin strips, but for regular editorial cartoons as well. Guyito the Carabao is his most enduring creation, so long associated with the newspaper that's published his strip for decades that it's become the official mascot of the paper itself.
ADVERTISEMENT - CONTINUE READING BELOW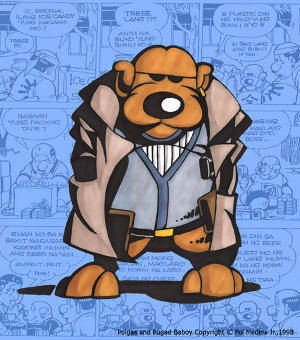 3. Polgas by Pol Medina, Jr.
Like Pupung and Baltic & Co., Pugad Baboy is similarly populated with an entire universe of fully fleshed-out characters that can easily fill a list like this, but it's the character Polgas, Ang Asong Hindi, that leads the pack. From his first appearance, the sardonic wit, astute observations, and secret double lives meant that readers can not only find something they can relate to but perhaps even aspire for. Now if only they'd bring back that TV show.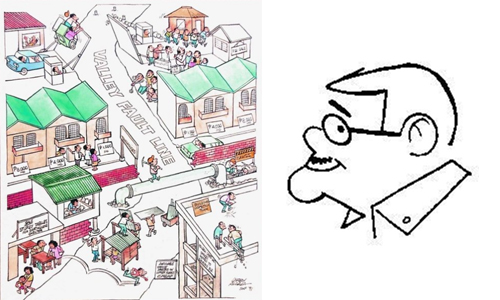 ADVERTISEMENT - CONTINUE READING BELOW
From Facebook.com/OfficialLarryAlcala
2. Larry Alcala the character by Larry Alcala
The only cartoonist on his list to appear as himself, Larry Alcala, with his trademark moustache, spectacles, and side burns, makes like Alfred Hitchcock, and he regularly made cameo appearances in his long-running Slice of Life cartoons, providing an extra incentive for avid fans who try to find where he has hidden himself in the latest cartoon. Whether it's in the Weekend magazine of the defunct Daily Express where they were first published, to print ads, shirts, or even Jollibee murals, Alcala's visage is a signature and a character in itself.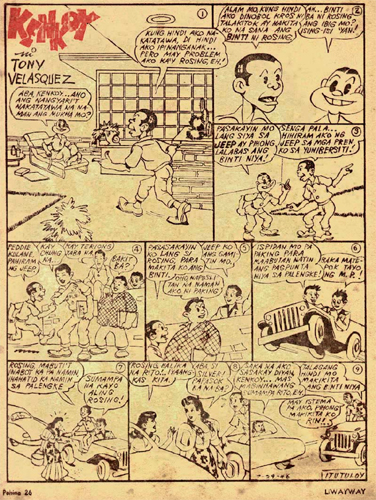 From alanguilan.com
1. Kenkoy by Tony Velasquez (1929-1960s)
It may very well be that there is no Filipino komiks as iconic as Kenkoy, the Father of Tagalog comics and Tony Velasquez' most enduring creation. Its reach extends far beyond influencing the direction of the Philippine komiks industry, spawning multiple film adaptations, musicals, and even fashion items. The title character's name itself has since been genericized to describe jokesters and tricksters, and his idiosyncratic manner of speech paved the way for comedians with intentionally horrible "carabao English."
ADVERTISEMENT - CONTINUE READING BELOW
Elbert Or is the creator of Bakemono High, Homeycomb (with his wife Lorra) and many other comics. He teaches Information Design in Ateneo de Manila University, is co-founder of graphic recording firm Pushpin Visuals and a member of Studio Salimbal.
Share this story with your friends!
---
Help us make Spot.ph better!
Take the short survey
Load More Stories