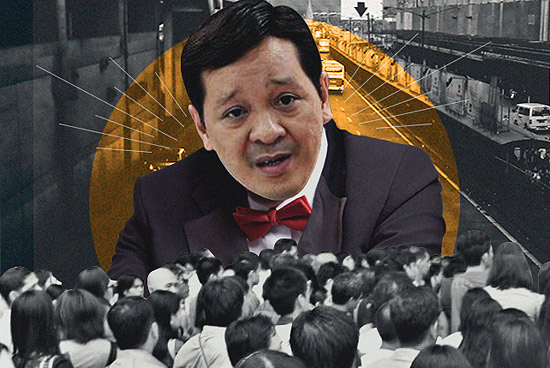 (SPOT.ph) Amid the backdrop of the now-epic Pork Barrel scandal, another controversy has surfaced of late-this one, another case of public service being derailed in this era of "daang matuwid."
At the center of this latest controversy is Al Vitangcol III, the recently relieved general manager of the Metro Rail Transit. Vitangcol has been in the spotlight time and again, as he is once more, because of his familial ties with PH Trams, a firm that appeared to be heavily favored in the bidding process for MRT's maintenance contract to the tune of P517.5 million. The bidding process itself is a complicated story that, to be sure, can't be blamed on the MRT alone. Yet despite the awarding of the contract, the MRT seemed to have undergone little or no maintenance, such that this service has become a potential threat to public safety-a man-made Yolanda waiting to happen. Here are 10 things to know about the MRT mess-a controversy so bad that somebody might have to be thrown in the tracks. Except that we're constrained by the Cybercrime Law to suggest anyone.
ADVERTISEMENT - CONTINUE READING BELOW
1. All in the family
Arturo Soriano is among the incorporators of PH Trams, a service contractor that was organized in August 2012, barely in time for the bidding of MRT's maintenance that year. How a nascent enterprise could qualify in the bidding was a concern that took a backseat to the fact that Soriano is an in-law of Vitangcol, the uncle of his wife. Both Vitangcol and his Uncle Art claim that the latter had divested his stake in PH Trams just before the company secured the maintenance contract.
2. Contract won and extended, extended, extended
In October 2012, two months after its organization, PH Trams won the maintenance contract-a P517.5 million package that exceeded its capital of P625,000. The contract was extended in April the next year, then in June and in August. Each month, the MRT paid PH-Trams P51.75 million, totaling P517.5 million after 10 months. A new contractor, APT Global, took over in August 2013. But "PH Trams appears to be embedded in APT Global," wrote veteran journalist Jarius Bondoc of the Philippine Star-whose recent columns on the MRT on Vitangcol's watch have helped spark his latest controversy. That PH Trams is embedded in APT Global is information that Bondoc attributes to Department of Transportation and Communications Secretary Joseph Emilio Abaya, from a press release dated August 2013.
3. Vitangcol was fired.
Vitangcol had a circuitous way of explaining his hasty departure from the MRT to the House Committee on Good Government and Public Accountability, which is investigating the controversies surrounding him. He said he resigned after learning that DOTC Secretary Abaya had ordered his relief on the heels of the controversy over Vitangcol's uncle, Soriano. News reports have since aptly referred to Vitangcol as a fired official.
4. Vitangcol's credentials
Vitangcol was appointed to the Metro Rail Transit Corp. in January 2012 on the recommendation of Mar Roxas, who described the appointment of Vitangcol and others (during Roxas' tenure as DOTC secretary) as "infusing new blood and recruiting highly qualified executives" to manage the complex responsibility of the DOTC and its agencies. It wasn't Roxas' intention, of course, to choose his metaphors from vampire trope, which unfortunately is fitting for the MRT's enervated train system.
One press release from the government's website further describes Vitangcol as a "multi-faceted lawyer and civil engineer," with an "in-depth knowledge of information systems and experience working with large international and local banks as an information technology specialist." He also has three books to his name on law and information technology.  Economist and former NEDA chief Solita Monsod believes Vitangcol has done a good job managing the MRT, enumerating the reasons for why in her column for the Philippine Daily Inquirer.
ADVERTISEMENT - CONTINUE READING BELOW
5. That extortion allegation
The main subject of the House inquiry is the allegation by the Czech ambassador to the Philippines, Josef Rychtar, against Vitangcol and his party (including PH Trams incorporator Wilson de Vera) that they purportedly attempted to mulct $30 million from Czech firm Inekon in exchange for the approval of its contract to supply 48 new trains for the MRT's expansion. The accused have accordingly denied this allegation. Nevertheless, the NBI has reportedly submitted to Justice Secretary Leila de Lima its report on this matter.
6. Vitangcol was a presidential appointee, but PNoy doesn't know him.
"He looks vaguely familiar but I don't really know him that well." Also: "Out of curiosity, sino sa inner circle ko si Vitangcol?"
These were the President's responses when he was asked about Vitangcol and the controversy in which the latter is currently involved.
7. Vitangcol's relief doesn't get him off the hook.
ADVERTISEMENT - CONTINUE READING BELOW
To be fair to the government, his ouster is not the end of this story. Vitangcol is subject to further investigation, or so assures Abaya and President Aquino himself.
8. What maintenance?
Despite the lucrative contract with PH Trams, the MRT is "a disaster waiting to happen," writes Bondoc. His series on this subject is a must-read for anyone who's anticipating a potential tragedy in which the government is likely to be caught flatfooted, going by experience. "Any time, trains could collide, ignite, or fall off the elevated tracks onto busy EDSA below."
9. Mass transportation as a benchmark of public service
It's in this area, as in other vital aspects of government like peace and order, where the citizenry has a direct pulse on how public service is a bane or boon on their lives-after each exhausting day of contributing to the economy.
10. Public service is a matter of honor.
ADVERTISEMENT - CONTINUE READING BELOW
Resignation is the immediate recourse to any blemish on one's public image. At least, this is the practice in other countries.
Share this story with your friends!
---
Help us make Spot.ph better!
Take the short survey
More Videos You Can Watch
Load More Stories