Highlights: Who were the big winners at Cinemalaya X?
Tension was high but love for film reigned supreme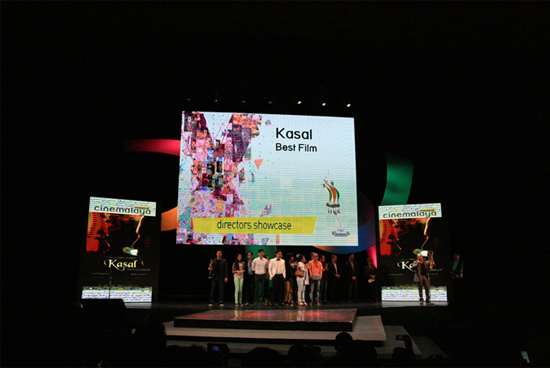 (SPOT.ph) The people manning the stations at Cinemalaya X might have been a little too overwhelmed with the response of the audience (this year sets another record high in attendance) and the surprise "issue" that created a bit of tension during the awards night. There were plenty of gaffes, which decreased the impact of some realities about independent cinema that Cinemalaya Chair Tonyboy Cojuangco raised in a semi-impromptu speech during the Closing and Awards Night on August 10 (Sunday).
ADVERTISEMENT - CONTINUE READING BELOW
Arnold Reyes (one of the lead actors in Director's Showcase Best Film Kasal) attempted to award cast and crew with a "breast" instead of "best"-even seasoned performers are not safe from getting tongue-tied because of nerves!-and most of the presenters had to prompt the prompter to keep prompting. But for all the goofs and "technical difficulties," love for cinema saved the night.
A handful of artists expressed their dismay over the move to upload movies that Cinemalaya still has rights to on YouTube without their consent. However, in an emotional acceptance speech for Best Film in the New Breed category, Francis Xavier Pasion (writer and director for Bwaya) acknowledged the role of the foundation in the proliferation of a new kind of cinema in the local film scene without diminishing the authority of the artists over their work. Respect, he said, is the bottom line. Everyone in attendance-the audience, the press, the filmmakers, and the Cinemalaya board-are united in the cause to uplift this visual art, so with more open dialogue, the future of the festival might not be as uncertain as it seems at the moment.
ADVERTISEMENT - CONTINUE READING BELOW
A hopeful voice in the crowd is the Father of Independent Cinema himself. Kidlat Tahimik received special recognition for his outstanding contribution to independent cinema and in his speech, he expressed his enthusiasm for what is yet to come-especially after seeing the entries this year, embodied by the absurd family-oriented comedy Asan si Lolo Mê? by Sari Estrada, which won Best Short Film Feature. (In case you missed it: It has a goat. A goat as a grandfather substitute.)
It's quite clear that the quality of the films produced continue to improve-both in themes and technique. Here is the complete list of winners that prove this thesis:
Best Film:
Short Feature - Asan si Lolo Mê
Director's Showcase - Kasal
New Breed - Bwaya

Best Director:
Short Feature - Kevin Ang, Lola
Director's Showcase - Michael Tuviera, The Janitor
New Breed - Gian Carlo Abrahan, Dagitab

Special Jury Award:
Short Feature - The Ordinary Things We Do
Director's Showcase - Hari ng Tondo
New Breed - K'na the Dreamweaver
ADVERTISEMENT - CONTINUE READING BELOW

2014 Gawad Balanghai: Kidlat Tahimik, "Father of Philippine Independent Cinema"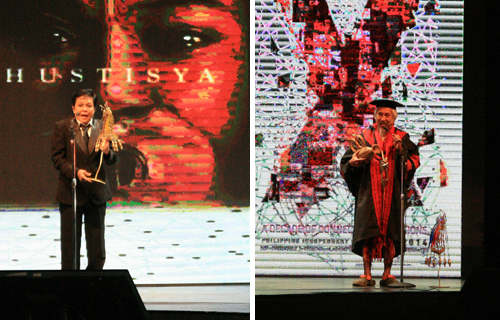 Nora Aunor in a suit and Kidlat Tahimik in Crocs

Best Editing:
Director's Showcase - Tara Illenberger, The Janitor
New Breed - Gerone Centeno, Children's Show

Best Screenplay:
Short Feature - Kevin Ang, Lola
Director's Showcase - Aloy Adlawan and Michael Tuviera, The Janitor
New Breed - Giancarlo Abrahan, Dagitab

Best Actor:
Director's Showcase - Robert Arevalo, Hari ng Tondo
New Breed - Dante Rivero, 1st ko si 3rd

Best Actress:
Director's Showcase - Nora Aunor, Hustisya
New Breed - Eula Valdez, Dagitab

Best Supporting Actress:
Director's Showcase - Cris Villonco, Hari ng Tondo
New Breed - Barbie Forteza, Mariquina

Best Supporting Actor:
Director's Showcase - Nicco Manalo, The Janitor
New Breed - Miggs Cuaderno, Children's Show
ADVERTISEMENT - CONTINUE READING BELOW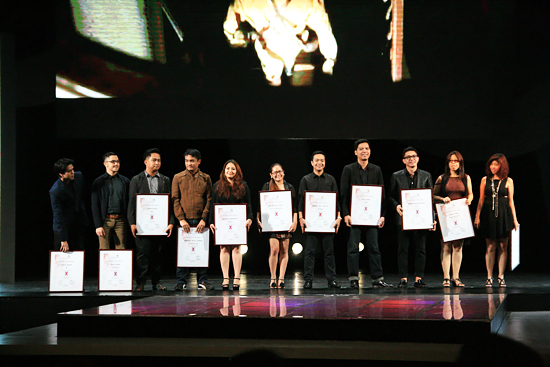 The people behind the entries for the New Breed category


NETPAC Award:
Director's Showcase - Hustisya
New Breed - Bwaya

Special Citation for Ensemble Acting:
New Breed - Elmo Magalona, Coleen Garcia, Sophie Albert, Kit Thompson,#Y

Best Poster Design: Asintado (Justin Besana)
Canon's Best Cinematography: Kasal (Mycko David)

Audience Choice:
Shorts - Lola
Director's Showcase - Hustisya
New Breed - Sundalong Kanin

Best Sound:
Director's Showcase - Mike Idioma, The Janitor
New Breed - Children's Show

Best Musical Score:
Director's Showcase - Richard Gonzales, Kasal
New Breed - Erwin Fajardo, Bwaya

Best Production Design:
Director's Showcase - Harley Alcasid, Kasal
New Breed - Toym Imao, K'na the Dreamweaver

Best Cinematography:
Director's Showcase - Mycko David, Kasal
New Breed - Neil Daza, Bwaya
ADVERTISEMENT - CONTINUE READING BELOW
Recommended Videos
Load More Stories