10 Funny Twitter Parody Accounts to Follow
These accounts hit the mark when it comes to tongue-in-cheek humor.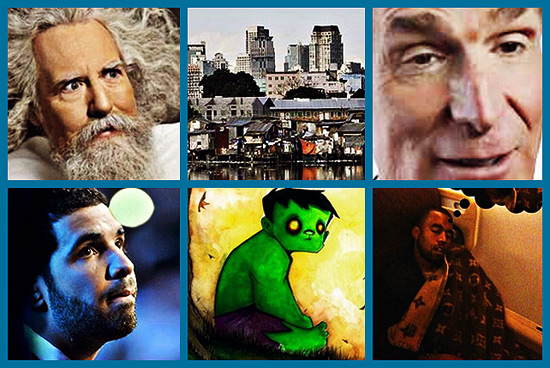 (SPOT.ph) In case you didn't already know, Twitter isn't just about trending topics and seeing your ex-classmate's very angry thoughts during heavy traffic. These days, we could all use a little laughter and amusement in between those somber news headlines.
We know He-Who-Must-Not-Be-Named has his own Twitter account, but have you checked out these 10 other parody accounts? Let us know about your favorite fake Twitter accounts in the comments section.
ALSO READ:
Unreal Deals: 10 Fake Pinoy Celebrity Twitter Accounts
10 Fake Twitter Personalities Worth Following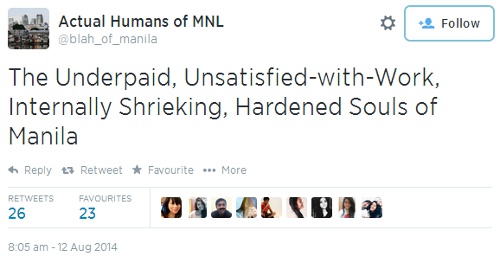 ADVERTISEMENT - CONTINUE READING BELOW
Tweeting since: August 4, 2014
Followers: 384
Everyone loves touching anecdotes from real people-so much that the original Humans of New York has spawned dozens of Facebook, Twitter, and Instagram accounts that imitate and spoof its concept. The Actual Humans of Manila account has only been around for less than a month, but it has already made its way through our feeds with its relatable tweets of what a Manila resident actually is.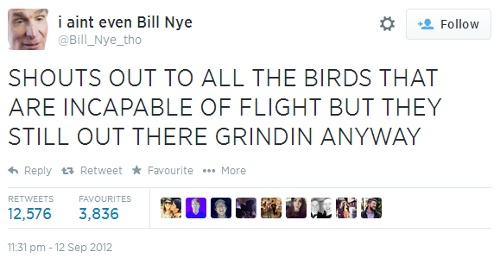 Tweeting since: July 2012
Followers: 143,267
If you've ever wondered how Bill Nye The Science Guy would be if he were high all the time and had no filters, look no further. He is the Internet's answer to the younger and chiller generation of science enthusiasts. It's so popular that other accounts have copied him, but nothing really beats the original.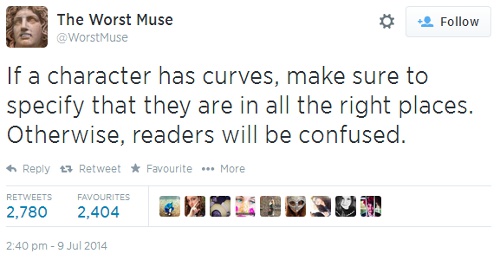 ADVERTISEMENT - CONTINUE READING BELOW
Tweeting since: July 5, 2014
Followers: 61,304
If you're looking for ideas and inspiration for that novel you're writing, don't look at this Twitter page. If you're looking for helpful writing tips, do the opposite of what it says. If you want a good literature-related laugh, you should probably click that "Follow" button.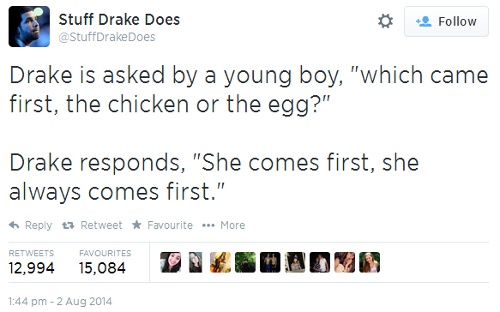 Tweeting since: July 17, 2014
Followers: 93,303
Drake has managed to cultivate an image that's completely contradictory of what one might think a rapper should be. He's soft. He listens to a woman's needs. He's very, very sensitive. It's perfect fodder for parodies, which is why there are several Twitter accounts solely dedicated to what Drake might do. The best one, however, is newbie Stuff Drake Does, who nails the emotion you'd expect from such a soulful artist.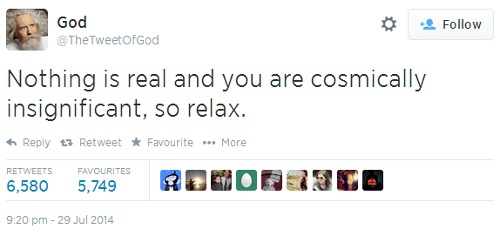 ADVERTISEMENT - CONTINUE READING BELOW
5. God
Tweeting since: October 2010
Followers: 1.51 million
As omniscient as you'd expect God to be, this Twitter account covers just about everything from current events to pop culture. Occasionally you'll find nuggets of wisdom or commentary on...well, Himself. Just a warning: its humor and language isn't for everyone, and some people may find it offensive.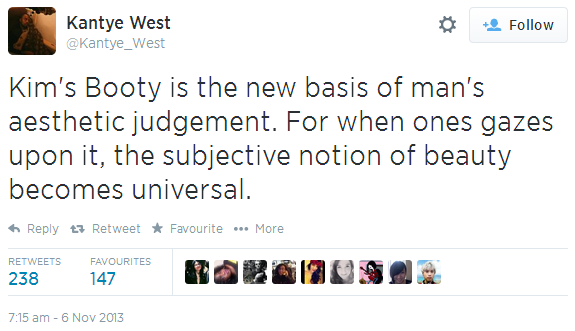 6. Kantye West
Tweeting since: July 2012
Followers: 12,625
No, the name isn't a typo and yes, you definitely read that right. Combine the idealogy of 18th Century German philosopher Immanuel Kant and the modern-day wisdom of Kanye West-it's a match made in parody heaven.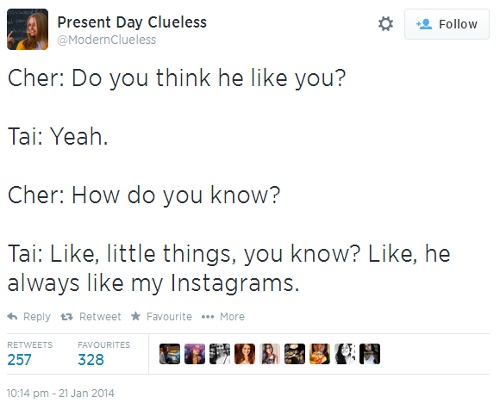 ADVERTISEMENT - CONTINUE READING BELOW
Tweeting since: January 2014
Followers: 27,529
Fans of the movie Clueless will enjoy having these tweets on their feeds. Think of it as though Cher and her friends are living in this day and age. It has all the wit from the '90s movie classic but with recognizable references, including Pinterest, Instagram, and celebrities.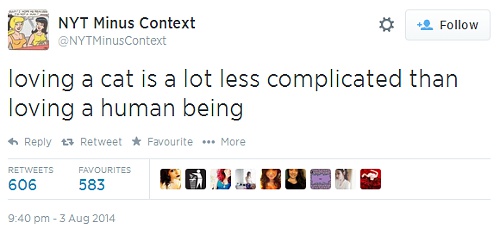 Tweeting since: November 2013
Followers: 37,117
Things out of context are funny, especially when they come from a publishing giant like the New York Times. Amidst all the hard news and groundbreaking pieces are one-liner gems that are actually pretty relatable. Or you just can't imagine it found its way into a Times article. News junkies will also get a kick out of HuffPo Spoilers, which tells you the gist of The Huffington Post's stories so you no longer have to give in to their click-bait articles.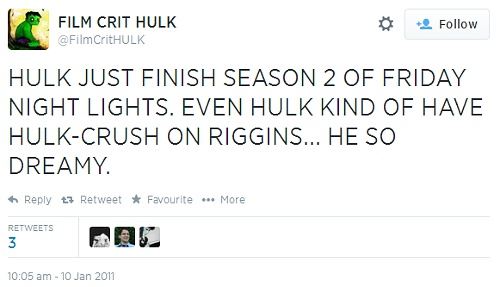 ADVERTISEMENT - CONTINUE READING BELOW
Tweeting since: May 2010
Followers: 42,430
He's big, green, and he reviews movies in a way the Hulk only knows how-referring to himself in the third person and typing in all-caps. He was the brainchild of people over at Badass Digest and his insightful commentary on films, television, and the industry spawned a dedicated but niched fanbase. While his Hulk-speak has somewhat diminished over the years, his views are still worth a read. (The Hulk seems to be a popular choice for parodies, as Drunk Hulk and Feminist Hulk also exist.)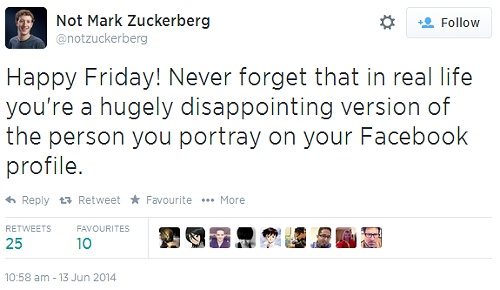 Tweeting since: October 2010
Followers: 13,406
This Twitter account spoofs Facebook creator and CEO Mark Zuckerberg with snarky social media and technology commentary. If, like us, you've spent too much time on his website, then you'll find this pretty hilarious.
ALSO READ:
Unreal Deals: 10 Fake Pinoy Celebrity Twitter Accounts
10 Fake Twitter Personalities Worth Following
ADVERTISEMENT - CONTINUE READING BELOW
Load More Stories