10 Things Only People Who Regularly Ride the MRT Would Know
We're not closing our doors on the MRT...but the MRT is literally not closing its doors.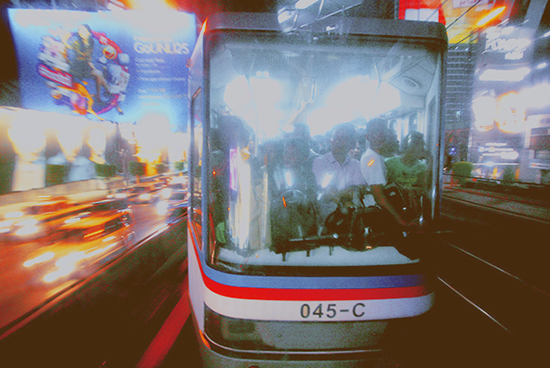 (SPOT.ph) A trip from North Avenue station to Taft costs P15 and a piece of your dignity. They don't tell you about the latter. There are people who have sworn off the MRT because of one bad experience or another (like accidental groping and inevitable crotch-to-butt position when it's really packed) and with the recent mishap in Taft...well, let's just say that it's not just the barrier that broke.
The passengers and the MRT are like a once lovely couple on the brink of possible divorce. The love is there but it's just not working. It literally doesn't work sometimes. But just like in any separation, there's never enough reason to leave (because you're just going to run back into the arms of your ex, the buses-clearly not good for you) and the problem is more complicated than people assume. Whose fault is it really?
The blame game has started and several public officials (DOTC Secretary Jun Abaya, Senator Grace Poe, and Deputy Presidential Spokesman Abigail Valte) have taken the "MRT challenge." They have conflicting reports on the experience. Abaya thinks it's not that bad while Poe sees room for improvement.
Here's what people who ride the MRT daily know:
1. The non-reward at the end of the long line and the announcement of doom.
We're not queuing for ramen or donuts. There's no reward waiting for those who have the virtue of patience. After spending, let's use Senator Poe's metric, 40 minutes inching your way up to the platform, you're pushed into the train by what feels like beasts spawned by the devil himself. You spend the next, maybe, 30 minutes inside a crammed car. When you get out, you're not going to a party. You're going to work and there's no job you love enough that it doesn't stress you out. Oh, and by the way, you're late.
ADVERTISEMENT - CONTINUE READING BELOW
The worst part is when you're on the platform, in line for...let's say 45 minutes, and an unintelligible sound blares from nowhere. Through the cackling and the static, you hear the words, "Stop entry po tayo, may sirang train sa [insert station here]."
2. Post-Announcement of Doom Limbo: "Do I wait for the train to resume operations or take the bus?"
Do what we do. Find a quiet corner where you can cry it out. Once the train stops, you're pretty screwed. You already spent hours in line (going up the platform and on the platform itself) and everyone else you built a connection with complaining about the service is now your enemy-a participant in the battle for the bus seats and cabs. May the odds ever be in your favor. Everyone's on the streets, scrambling to get into a vehicle they once shunned. Things change so, so fast.
3. There is always room for one more.
The positions you contort into are nothing short of astounding. Who knew you could bend that way? If you feel bad about struggling to put your jeans on, just remember that every day, you squeeze into this absurdly small space inside the train. Nobody is too fat. We. Will. Fit.
4. Women are freakishly strong.
A lot of shoving goes on in the women's car. Men tend to not want to push against a woman (bless you, good sirs) but in an all-female crowd, it's fists and elbows galore. There's only one real reason why women who have not experienced groping and the like go straight to the female cars, and that is...
CONTINUE READING BELOW
Recommended Videos
5. The male car smells funny.
There, we said it.
6. The first car is tests your agility and sneaking skills.
Aside from the female car, the first car is now exclusively for pregnant women, parents with children, senior citizens, and PWDs. Of course, "exclusively" is a term that makes no sense to some people. Passengers regularly practice their agility by queuing up for the second car and then making a mad dash to the first car as the doors open. Which is funny, because you can just waltz into that "exclusive" car from the inside. (As a general rule, all of the seats in the train should be for pregnant women, senior citizens, and PWDs. This car segregation is ridiculous.)
7. Somebody is having a heck of a time with scissors and colored paper.
There are signs in several stations, in Quezon Avenue for example, that remind us of grade school. It's an explosion of arts and crafts projects from when we were 10 or younger. On Monday, there were signs pasted on the steps marking "entrance" and "exit" areas. By Tuesday, they were gone. These are the changes we see at the MRT. They put up new signs here and there, sometimes just to welcome people (once again, see welcome banner in Quezon Avenue).
8. That guard will shiver in fear if he could read your evil, evil thoughts.
Maybe they are overworked and underpaid. We understand. That's a reason for and not a negation of the fact that they are sometimes (just sometimes) rude and not helpful. We'll just leave it at that.
ADVERTISEMENT - CONTINUE READING BELOW
9. There are days when it isn't that bad.
Sometimes things are okay, and we like that. We take a moment to appreciate it. However, it doesn't erase all the bad days...or the stuff we have stopped paying attention to.
10. The truth: There are too many people using the trains.
Most people just want to get from point A to B. Never mind the following things: the escalators and elevators don't work, dirt has clung to every possible surface of the stations and the train, and the bathrooms are disgusting. We put up with a lot...because we know that the trains are old and there are too many people using it. It'll break and someone needs to fix it. We actually like the trains and we want to keep availing of the service and little comfort it provides. Our taxes should fund its repairs, right? Right?
MRT photo from Kimberly Dela Cruz
Share this story with your friends!
---
Help us make Spot.ph better!
Take the short survey
Load More Stories