10 Funny Pinoy Political Memes that Infected the Internet
Because viral is a measure of success now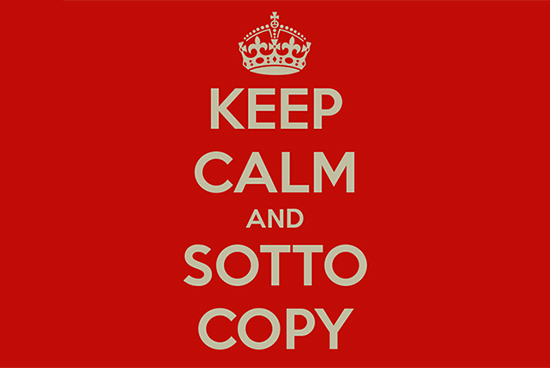 (SPOT.ph) These days, being media-savvy helps. Ask either Senator Miriam Defensor Santiago or any of the Binays. Exposure is key and the old adage that there is no such thing as bad publicity is sadly true. The point is to get people talking because the goal is to be remembered. In the Internet age, viral is tantamount to an orgasm. Maybe even better.
This is the force that drives DOH Assistant Secretary Eric Tayag to dance. We're sure he also wants to actually help people but you don't need to dance to help people. You dance because the tired, aching, exhausted public demands a spectacle. Fireworks, costumes, the whole shebang. You make us look like fools, we make you look like fools. Quid pro quo.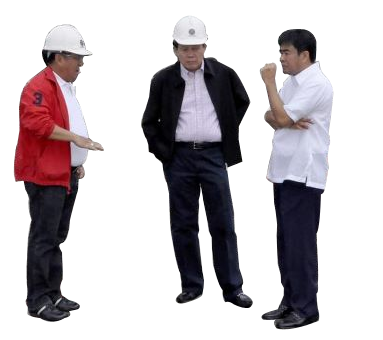 ADVERTISEMENT - CONTINUE READING BELOW
That one time DPWH Photoshopped itself in a situation...and the rest of the Internet followed their lead. The three officials were edited into various scenes, producing hilarious results (and even art). The meme went to Internet heaven quietly and the trio has been replaced by...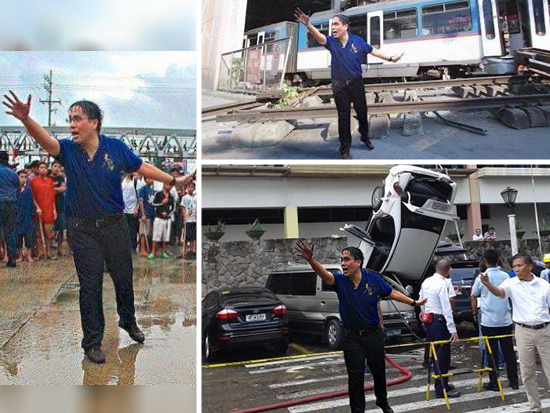 ADVERTISEMENT - CONTINUE READING BELOW
2. The Mar Everywhere Meme
The original photo (left) was allegedly taken during the President's SONA on July 28, when DILG Secretary was seen doing traffic aid duties in the rain and an entire video was uploaded on August 6, 2014 by Richard Paglicawan. However, celebrity activist Carlos Celdran clarified in a Facebook post that the picture and the video are both from 2010. This did nothing to stop loyal Mar-haters from rolling their eyes at his "epal" antics. If you think about it, Secretary Roxas is not the worst person to see, uh, everywhere. That honor belongs to...
Also read: M is for MAR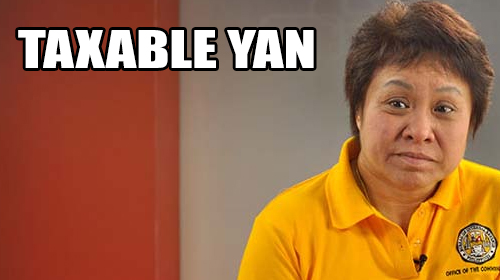 ADVERTISEMENT - CONTINUE READING BELOW
3. Taxing Henares Meme
First spotted during Anne Curtis' epic tirade in a club in the twilight days of 2013, BIR Commissioner Kim Henares' mug now regularly appears whenever large amounts of money is mentioned...because, basically, everything we do is taxed. Tax, tax, tax, and more tax. Damn it.
Also read: 10 Things That are Making Kim Henares Happy This Month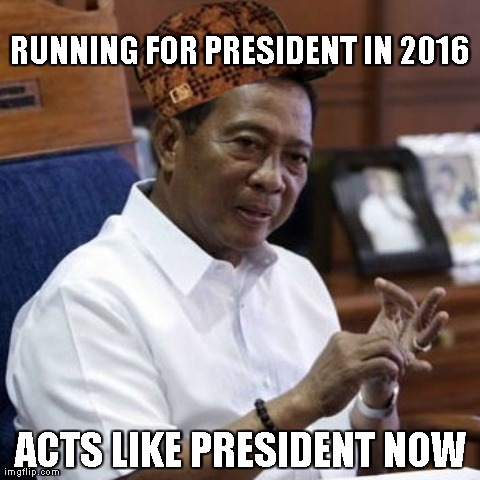 ADVERTISEMENT - CONTINUE READING BELOW
4. [Derogatory remark] Binay Meme
We found this in this political blog. This is actually the least offensive meme about the Binays and we are choosing it for that reason. The ball started rolling during Senator Nancy Binay's campaign in 2010, followed by Mayor Junjun Binay's "Don't you know who I am?" quip late 2013, and, recently, Senator Binay's wardrobe choice for the SONA. Unfortunately, the Binays are still winning in life.
Also read: Binay Problems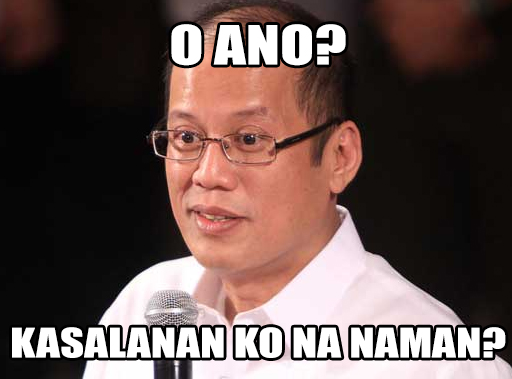 ADVERTISEMENT - CONTINUE READING BELOW
5. Snarky P-Noy Meme
In his own words from his most recent SONA, the President is nothing short of "bugbog" from all of the jokes (and subsequently, memes) made at his expense. Remember Noynoying? Someone bothered to make a Wiki page, in case you somehow missed it. After all of the pictures of P-Noy sleeping emerged this rather sassy meme: O ano? Kasalanan ko na naman? It is likely that this was created by friends or supporters, but it's still great to see him with his eyes open in a meme for once.
Also read: Presidential Bloopers: 10 Craziest P-Noy Moments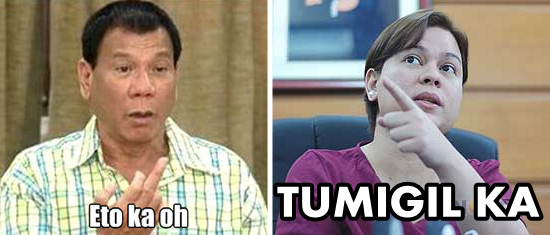 ADVERTISEMENT - CONTINUE READING BELOW
6. The Duterte Memes
They talk a lot...and when they don't talk, they still say something (with their hands, as the photo of Mayor Rodrigo "Rody" Duterte suggests). Mayor Rody Duterte also appears in a "Barilin Na Yan" meme. Let's go with the relatively more peaceful one.
Also read: The Punisher Speaks: 10 Quotable Duterte-isms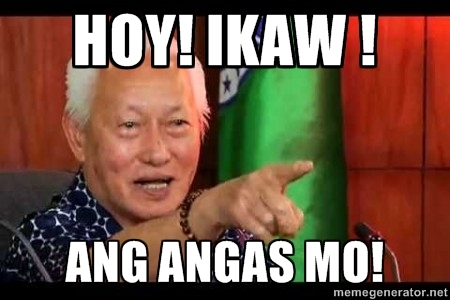 ADVERTISEMENT - CONTINUE READING BELOW
7. Hoy! Ikaw! Mayor Lim Meme
We don't know when this started...and we're not sure when it will end. Mayor Lim reprimanding people is as everywhere as Secretary Roxas and is seen whenever someone deserves to be called out by a figure of authority.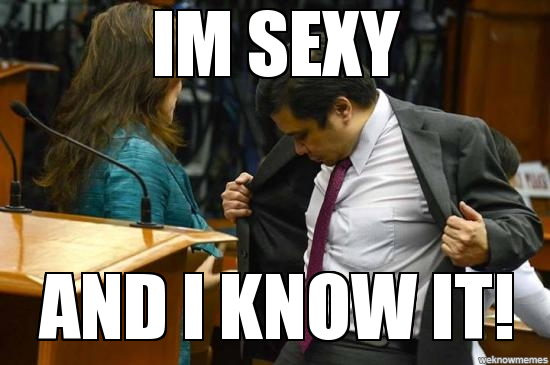 8. Sexy's Sexy Meme
ADVERTISEMENT - CONTINUE READING BELOW
Yikes.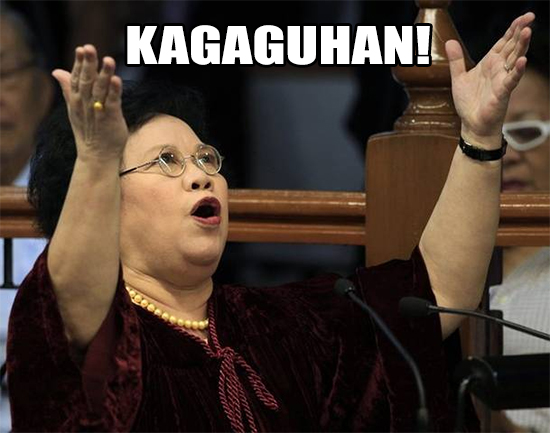 9. Exasperated Miriam Defensor Santiago Meme
Arms raised up in an apparent surrender? It's Madam Miriam, retreat is not an option. Still, between buses catching fire and billions of pesos that go nowhere, this is the most useful visual aid that expresses the sentiment of thousands or millions of cynics lurking around in the comments section. Dios mío, what are we supposed to do?
ADVERTISEMENT - CONTINUE READING BELOW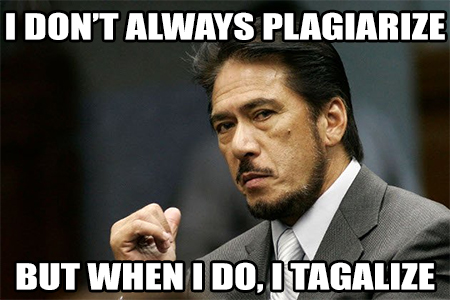 10. "Sottocopy" Meme
It is likely that whenever a plagiarism case surfaces, his is the face that will come to mind. In 2012, Senator Tito Sotto royally angered the Internet by lifting passages of texts from a blogger and being stubbornly unapologetic about it. Oh, and he also translated a portion of Senator Robert F. Kennedy's speech without proper attribution. "Sottocopy" has an entry in the Urban Dictionary and has spawned countless jokes such as a free "Sottocopy" drive in UP Los Baños and this funny parody of an election poster.
ADVERTISEMENT - CONTINUE READING BELOW
Also read: Copycat Nation: 10 High-Profile Plagiarism Cases in the Philippines
CONTINUE READING BELOW
Recommended Videos
Share this story with your friends!
---
Help us make Spot.ph better!
Take the short survey
Load More Stories