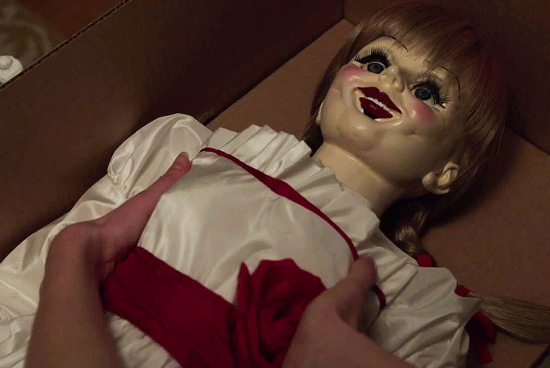 (SPOT.ph) Busy day, Spotters? We quickly recap 10 things you might have missed while you were off the radar.
1. WATCH: Annabelle prank terrifies unsuspecting victims
A video of an elaborate prank featuring the killer doll in Annabelle, which just hit local cinemas, is now making rounds online. The video shows unsuspecting domestic workers hired to clean a room inside a mansion. A woman who acts as the caretaker briefs them about the owners of the house, hinting on what is about to unfold.
The workers are told that the room they are to clean was the child's bedroom. It doesn't take long before the tricks begin: an invisible baby crying, falling books, a phonograph playing, a demon figure, and of course, the diabolical Annabelle herself.
2. J-Law breaks her silence on the nude photo controversy
Jennifer Lawrence is finally speaking out on the private nude photos that were earlier leaked online. In an interview with Vanity Fair, the actress said, "I started to write an apology, but I don't have anything to say I'm sorry for. I was in a loving, healthy, great relationship for four years. It was long distance, and either your boyfriend is going to look at porn or he's going to look at you."
She continued, "Anybody who looked at those pictures, you're perpetuating a sexual offense. You should cower with shame. Even people who I know and love say, 'Oh, yeah, I looked at the pictures.' I don't want to get mad, but at the same time I'm thinking, I didn't tell you that you could look at my naked body."
ADVERTISEMENT - CONTINUE READING BELOW
3. Rare clean-shaven image of Christ unearthed in Spain
Archaeologists say they have found one of the earliest pictures ever of Jesus Christ, sporting an unusual clean-shaven, short-haired look, on shards of an old glass plate unearthed in southern Spain.
The researchers identified it as a paten, which is the plate used for holding bread for holy communion. They pieced together more than 80% of the plate, which features three engraved haloed figures of Christ in the middle, 
holding a cross and a Bible, and flanked by two men thought to be the apostles Peter and Paul. 

Experts say this version of Christ's image (with a short beard and short curly hair) features very rare traits compared to other historic depictions.
Hold your horses. Boxing champ Manny Pacquiao is not qualified to run for Vice President in 2016, an election lawyer said Tuesday. The statement comes on the heels of Vice President Jejomar Binay's visit to Sarangani, Pacquiao's legislative district, triggering speculation that Pacquiao may be Binay's running mate for 2016.
"For sure Binay knows that to be qualified to run for the position of president and vice president, the candidate must at least be 40 years of age on the day of the election as provided under Section 2, Article VII of the 1987 Constitution," said lawyer Romulo Macalintal. He said Pacquiao was born December 17, 1978 which means he will only be 37 years old by the time elections are held.
ADVERTISEMENT - CONTINUE READING BELOW
Recommended Videos
After previously saying that there was no plan for a fourth solo Iron Man movie, Robert Downey Jr. is now telling Ellen DeGeneres that he's "in the middle of negotiations" for another spin in the iron suit. "I know there's going to be a bunch more Marvel movies, and they have big ideas of how to do it best, and we're in the middle of negotiations," the actor said when asked if there would be another Iron Man movie. "So, yes," DeGeneres interrupted.
"Okay, yes," he finally agreed.
Bureau of Internal Revenue (BIR) Commissioner Kim Henares on Tuesday (October 7) said a lifestyle check on Philippine National Police Chief Director General Alan Purisima and other members of the police force would commence soon. She said that the PNP, Department of the Interior and Local Government, National Police Commission (NAPOLCOM), Office of the Ombudsman, and the BIR have been tasked to evaluate a policeman's salary in relation to his assets.
Feast your eager eyes on shiny weaponry and a worried-looking Gandalf in the latest promotional photos from the final The Hobbit movie. Throw in a tagline that says, "The defining chapter" and you know things are getting really serious. The film is slated for release this December.
With just a click of a button, you're one step to closer to volting in...with Lego blocks. All you have to do is visit the official Lego website and vote for micoy687_4811's pretty cool Voltes V prototype. He needs a total of 10,000 votes for his design to be approved.
ADVERTISEMENT - CONTINUE READING BELOW
Former Makati Vice Mayor Ernesto Mercado presented aerial shots of what he described as "Hacienda Binays" in Rosario, Batangas during a Senate hearing earlier today.
Mercado said the "Hacienda Binays" is on a 350-hectare land which is six times bigger than Luneta Park in Manila, and 10 times larger than the Araneta Center in Quezon City or half as big as the entire city of San Juan (which sits at 700 hectares).
Small, terrible, and murderous. We've listed 10 of the scariest dolls that have haunted moviegoers long after the credits rolled. All they want is to be your friend...
Share this story with your friends!
---
Help us make Spot.ph better!
Take the short survey
Load More Stories