Coolest Offices in Manila: Voyager Innovation
Inspired by Google's famously popular approach to creativity at work, this R&D hotspot puts play into their office equation.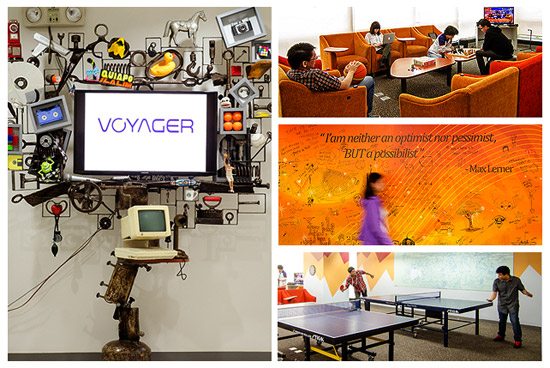 (SPOT.ph) Tech geeks may enjoy tinkering with their keyboards and thumbing through new apps they're developing, but this brand of highly intense, intellectual, and creative work can prove to be taxing when done 24/7. Google's solution, now integrated into many fast-moving web-based businesses, is to implement the 80-20 rule: 20 percent of the day is devoted solely to fun, creativity-sparking activities in order to make more productive, efficient use of the other 80 percent of the day.
Voyager Innovation, a new subsidiary of Smart Communications, takes this model seriously and implements it everywhere in the space it occupies. Primarily an R&D department, the office houses a crop of young innovators bent on developing next-generation customer-centric digital products and services.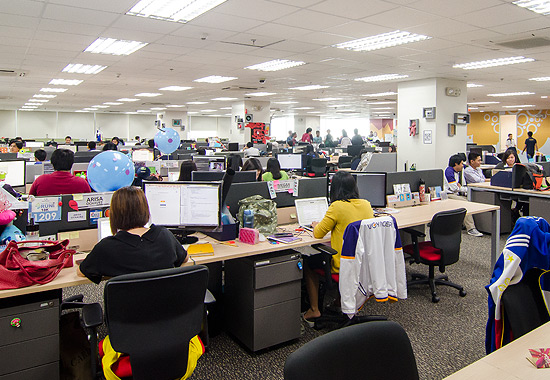 What this means spatially is a wide, open, flat layout-echoing the open communication lines among developers, department heads, and even the CEO and president, so the office is set up as a clearly open space. Only a handful of cubicles exist (all of them with low separations that keep everyone visible) for more senior positions, to keep transparency and constant collaboration going in everyone.
ADVERTISEMENT - CONTINUE READING BELOW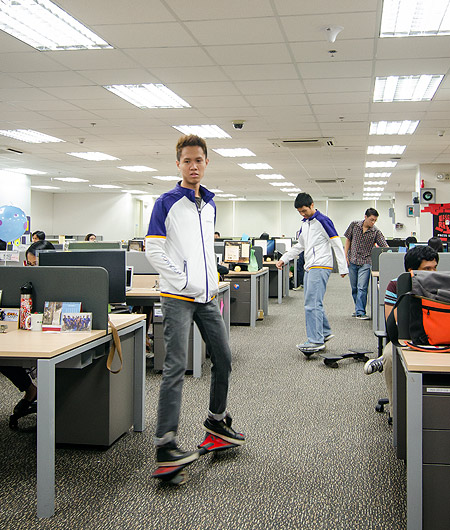 CONTINUE READING BELOW
Recommended Videos
The work environment is flexible and creative-movement is constant, whether it's an informal huddle happening in a colorful lounge area, or a group of people waveboarding along the aisles just to get their juices flowing. And while just about any office can set up a few open tables and call it an open space, the breed of young techies at Voyager Innovation keep their individual desks visually stimulating and interesting-with personal collectibles and posters dotting their tables, matching the found art installed along the walls and columns of the space.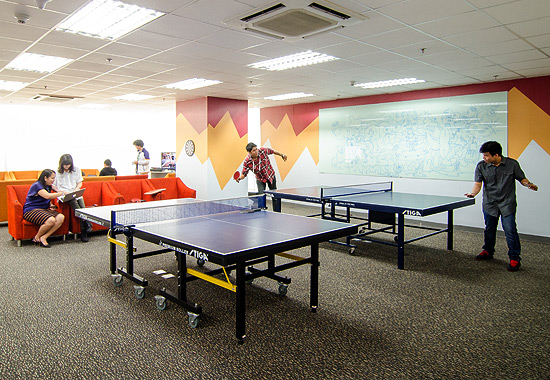 ADVERTISEMENT - CONTINUE READING BELOW
One strong theme that permeates throughout the space is how things are kept relaxed in order to motivate everyone to work as effectively and efficiently as possible. Interspersed among the workspaces is a large open lounge with a flat-screen TV (used for karaoke!) alongside two professional ping-pong tables that get a lot of good use throughout the day. There is a marked emphasis on opening yourself up to whatever keeps your brain spinning-that could mean working remotely with your laptop, taking a break by playing a board game, or tinkering with the office guitar to blow off some work steam.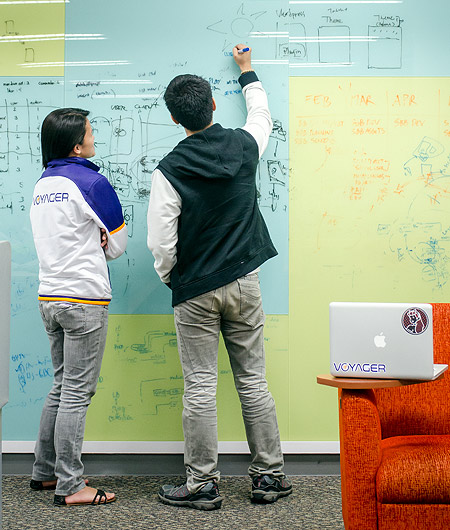 The result is a high-spirited energy that's evident in the doodles on their bright orange inspiration wall, the unmistakable rapport among everyone who works at the office, and even in the brainstorming notes scribbled along the wipe-able walls that line the office perimeter. The casual, open vibe at the Voyager Innovation office could be proof of why Smart Communications was named the "best place to work" by the Asia CEO Awards just this year.
ADVERTISEMENT - CONTINUE READING BELOW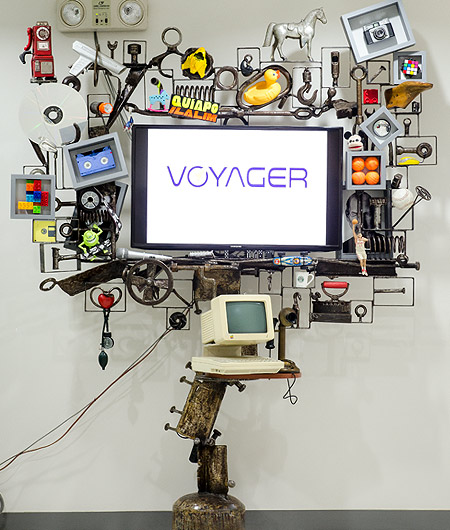 What clearly sums up this heightened spirit that fuels Voyager Innovation is the fun, inspiring art installation found just at the lobby. A commissioned piece that embodies how technology meets life, the installation traces the history of modern digital technology, incorporating scrap pieces that pay an homage to development: the laser disc, an old Apple computer, remnants of a Filipino jeepney. So that the people who work there are encouraged to build on forward-thinking ideas without forgetting what's gone before them.
Also read:
Coolest Offices in Manila: O2 Space
Coolest Offices in Manila: Globe Telecom
Share this story with your friends!
---
Help us make Spot.ph better!
Take the short survey
Load More Stories