10 Random Acts of Kindness That We Saw in 2014
Your dose of the warm and fuzzies as we start another year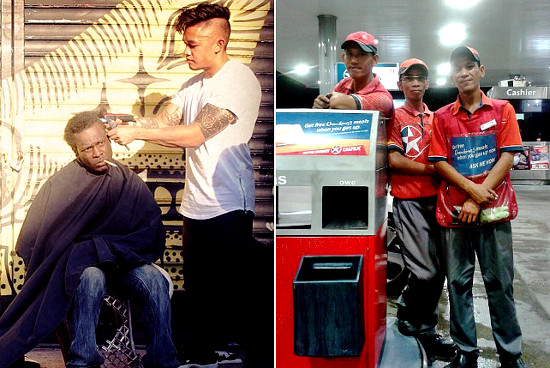 (SPOT.ph) Sometimes, it's hard not to be cynical about the world-especially when we almost always hear bad news. We're switching it up this time. As we welcome 2015, we pay tribute to 10 random acts of kindness that we saw or heard about in 2014, whether it's an inspiring story on honesty or a simple celebration of the act of heartfelt giving. Think of it as a gentle reminder that there is always good in the world.
We're sure there are plenty of good deeds out there, so spread the positivity and share some stories in the comments section below. Happy New Year, Spotters!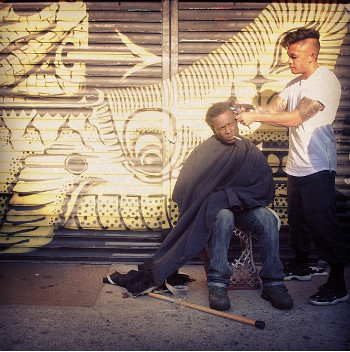 1. A Filipino hairdresser in New York cuts hair of the homeless
Every Sunday, a Filipino-American hairdresser named Mark Bustos roams the streets of New York to give free haircuts to the homeless. He gained attention in August after The Huffington Post caught wind of his Instagram photos documenting his "movement," which he says started in 2012 during a visit to the Philippines. He labels his photos with the hashtag #BeAwesometoSomebody, which...well, sounds like a pretty good idea.
ADVERTISEMENT - CONTINUE READING BELOW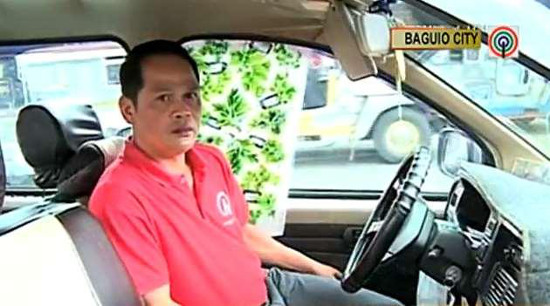 CONTINUE READING BELOW
Recommended Videos
2. A taxi driver from Baguio City returns P120,000 and an iPad
In October, a taxi driver named Venancio Bulatao made headlines after he returned a bag containing an iPad, important documents, and over P100,000 in cash that a passenger accidentally left in his backseat. Bulatao explained that he was able to reach out to the passenger through contact details in his bag. He has declined the offer of a reward.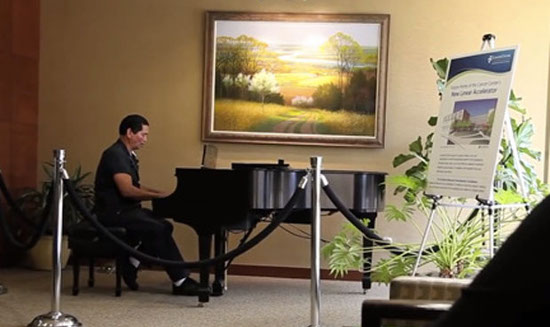 ADVERTISEMENT - CONTINUE READING BELOW
3. A Filipino janitor plays the piano to soothe hospital patients
A hospital janitor named Rolando Maaba caught the eye of Good Morning America, thanks to the unusual way he spends his breaks. He goes to the hospital's main lobby to play music for hospital patients and their loved ones, which earned him the nickname "Piano Man." He admitted, however, that he has no formal training in music and doesn't even know how to read notes. "The bottom line is I want to be helping guests who are waiting for their relatives after an emergency or a surgery and they're worried," he explained.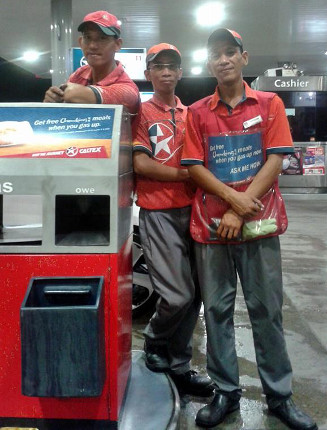 Photo via Mei Pop's Facebook post
4. Caltex gas attendants aid a motorist
A motorist's Facebook post went viral in September after she detailed her experience with a group of helpful Caltex gas attendants along SLEX. While driving through a typhoon, Mei Pop realized she didn't have enough cash to enter the next toll gate and there was no ATM in sight. Four gasoline attendants collected what little funds they had to give her just enough money for the next toll exit. She later returned to pay them back, which they refused, explaining that they helped her without expecting anything in return.
ADVERTISEMENT - CONTINUE READING BELOW
5. A Manila couple opens a soup kitchen to feed the homeless
At a house in Ermita, Manila, a married couple opened a soup kitchen to feed the homeless from Monday to Thursday. Zoe Alonso, the woman behind the project, said that at least 60 people from various parts of Manila visit them daily. She explained that she was motivated to help after seeing people scavenging for food in front of her home. She told her husband Mon about it, and he suggested the soup kitchen. "We want to give back to society," said Mon. "Ito ang aming moral obligation para gumanda ang standard of living ng iba."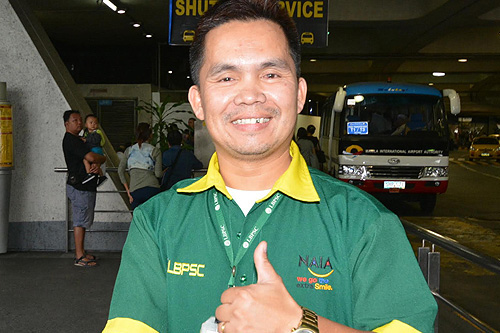 6. A NAIA porter returns $4,800 in cash
Jony Villon, a baggage porter at the Ninoy Aquino International Airport Terminal 1 (NAIA 1), didn't think twice about returning $4,800 in cash that he found in a baggage cart back in January. According to him, he was relieved that the money was returned to its owner, saying he was not tempted to keep the money. Villon, who is also a former OFW from Israel, said, "Alam ko po ang hirap ng isang OFW, kung kaya hindi ko naisip na ibulsa yung napulot ko."
ADVERTISEMENT - CONTINUE READING BELOW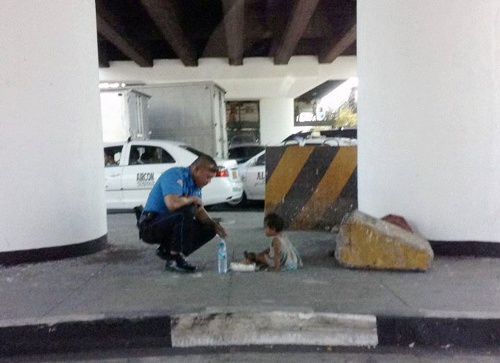 7. An MMDA traffic constable is photographed feeding street kids
Under an overpass along Tandang Sora, traffic constable Reynaldo Romano was photographed giving food to a few street children. "Lumapit sa akin ang mga bata. Humihingi sila ng pagkain. Eh, naalala ko ang anak ko sa kanila. Pinahintay ko sila sa gitna, tapos bumili ako ng pagkain," Romano said. He used the P30 he was saving as commuting money to buy P10 worth of rice, P10 worth of pancit, and P10 worth of drinking water. Later, the Metro Manila Development Authority (MMDA) honored his small act of kindness that they said was "worthy of emulation."
8. A construction worker returns wallet containing P20,000
Adones Datalayta was on his way home when he stumbled upon a wallet containing P20,000 in cash. Datalayta, who works as a construction worker, earns about P650 a day but immediately went to a radio station to report the lost item. His act of honesty was later rewarded. Days after Datalayta's story was featured on the news, a New Zealand-based company expressed interest in hiring him, citing the former's honesty as "quite hard to find." The company has also agreed to shoulder the costs to fly him to New Zealand.
ADVERTISEMENT - CONTINUE READING BELOW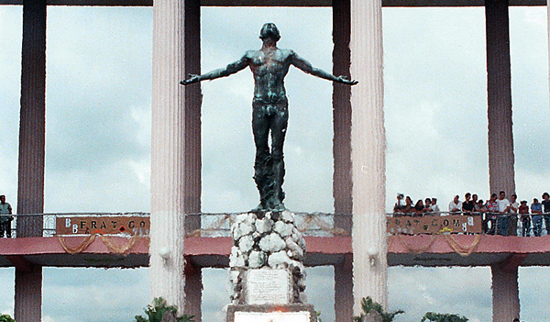 Photo via Inquirer.net
9. Current and former UP Diliman employees assist UPCAT takers
If you've ever taken the UPCAT and felt lost in UP Diliman's massive campus, Armand Hirao and his team would have been able to help. Former and current employees of the university drive around campus on scooters and provide lifts to lost high school students about to take the test. The men are all members of the UP Diliman Scooters Club (UPDSC), and they also deliver UPCAT-related documents to proctors in case a potential student forgets or loses his test permit.
10. MRT passengers chip in for a sick 6-year-old
Sometimes, the folks riding the train with you aren't so bad. After seeing a 6-year-old suffering from stage 1 bone marrow cancer and a rare skin disease onboard the train, passengers on the MRT suddenly started to pass around money for her medical bills. Another one offered a wad of tissues to wipe away the blood seeping through the bandages. According to the little girl's grandmother, there would be days that MRT commuters would simply donate cash without being asked. This money, she said, always went straight to the little girl's treatment at the Philippine General Hospital.
ADVERTISEMENT - CONTINUE READING BELOW
Share this story with your friends!
---
Help us make Spot.ph better!
Take the short survey
Load More Stories