10 Unconventional Books Worth Checking Out
No one ever said not to judge a book by its text.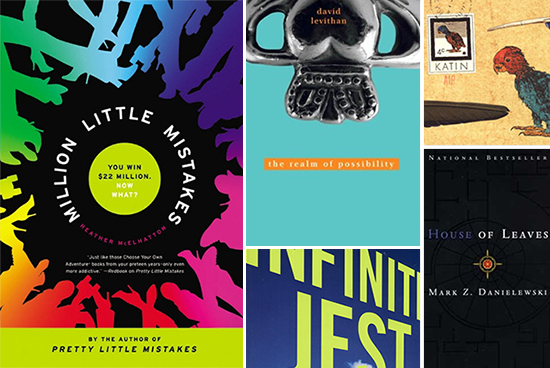 (SPOT.ph) Sometimes, there are books that go far and beyond to tell a compelling story. The beauty in these novels is the amount of thought and painstaking work that goes into spinning a tale that isn't simply text on a page. If you're looking for a unique and interesting book to sink your teeth into, old or new, these are your best bets.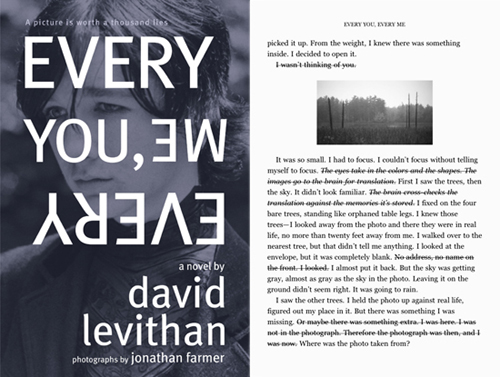 1. Every You, Every Me by David Levithan
Featuring photographs by Jonathan Farmer, David Levithan weaves an enrapturing tale bordering on psychological. Every You, Every Me is about Evan, a high school student who starts to receive pictures-some of which are of him. The words (you may also say Evan's thoughts) ingeniously makes use of the strikethroughs to tell his story. Cleverly juxtaposed with Farmer's photographs, Levithan's Every You, Every Me takes storytelling to another level. (Tip: Read the parts without the crossed out lines first, then read the book with them; it's like two different books for the price of one.)
ADVERTISEMENT - CONTINUE READING BELOW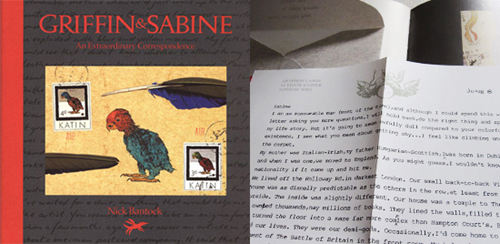 CONTINUE READING BELOW
Recommended Videos
2. Griffin & Sabine: An Extraordinary Correspondence by Nick Bantock
Griffin & Sabine, the first novel in the Griffin & Sabine Trilogy, stands out in a surplus of books written in similar ways-through letters, diary entries, and the more recent e-mails and chat rooms. It's a unique love story, told in actual letters and postcards between Griffin Moss, a London-based postcard artist, and Sabine Strohem, a postage stamp illustrator from a fictional Sicmon Islands. Remove the actual letters and postcards from their envelopes and watch Griffin and Sabine's intimate story unfold. Check out its sequels Sabine's Notebook and The Golden Mean, as well as the second trilogy, The Morning Star Trilogy.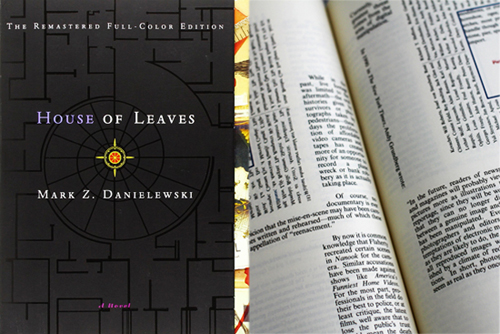 ADVERTISEMENT - CONTINUE READING BELOW
3. House of Leaves by Mark Z. Danielewski
"This is not for you," reads House of Leaves' dedication page, and if that doesn't already have you hooked, there's more. The book is a footnote narrative by a character named Johnny Truant, who is writing on a manuscript by another character named Zampanò. The latter's manuscript investigates The Navidson Record, a documentary on a mysterious house that a photojournalist and his family move into. It doesn't stop there, because House of Leaves' text formatting is a definite page-turner. Ignore the author's warning and grab a copy asap; it's worth an all-nighter or two.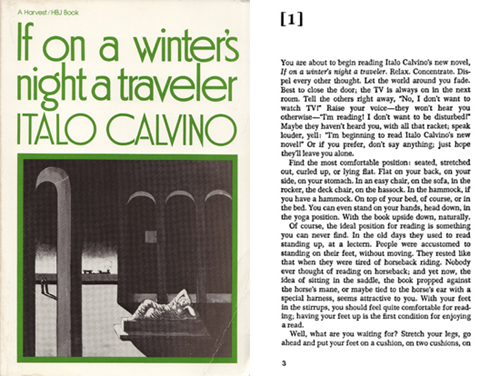 4. If On a Winter's Night a Traveler by Italo Calvino, translated by William Weaver
Postmodernism is the game, and Italian writer Italo Calvino plays it too well. The book tells the story of a reader who's reading a book called If On a Winter's Night a Traveler. Confusing? Hang in there. The chapters are split into two parts: the first is written in second person, narrating the reader's process (or your process) as you read the book. The second half consists of parts from a new book that you, the reader, find. Writing in second person is usually a no-no, but Calvino breaks this cardinal rule, grabbing our attention and admiration for successfully pulling it off.
ADVERTISEMENT - CONTINUE READING BELOW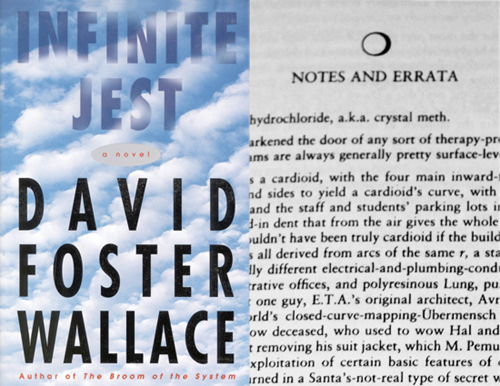 5. Infinite Jest by David Foster Wallace
David Foster Wallace puts a familiar spin on Infinite Jest using footnotes-yes, the seemingly useless text you proabably avoided while reading textbooks in school. The book is lengthy as it is, and its 388 footnotes take up almost 1,000 pages on their own. It might be jarring to look back to the Notes and Errata section again and again, but it complements the novel. Wallace doesn't restrict the plot in a conventional, linear way. Its themes will resonate with readers, revolving around addiction and recovery in a dystopian backdrop. It worked for him because TIME magazine included it in their 100 best English-language books since 1923.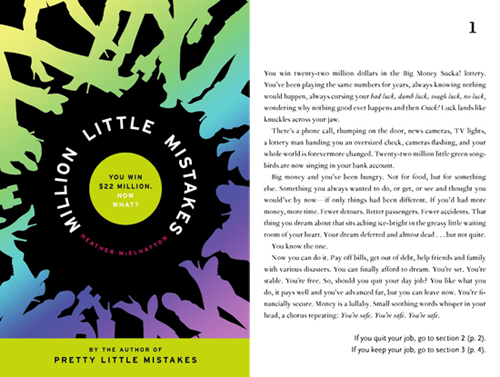 ADVERTISEMENT - CONTINUE READING BELOW
6. Million Little Mistakes by Heather McElhatton
Imagine winning $22 million. Have we gotten your attention yet? Good. In Heather McElhatton's second "do over" book, Million Little Mistakes, you're able to do just that. The question now is: What do you do with it? Reminiscent of the "choose your own adventure" books we devoured when we were kids, Million Little Mistakes gives you the chance to live your Dream Life-provided you make the right choices, of course. There are more than 100 possible endings, and if you don't like where you end up, you can always start over (which is way more than what real-life has to offer). Don't forget to check out Pretty Little Mistakes, the first in Heather McElhatton's "do over" series where the fun starts after your high school graduation.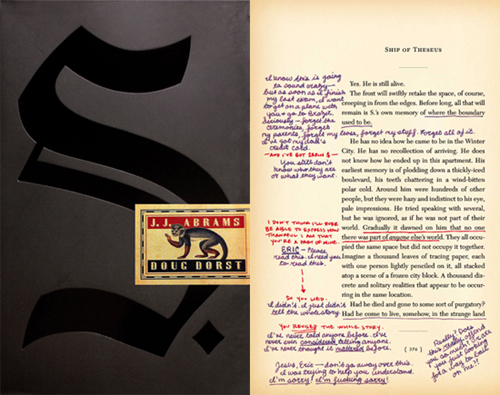 7. S by Doug Dorst, conceptualized by J. J. Abrams
To loosely quote Inception, dream-or in this case, read-a little bigger, darling. S is a collaboration between director J. J. Abrams and novelist Doug Dorst. Inside its intricate packaging is a library copy of Ship of Theseus by a fictional author named V. M. Straka. Scan through its pages and you'll see writing on the margins: some are from Eric, a grad student working on Straka, others from Jennifer, an undergrad student replying to Eric's notes. A complex mystery waiting to be unraveled, S keeps us constantly on our feet. You'll even see photocopied journal pages and telegrams, handwritten letters and postcards, and even a paper napkin lodged between the book's pages.
ADVERTISEMENT - CONTINUE READING BELOW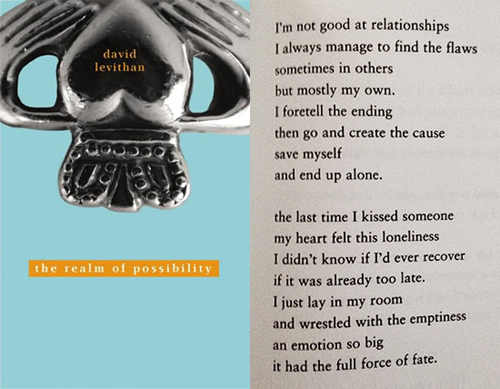 8. The Realm of Possibility by David Levithan
If you're looking for your first venture into poetry, this is the book to read. Blurring the lines between prose and poetry, David Levithan'sThe Realm of Possibility unites 20 voices from one school through free-verse. It's not as intimidating as one would think; Levithan makes it an effortless read for reluctant newbies, but still makes it engaging. The story revolves around 20 individuals, extraordinarily intertwining their lives through stories of infinite possibilities in love, friendship, and sexuality. The Realm of Possibility is a notable coming-of-age novel worth looking into.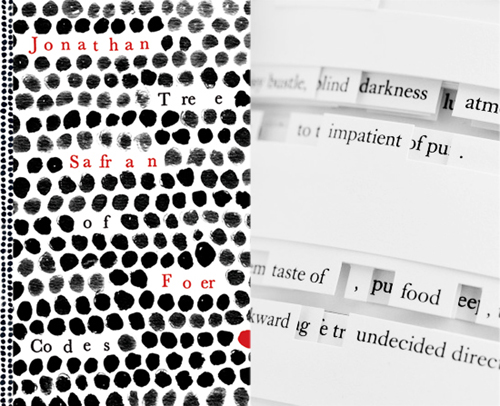 ADVERTISEMENT - CONTINUE READING BELOW
9. Tree of Codes by Jonathan Safran Foer
By literally cutting out verses from his favorite book The Street of Crocodiles by Bruno Schulz, author Jonathan Safran Foer defies the rules with his novel Tree of Codes. (Note how by "erasing" ten letters from the original title, Foer gets his. Clever, isn't it?) It's a work of art in itself, with elegantly crafted pages. Its aesthetic is very minimalist but if you're against defacing books, it might be sacrilegious at the same time. Tree of Codes is a poetic homage that's only at 3,000 words, supposedly a swift twist to the original Crocodiles, but doesn't fail to be as captivating as it's outwardly vulnerable.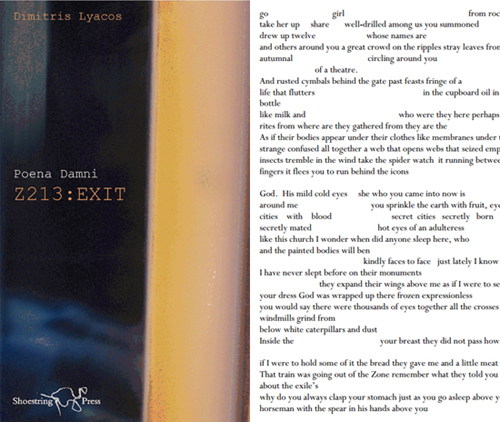 10. Z213: Exit by Dimitris Lyacos, translated by Shorsha Sullivan
Greek writer Dimitris Lyacos' trilogy, Poena Damni, was cleverly written in reverse. The last novel published in 2009, Z213: Exit-a story that deals with fleeing and forgetting, with an omniscient Death or God-is its first installment. It breaks the rules of grammar, omitting words as if the author's sending a telegram. What you get is prose that's so fragmented sometimes it's almost poetic. It even goes beyond literary boundaries, shifting from the first-person point of view to the third-person. Check out the other books in the trilogy that's equally as poignant: Nyctivoe and The First Death.
ADVERTISEMENT - CONTINUE READING BELOW
---
Help us make Spot.ph better!
Take the short survey
Load More Stories