10 Graphic Novels Your Non-Comic Book Reading Girlfriend Will Like
Titles that will make her realize that there's more to comic books than steroidal men in tight tights beating each other senseless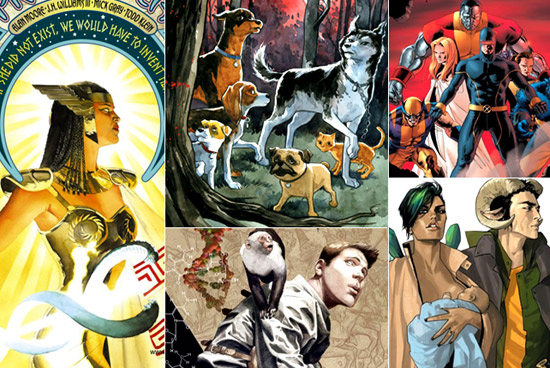 (SPOT.ph) Out of all the women in the world, you fall in love with one of the few who are stuck in a reality where the word graphic novel hasn't been invented yet. And thinks that "comic books" are for boys. Not men. Boys. It's time we bring her to this decade, when people flock to Marvel movies...that are actually good. We are looking at you, Captain America 2.
You don't have to lure her with Chris Evans' hot, hot body, plus there's more to graphic novels than The Dark Knight and Watchmen (for the record, we love those). We've selected titles from different genres and fandoms that will introduce her-or any newbie-to the world of literary panels.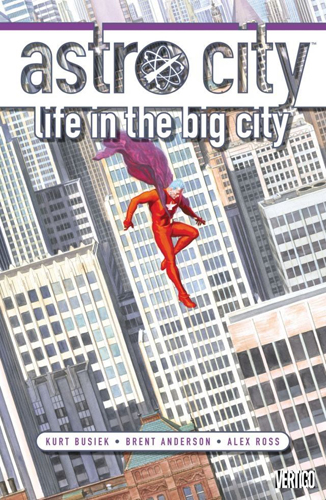 Astro City by Kurt Busiek (writer), Brent Anderson (artist), and Alex Ross (cover artist)
These are tales that focus on the man in the superman. Humanistic stories about how heroes cope with having super powers and the regular people who deal with this heightened reality on a daily basis. What's fantastic about these stories is how much insight into the human condition they reveal. Allegories on unfulfilled goals, moving on from the past, gaining independence and other themes are represented in each of these stories. We highly recommend The Nearness of You (found in the book, Astro City: Confession), a real tearjerker that will show your girlfriend you have a romantic side after all.
ADVERTISEMENT - CONTINUE READING BELOW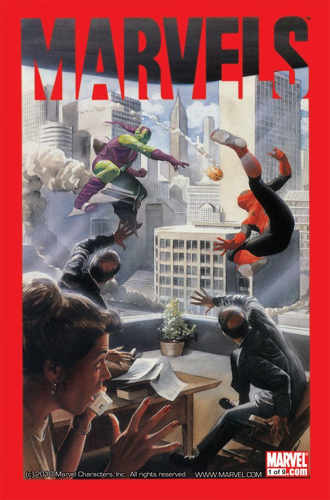 CONTINUE READING BELOW
Recommended Videos
Marvels by Kurt Busiek (writer) and Alex Ross (cover artist)
In the same vein as Astro City, Marvels is a fairly realistic portrayal of how the public would have actually reacted to Marvel superheroes. Gorgeously painted in a Norman Rockwell style, the story makes the reader feel that they are caught up in the moment, almost as if they are right there in moments of exhilaration and suspense. Your girlfriend is also bound to recognize the aesthetic value of this work.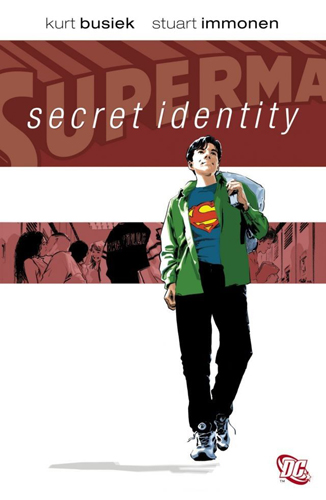 ADVERTISEMENT - CONTINUE READING BELOW
Superman: Secret Identity by Kurt Busiek (writer) and Stuart Immonem (artist)
How do you make Superman, the quintessential man in tights interesting to a woman, aside from making Henry Cavill shirtless? You put him in the real world with real problems. In a world where Superman is only a comic book character, the Kents are inspired enough to name their son Clark but as he grows up, people tease him about his name and it feels like a curse. Then, due to mysterious circumstances, he suddenly gains Superman-like powers! Deciding to live up to the name, he runs the risk of destroying the personal life that he's built. The very human choices that this Superman makes and the consequences he must face is sure to enthrall.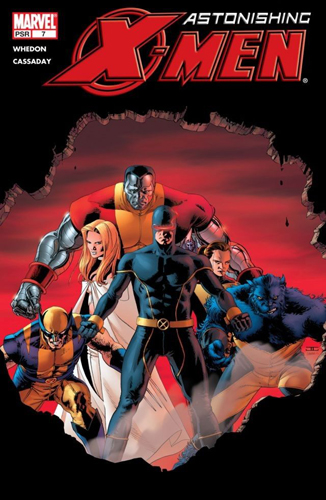 Astonishing X-Men: Powerless by Joss Whedon (writer) and John Cassady (artist)
For girls who liked the X-Men movies, give them one of the best X-Men books on the market today. The downside is that she'll realize that the movies aren't actually that great. The reasons why the mutants are very popular in the first place are because the characters are fully realized and likeable, and have some well-written background. This volume has the team discover a cure that can remove their powers which creates tension within the group, because while some of them are against the drug, others in the team consider their abilities a curse. Filled with clever dialogue and clean art, what makes this story compelling is that it begs the readers to ask themselves: If you could change anything about yourself, would you?
ADVERTISEMENT - CONTINUE READING BELOW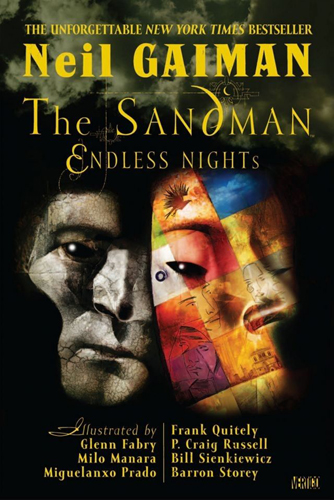 Sandman by Neil Gaiman (writer) and various artists
We shan't be caught understating the impact of this work on graphic novels. It's the first of its kind to win a prize for being a marvelous piece of literature, and not in a special "illustrated" category (1991 World Fantasy Award for Best Short Story). Chronicling the Dream King's life and the dreamers he affects, Neil Gaiman's narrative style and dialogue is just simply poetic. Plus, Dream, Desire, and Delirium are pretty solid fashion icons. Maybe she'll finally understand why you're very into large coats despite living in the tropics.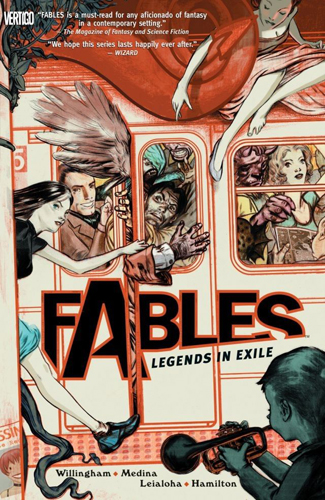 ADVERTISEMENT - CONTINUE READING BELOW
Fables by Bill Willingham (writer) and Mark Buckingham (artist)
These stories about what happens after "Happily Ever After" go into adult territory, more so than the Once Upon Time TV series. This series finds Snow White, Prince Charming, Big Bad Wolf, and all other fairy tale characters as exiles in New York expelled from their homeland by an evil figure known only as the Adversary. She will get a kick out of how all these characters have evolved from their origins and how they play off each other. Show her she can still be a princess. A badass princess.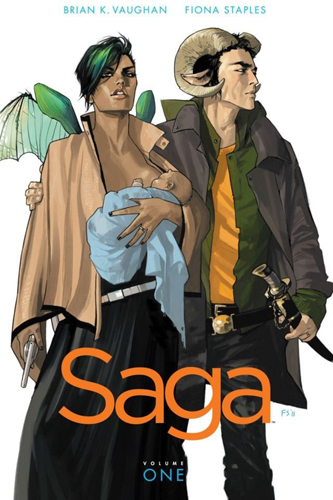 Saga by Brian K. Vaughan (writer) and Fiona Staples (artist)
This one is for the girls who dig science fiction with a mature flavor. It's about two people from two warring planets, who then get married and have a child. The governments from both planets are determined to capture the family because they are violating interbreeding laws. Though the premise may literally be out of this world and the art feels like an acid trip, the characters talk in a vernacular and are put in dramatic situations we can all relate to.
ADVERTISEMENT - CONTINUE READING BELOW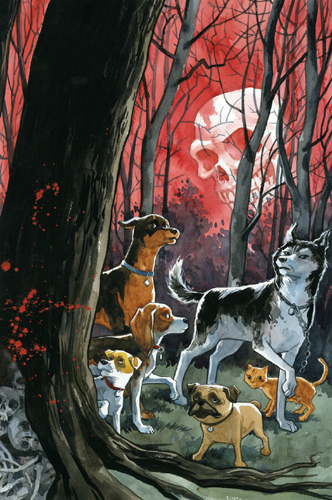 Beasts of Burden by Evan Dorkin (writer) and Jill Thompson (artist)
Does she love dogs and cats, and the supernatural? This series will suit her just fine. Like peanut butter and apples, this combo of cute and cuddly mixed with the spooky and creepy is a brilliant mix that surprisingly goes well together. The animals (a mixture of domesticated pets and strays) serve as guardians of a sleepy town against horrors like giant demonic frogs, werewolves, and even sadistic humans. The dogs and cats look so adorable and the monsters are so horrific in the art that the suspense in this battle of good vs. evil will feel very palpable.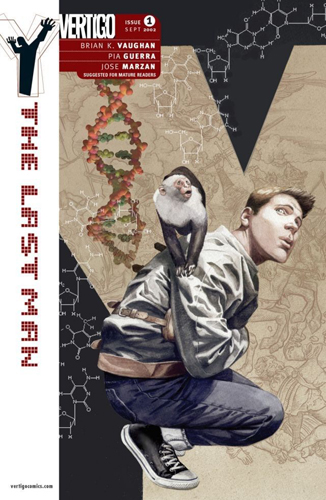 ADVERTISEMENT - CONTINUE READING BELOW
Y: The Last Man by Brian K. Vaughan (writer) and Pia Guerra (artist)
A story about the last man alive on the planet after a mysterious virus wipes out the entire male population may seem like a teenage boy's dream, but it's more a post-apocalyptic nightmare with an egalitarian slant. Main character Yorick along with his female companions must overcome mainly two factions: extremist terrorists determined to kill him to preserve the new world order, and government agents who want to kidnap and dissect him while trying to unravel the mystery and find a cure. It's a great social commentary of what happens when the fairer sex becomes the only sex.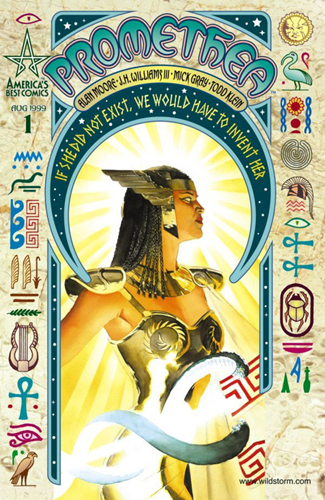 Promethea by Alan Moore (writer) and J.H. Williams (artist)
This title about a Wonder Woman-like character powered by imagination will captivate women who are into theology and literature. Though it starts off as a straightforward superhero adventure (Promethea is the living embodiment of fiction battling demons and religious extremists), it slowly becomes the writer's attempt to marry different religions and philosophies into one universal belief system that many theologians and philosophers will find fascinating.
ADVERTISEMENT - CONTINUE READING BELOW
Share this story with your friends!
---
Help us make Spot.ph better!
Take the short survey
Load More Stories