Facebook, Instagram crash and Twitter explodes + more things you might have missed today
Guys get tricked into catcalling their own mothers, Miriam might run for president, and more.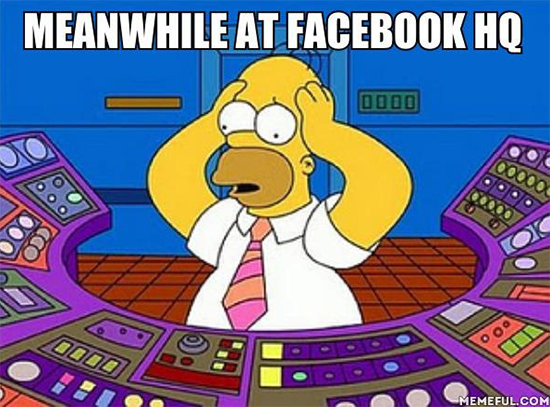 Photo posted by @9GAG on Twitter
(SPOT.ph) Busy day, Spotters? We quickly recap 10 things you might have missed while you were off the radar.
1. Twitter explodes as Facebook and Instagram crash
Social-networking site Facebook, along with its subsidiary Instagram, briefly went down on Tuesday. Users from the U.S., Europe, and Asia said they were unable to access the sites for more than half an hour. Several took to microblogging site Twitter to vent their frustrations, which naturally resulted in MySpace jokes and a viral meme from website 9gag.
2. A "bored" Senator Miriam Santiago says she may run in 2016
On Monday, Senator Miriam Defensor-Santiago renewed talks on the possibility of her running for office. "I expect to be able to run for president if I get well, simply because it's boring, boring, boring. The landscape is boring," she said. "Who are you going to choose for president? [...] So I might as well give you someone who can write a book like Stupid Is Forever."
Santiago, who was diagnosed with Stage 4 lung cancer last year, said she was doing well "under my present medication."
3. Senators Cayetano and Ejercito withdraw as co-authors of Bangsamoro bill
Following Monday's suspension of the hearings on the Bangsamoro bill or House Bill No. 4994, two of its co-authors in the Senate have officially withdrawn due to the deadly clash on Sunday. Senator Alan Peter Cayetano condemned the incident, saying a supposed "lack of coordination" should not be a reason to engage in a firefight. Senator JV Ejercito, meanwhile, said, "...My heart bleeds for our policemen who were mercilessly killed."
ADVERTISEMENT - CONTINUE READING BELOW
4. Senate defers arrest order vs. Junjun Binay
The Senate has deferred the arrest and detention order against Makati Mayor Junjun Binay and five others, after acting Senate Minority Leader Vicente Sotto III raised the issue of quorum. "This is a very controversial issue, I want to make sure the rules are followed. Ang intindi ko nag-meeting ang committee at 'yung dalawang members ay gusto i-cite for contempt 'yung mga tao. Pwede 'yun if the members of the committee did not say anything," he said.
Majority Floor Leader Alan Peter Cayetano said the Senate Committee on Rules will meet Tuesday afternoon to discuss the procedures regarding the issuance of the order. The Blue Ribbon committee has 20 members. and according to Sotto, at least nine members of the committee should be present to form a quorum.
CONTINUE READING BELOW
Recommended Videos
5. Watch pervy guys get tricked into catcalling their own mothers
Well, this is awkward. A filmmaker in Peru tricked men guilty of sexually harrassing women on the street into catcalling their own mothers. Two moms agreed to don flattering disguises, and were secretly filmed walking past their sons. After men shout out comments, the women confront their sons in a very embarrassing public lecture.
One mother was so enraged, she hit her son over the head with her handbag after he unwittingly yelled "tasty panties" at her.
6. A man has taught his pet rabbit to bring him beer
You can't really call it man's new best friend, but this really smart rabbit comes pretty close. The rabbit, named Wallace, has been trained to deliver beer to its owner's boyfriend using a "beer cart." According to the video description, the trick is the result of a year-long "collaboration."
ADVERTISEMENT - CONTINUE READING BELOW
7. Hero's welcome awaits MJ Lastimosa in her hometown
She may not have won the coveted crown, but MJ Lastimosa's homecoming will include a hero's welcome in her hometown of Tulunan in North Cotabato. Mayor Lani Candolada said she is still proud of Lastimosa being a daughter of Tulunan since her joining the pageant "gave the town an opportunity to be known throughout the country and even the whole world."
Lastimosa was born in Barangay Sibsib in Tulunan. Her family migrated to Davao City when she was in grade school.
8. Benedict Cumberbatch apologizes for calling black actors "colored"
In a statement Tuesday, Benedict Cumberbatch has issued an apology after calling black actors "colored" during an interview where he discussed diversity in the entertainment industry. "I'm devastated to have caused offence by using this outmoded terminology. I offer my sincere apologies. I make no excuse for my being an idiot and know the damage is done," he said.
9. 10 Ridiculous Apps That We Can't Believe Are Real
Apps may be useful, almost critical parts of our daily lives but there are a handful out there that can make anyone go "WTF." From an app that rates your sexual prowess to another that helps users manage girlfriends, here are 10 of the most absurd and ridiculous apps we've seen.
We've all had cabbie stories. Some range from the relatively tame while others are just downright crazy. We asked around for the strangest and most unbelievably real taxi tales in Manila.
ADVERTISEMENT - CONTINUE READING BELOW
Share this story with your friends!
---
Help us make Spot.ph better!
Take the short survey
Load More Stories