10 Things We Still Don't Know After P-Noy's Speech
The list of things we learned is very short: Purisima has resigned.
(SPOT.ph) On Friday, February 6, 6:30 p.m., the nation tuned in as President Benigno Aquino III gave a speech that confirmed initial rumors that (former PNP Chief) Alan Purisima had resigned. He went on for roughly 15 minutes and we learned that...he intends to run over enemies of the State? He addressed the #NasaanAngPangulo issue by saying that he requested an audience with the families of the deceased after he gained enough information on the incident. He also referenced the death of his father ("Tulad ng sinabi sa amin ng bayang Pilipino nung kami'y naulila, sinasabi ko sa inyo ngayon: Hindi rin kayo nag-iisa") and subtly blamed the previous government ("Marami nang operasyon para tugisin sila, bago pa man tayo maging pangulo").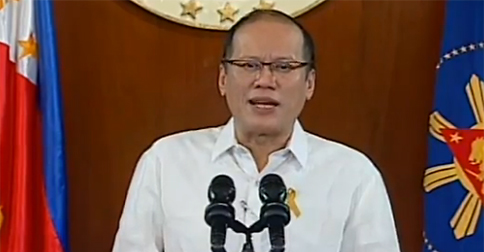 But the address ended up raising even more questions (a lot of which he apparently doesn't have answers for), namely:
1. We quote the President, "Mayroon pa bang maaring nagawa para sana naiwasan ang trahedya?"
ADVERTISEMENT - CONTINUE READING BELOW
2. We quote the President again, "Tulad ninyo, gusto ko rin malaman ang buong nangyari sa pagkakataon na 'to."
3. We quote the President yet again, "Bakit nangyaring walang koordinasyon?"
4. We quote the Presidente once more, "Bakit itinuloy ang misyon gayung napakalihis na nito sa orihinal na plano at napakalaking peligro na ang kinakaharap ng ating mga tropa?"
5. What was Alan Purisima's role in this operation?
6. When the President said that he's with the uniform personnel in any possible way (harap, tabi, likod) and that he'll be wherever they need him to be ("kung saan niyo kami kailangan")...is that his way of apologizing for picking a car plant over them? Is that a pinky swear never to do it again?
7. Who gets the bounty? Is that not important?
8. Will SAF officers hunt for Usman as well?
9. So everyone was "uncoordinated" before...and the President wants to correct that mistake...does that mean that the government is talking things over with the MILF? Are they going to be a part of the "investigation"? And what about the equipment they allegedly stole?
10. So...it's all Philippine National Police Director Getulio Napenas' fault? He planned this entire thing? With nobody else giving him orders? Not consulting anyone? He called all the shots? This guy who said he was reporting to Alan Purisima? Alan Purisima who was giving you advice about this?
Lastly...should we expect another nationwide address in which the President will actually impart useful information?
Also read:
Kris Aquino defends her brother, doesn't seem to understand duties of the President
ADVERTISEMENT - CONTINUE READING BELOW
Who is Marwan and other FAQs about the Mamasapano Clash
Kris Aquino is still missing the point about Mamasapano and why people are enraged
Malacañang addresses #NasaanAngPangulo memes, defends P-Noy's absence during arrival of fallen PNP SAF men
20 #NasaanAngPangulo Memes That Will Make You Go, "WTF, P-Noy"
Load More Stories