10 Awkward Prom Situations That You've Probably Banished From Memory
It's that time of the year again and those ugly memories are all coming back.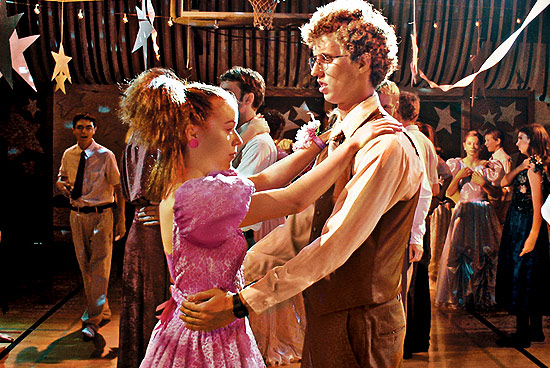 (SPOT.ph) Long before award-winning videographers and renowned event stylists started invading high school proms to make them look like teenage dreams coming true, there were...well, the kinds of prom we had. The ones with an oversupply of balloons on the floor, wilted white roses on the tables, cutouts of stars hanging from the ceiling, blinding silver glitter, and a lot of adolescent awkwardness.
Back then, fancy proms were content with using cartolina and construction paper for decoration, and what seemed like a romantic and fun night then has become the kind of memory you want to sweep under the rug-only to unearth as comedic material at nostalgic reunions.
Since it's prom season in Manila, we've rounded up our most cringe-worthy school dance memories. Hit the comments section to share yours!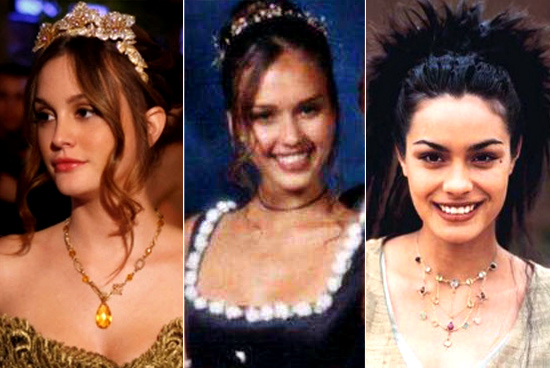 ADVERTISEMENT - CONTINUE READING BELOW
Why hide that gorgeous face behind all that hair?
1. The Hair Issue
Ask the salon you want a glamour hairdo for prom and you get one of the following: spindly tendrils around your face (the twirly Aquanet kind, and not soft, natural effortless curls); spiky ends around your bun (it's a mix of demure and edgy, okay?!); crunchy, overly gelled hair; or the formerly way-cool zigzag middle part.
We wonder just how many ladies have locked themselves in the bathroom trying to undo the damage.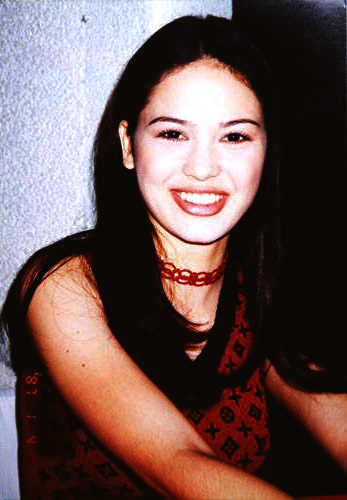 Even the lovely Kristine Hermosa was not spared from bad '90s makeup.
2. The Edward Face
Back then it was the Edward Scissorhands look, but kids nowadays confuse it with their favorite Twilight vampire. Either way, it's that ghostly pale result from a heavy hand with the "pancake" foundation. Remember that this was a time when we didn't have YouTube available to help us with makeup tutorials.
ADVERTISEMENT - CONTINUE READING BELOW
The situation only gets worse when the camera flash goes off, and your powdery face (even more obvious compared to your natural-hued neck) is immortalized in a photograph.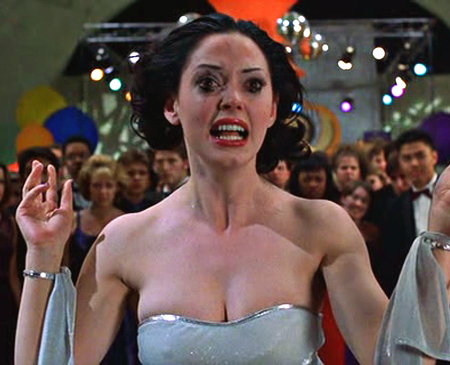 We forgive you for wearing silver eyeshadow, but was it really hard to put on waterproof mascara?
3. Eyeshadow to match
Forget your skin tone, face shape, eye shape. Your makeup is never about the things that are supposedly important considerations when painting your face. The basis of your prom makeup back then was always about the color of your dress. Blue silk? How about a nice shimmery blue shade over your lids? Plum taffeta? A dark purple swipe across your peepers, duh!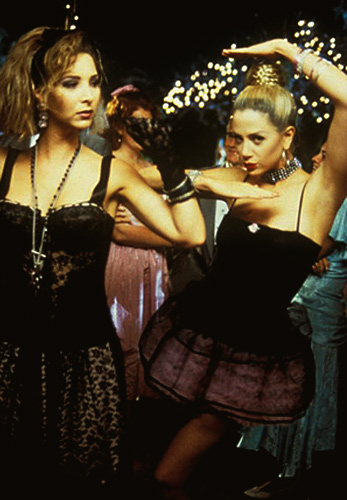 ADVERTISEMENT - CONTINUE READING BELOW
We wouldn't even wear this in the '80s.
4. The extremely trendy dress
To stand out from the crowd of cupcake skirts, frills, and mermaid dresses, you went for something a touch more modern. The fun print or bubble shape was probably cool and sophisticated at the time, but fast-forward 10 years later, and that hot trend is now a hot mess-in the same vein as mullets and shutter shades. Don't we wish we chose something a tad more timeless?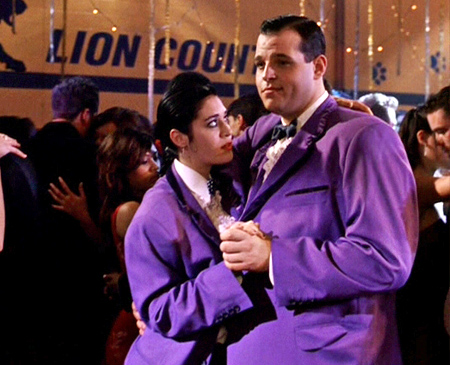 Okay, so this is kind of cool.
5. The same dress
And on the opposite end of the spectrum were the ladies who played it too safe-so much so that they ended up on the dance floor right next to a person wearing an identical dress or gown flaunting the same fabric. Worse if it was the same sickly carnation-pink satin. In the words of Tim Gunn, "Awkward, times two."
ADVERTISEMENT - CONTINUE READING BELOW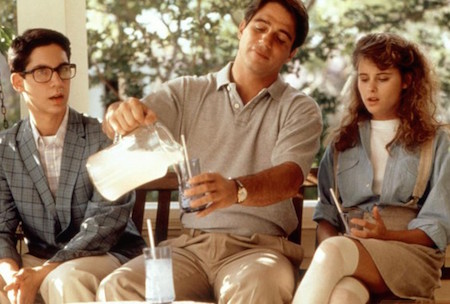 A different kind third wheel
6. The introduction to the parents
Embarrassing when your date is your crush, and extra excruciating when you're also meeting your date for the first time (hey, it's happened). You just want it over with as soon as possible, from the moment your parents practically fight for the door to let him in, and then proceed to ask a long list questions that could easily have him running back home. The queries vary according to their level of concern: What time are you planning to take her home? How are your grades in school? Where do you see yourself in the next five years? Would you like to see my gun collection?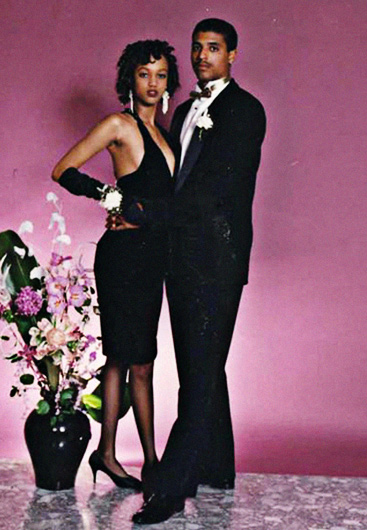 ADVERTISEMENT - CONTINUE READING BELOW
Supermodels can't pull it off either.
7. The Prom Pose
The rigidity? The scripted-ness? The high-school-ness?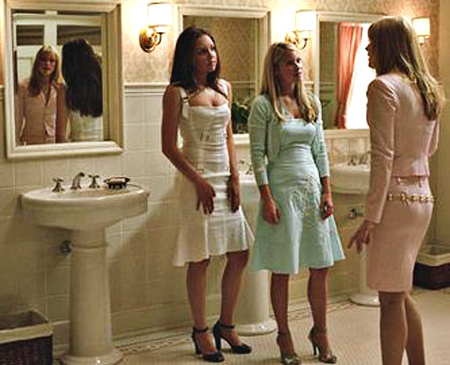 It's a girl thing.
8. Crowded bathrooms
Girls like hanging out in groups in the bathroom. This is practically coded in their DNA. But it's a situation that worsens during prom when lipstick is smudged, powdery foundation needs to be retouched, and peeing becomes an even bigger chore with long gowns and heels. Think of it as EDSA during rush hour. Even the most low-maintenance ones find themselves seeking refuge in the bathroom for a quick breather from the dancing-or to escape awkward small talk with their dates for even a minute.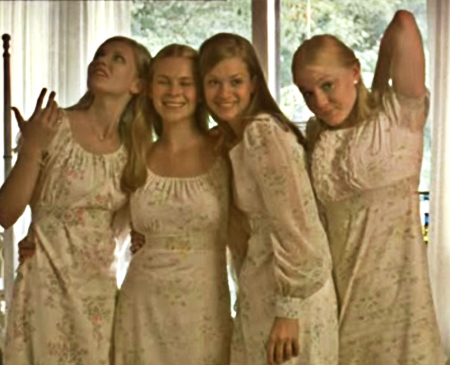 ADVERTISEMENT - CONTINUE READING BELOW
"Identical, shapeless sacks"
9. The dress code
This happens in more traditional and conservative schools-the dress assignment. It's when the principal calls the prom "promenade," and requires seniors to wear blue and juniors to wear pink. The dance floor turns into a sea of baby pinks and baby blues, making your friends easy to spot from afar. Some schools also have more specific requirements-length up to here, sleeves are a must, nothing backless (unless you're happy to cover yourself up with a shawl brought just for you by one of the teachers?). The worst part is that you have no choice but to comply with this uniform.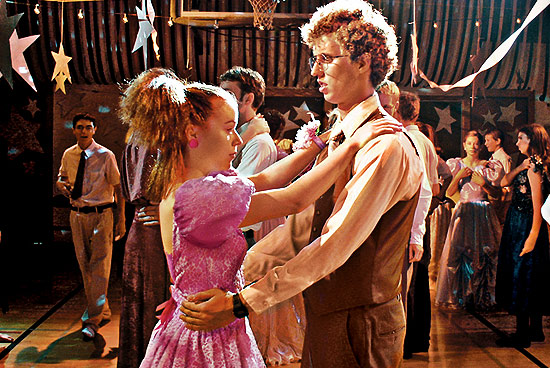 This scene actually captures this entire article.
10. Dancing at arms' length
Couples who are in actual relationships make slow-dancing seem like a tear-jerking picture of puppy love, but what about the couples who just met a few hours earlier at the nearest McDo? You know, the ones who got reto by a popular friend who had a network in the neighboring boys' school? Or the date your tita desperately set you up with.
ADVERTISEMENT - CONTINUE READING BELOW
The compromise between awkward dancing and awkward sitting is a stiff two-step with an imaginary balloon in between. ("Leave space for the Holy Spirit!") Extra points if your DJ played "Got to Believe in Magic" or "King and Queen of Hearts!"
Photos from www.chive.com (Jessica Alba); www.20somethingawesome.com (Jocelyn from A Knight's Tale); Summit archives (Kristine Hermosa); www.smosh.com (Tyra Banks); and screencaps from Romy and Michele's High School Reunion, Virgin Suicides, She's The Man, Jawbreaker, Mean Girls, Napoleon Dynamite, She's Out of My League, and Gossip Girl.
Load More Stories