10 Kickass Miriam Defensor-Santiago Quotes From the Mamasapano Senate Hearing
"Don't play words with me. Words are my livelihood."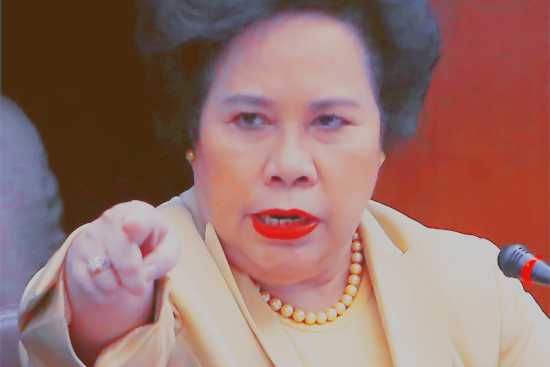 (SPOT.ph) And on the third day, she appeared: Senator Miriam Defensor-Santiago parked herself on the Senate floor with all the (welcome) elegance of a bulldozer without a brake. Time's a wastin' and she wants you to answer her questions as fast as you can, without any lubricant to make it palatable to the public. She called former Special Action Force (SAF) Commander Getulio Napeñas a failure, but pointed her educated finger beyond him. Purisimese? Puh-leeze. This woman ain't gonna have none of that-not when 44 brave policemen were led, in her words, to a massacre. "We''ll never see them again," she said. Justice must be served.
ADVERTISEMENT - CONTINUE READING BELOW
Here's what you missed during the cancer-fighting senator's turn at the Mamasapano Senate Hearing on Thursday.
1. On the SAF Troopers: "[The SAF troopers] fought heroically. These 44 are heroes of the country, but they ran out of bullets! They fought until they ran out of bullets!"
2. On former SAF Commander Napeñas: "Ang problema sa 'yo, sir, is you're assuming full responsiblity for the operation. As I will show later, I doubt very much your statement that you were in full or sole control of that operation...Maraming nagkamali, hindi sa 'yo lahat nanggaling ang detalye kaya hindi ka dapat ma-blame for the whole fiasco."
3. On what the incident should be called: "They were trapped there, dahil nagising na ang BIFF at MILF. The men literally walked into a trap! ... That is why, we call this a massacre, not an encounter."
4. On the violation of the Geneva Conventions of War: "Inisa-isa sila. They were just sitting ducks there. Sa video makikita natin...it's so gruesome, it will infest your nightmares. [Tinamaan] lang sa paa, pinuntahan niya, binaril niya sa ulo-twice. Wala siyang pakundangan. That's the people we're going to sign an agreement with? The Bangsamoro Basic Law? Maliban diyan, may dala pa siyang baril at camera! Kayayabang-yabang na tao, i-u-upload niya sa YouTube! Parang trophy of war niya 'yan. Ganyang klaseng kalaban ang meron tayo."
ADVERTISEMENT - CONTINUE READING BELOW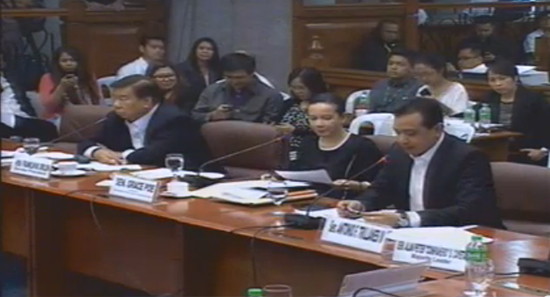 The rest of the Senators, delegated on Thursday to the role of  "others"
5. On the bungled mission: "Anong klaseng operasyon 'to, may gulatan?"
6.  On former SAF Commander Napeñas's decorum: "You have acted like a gentleman, but I want to know who are the people pulling the strings behind you, since you are not the commander-in-chief of the PNP."
ADVERTISEMENT - CONTINUE READING BELOW
7. On Purisima's action as a suspended PNP Chief: "You performed the functions of your office, albeit in a surreptitious manner. And then you say that you're not violating the terms of your preventive suspension? You're using words to confuse the person listening to you. Nakialam ka eh!"
8. On Purisimese: "Aren't you ashamed of yourself? Saying 'I delegated the authority but I did not delegate the responsibility' or some such words? You should hear yourself talk!"
9. On all the blaming, addressed to Alan Purisima: "Ah, lahat na lang ituro niyo sa SAF Commander? Forty-four men are dead and you're all pointing fingers to the SAF Commander? Common sense dictates-sentido comon na lang ito eh, hindi naman siya ang pinakamataas eh. Sinong mas mataas sa kanya? Ang chief ng PNP, pero preventively suspended ka. Tapos 'yung kapalit mo na acting chief, ayaw ninyong sabihan. Wala siyang kaalam-alam. Kaya sino lang ang nakaalam? Ikaw at si President Aquino."
ADVERTISEMENT - CONTINUE READING BELOW
10. On the truth: "There are many truths! Count how many people are around this table, that's how many truths there are."
Also read:
Purisimese 101: Basic English à la Alan Purisima
Erratum: An earlier version of this article identified former SAF Commander Napeñas as Philippine National Police (PNP) officer-in-charge Director General Leonardo Espina, specifically on items 2 and 6.
Recommended Videos
Load More Stories