A man has written a love letter for his wife every day for the last 40 years + more things you might have missed today
Binay doesn't want P-Noy to resign, listen to a Beck and Beyoncé mashup, and more.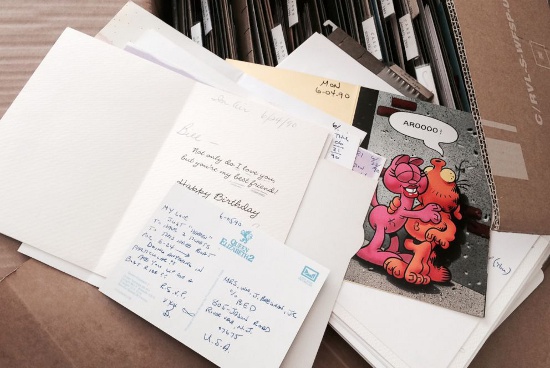 Photo via ABC News
(SPOT.ph) Busy day, Spotters? We quickly recap 10 things you might have missed while you were off the radar.
1. A man has written a love letter to his wife every day for the last 40 years
Fellas, it's time to step up your game...big time. A man in New Jersey has been writing a love letter for his wife every day for the last 40 years. Seventy-four-year-old Bill Bresnan said his 10,000 letters are a "love diary" of their journey together since the day they first met. "For example, I could pick out a day in 1982, and it'll begin with the restaurant we ate in or a movie we saw and then a reaction to that," he explained.
ADVERTISEMENT - CONTINUE READING BELOW
According to the report, Bresnan has never missed an opportunity to write something for his wife, including the time they were both diagnosed with cancer. All together now: Awwww.
2. Usman wounded and likely in Mamasapano, says governor
Provincial governor Esmael Mangudadatu said Friday that wanted extremist Basit Usman is wounded in the shoulder and hiding in Mamasapano. He also said his information indicated that Usman may have suffered a mild stroke and has five to 10 personnel securing him. However, Mangudadatu said he is "not discounting the possibility Usman could get to nearby towns in Maguindanao."
3. Binay rejects calls for Aquino to resign
On Thursday, Vice President Jejomar Binay rejected calls for President Benigno Aquino III to resign over the Mamasapano operation, saying, "Ayoko naman. You know, I am the vice president. Alam n'yo naman na magka-candidate ako for presidency in 2016. Let us just wait," he said. "I am hoping and praying that the President will overcome this problem very soon."
ADVERTISEMENT - CONTINUE READING BELOW
He also pushed for the creation of an "independent fact-finding commission" to "dispel all doubts that the investigations are merely a 'cover-up.'"
4. NBI tracks down place where viral Mamasapano clash video came from
The National Bureau of Investigation (NBI) has tracked down the location of where the video of a purported PNP-Special Action Force commando being shot at close range was uploaded. Investigators from the NBI Anti-Cybercrime Division are also starting to identify the people in the viral video. Justice Secretary Leila de Lima refused to disclose details, saying that the video, once authenticated, is admissible in court.
5. DOH monitoring 11 others for MERS-CoV symptoms
According to the Department of Health (DOH), 11 of the 56 people identified to have had close contact with the female Filipino nurse who tested positive of the Middle East Respiratory Syndrome-Coronavirus (MERS-CoV) showed flu-like symptoms, including the patient's husband. The 11 people will undergo confirmatory tests to see whether they caught the disease.
ADVERTISEMENT - CONTINUE READING BELOW
6. Listen to an awesome mashup of Beck and Beyoncé
This year's Grammy Awards may be over, but people are still debating whether Beck should have won Album of the Year over Beyoncé or not. Someone on the Internet solved all your dilemmas and mashed up Beck's "Loser" with Beyoncé's "Single Ladies (Put a Ring on It)." The result is pretty awesome.
7. Influential New York Times columnist David Carr passes away
Veteran New York Times journalist and columnist of the Time's Media Equation died Friday after collapsing in the newsroom. The 58-year-old joined the Times in 2002 as a business reporter covering the magazine industry, and had been writing about the media and its evolution since. Following the announcement of his death, there has been an outpouring of condolences on social media, including his fellow journalists.
8. Facebook will be with you till death, and beyond
A new Facebook update now allows its users to designate a "legacy contact" who takes control of the profile and even post messages following a death. In assigning a legacy contact, the user can also give permission to download an archive of the photos, posts, and profile information shared on Facebook.
ADVERTISEMENT - CONTINUE READING BELOW
"Facebook is a place to share and connect with friends and family. For many of us, it's also a place to remember and honor those we've lost," said a Facebook blog post announcing the update.
9. 10 Love Teams That Need to Get Back Together
There are some things that last long after the end credits roll...like love teams. Like Marvin-Jolina and Richard-Dawn reunions, we round up 10 love teams that we'd love to see back on our screens for one more project.
10. SPOT.ph's Staycation Guide: Where to Go for Valentine's Day 2015
Switch up your Valentine's Day plans this weekend, and check out these promos and offers that will help you and your significant other make even more romantic memories together.
Load More Stories