10 Mind-Boggling Things Our Lolas Used to Say
Her wisdom on the way the wind blows (while you're making a face)
(SPOT.ph) Time with lola, scary as she could be at times, will always be special. From her, we learned that babies come from vegetables. Yes. It must be something between the talong and the papaya. Most of us have broken free from believing that dropping the spoon faceup means that a pretty woman would walk in any minute...but because of our afternoons with her, we're still hesitant about swallowing seeds. Better safe than a tree (in our tummy).
Here are 10 of the most mind-boggling things our grandmothers used to say. (Seriously, do they have an association where they discuss these things?)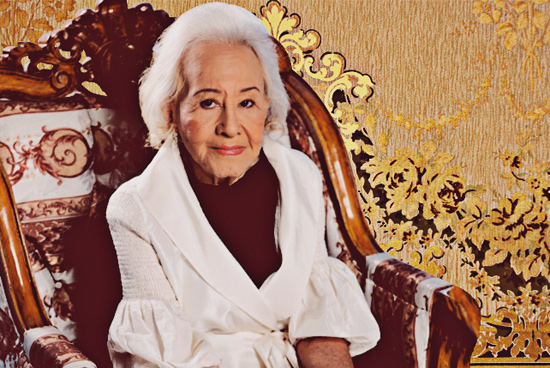 1. "Huwag kang kakanta kapag nagluluto ka, hindi ka makakapag-asawa."
If you have ever needed to explain your NBSB situation, you can always refer to that time your lola caught you singing in front of the frying pan...and doomed you to spinsterhood.
ADVERTISEMENT - CONTINUE READING BELOW
2. "Iyong isang butil ng kanin na hindi mo kakainin, isang taon sa purgatoryo ang katumbas!"
She might as well have followed that with a cackle (plus some thunder rolling, no matter how fair the weather was), because it motivated you to practically lick the plate clean. Do the mashed ones count? What's the equivalent time of the sticky imprints?
3. "Huwag kang matulog nang basa ang buhok mo, mabubulag ka."
Try as we might, we can't figure out how water in our hair could possibly impair our eyesight...but we believed it anyway! A variant of this is that you'd get white hair if you slept with wet hair. Nowadays, you sort of wish that were true-that way you don't have to bleach your hair before you add funky colors. It just doesn't work, lola. How could you lie to us? (Just kidding, we love you.)
4. "Baka mahipan ka ng masamang hangin!"
This makes no sense whatsoever...but then again, pretending to be cross-eyed (which was what usually prompted this warning) also makes very little sense.
5. "Kapag nilunok mo 'yung buto, tutubo sa tiyan mo."
You go from merrily eating a slice of orange or a watermelon to lying wide awake at night, wondering if you're about to have all the fruit you can eat. Of course, you realize that you'll have to find a way to get the fruit from your belly (somehow) in order to...er, put it there again (or sell it, if you were a business-minded kid). If you were particularly imaginative, you probably hit the panic button once you visualized an enormous tree bursting from who knows where.
ADVERTISEMENT - CONTINUE READING BELOW
6. "Ihian mo 'yung kamay mo para hindi ka pasmado."
If this really is an effective method of getting rid of clammy hands, it would be very hard to find testimonials. You have to admit, you'd have a moment of hesitation before shaking hands with someone who actually tried this. (S/he probably washed and scrubbed...so...you know. It's okay...right?)
7. "Umaaraw pero umuulan? May kinakasal na tikbalang."
Well, if you didn't sing while cooking, you could be getting married, too!
8. "Huwag mong hakbangan si bunso, hindi na siya tatangkad."
Was it just her way of making us get more exercise (you know, since we'd have to walk around whoever was lying on the floor instead of stepping over them)?
9. "Kapag napagligpitan ka, hindi ka na makakapag-asawa."
Who cares if you get indigestion? Finish your meal now, don't dawdle! If you have a sister, the two of you probably tried to finish before the other...even if neither of you actually knew what to do with a husband just yet.
10. "Kukunin ka ng pulis!"
...or the security guard, if one is nearby. This is probably the root of our distrust of men in uniform. We're always afraid that they'll be mad and take us to jail...for picking our nose in public or wanting to cry because we want that toy so bad. Can you imagine the mug shot? And the conversation with other "inmates"? One kid would say, "They got me throwing a tantrum." The other kid would say, "I just really wanted to go home to mama."
ADVERTISEMENT - CONTINUE READING BELOW
Load More Stories