P-Noy or Binay? More groups call for President Aquino's resignation
Are you ready for a Binay presidency?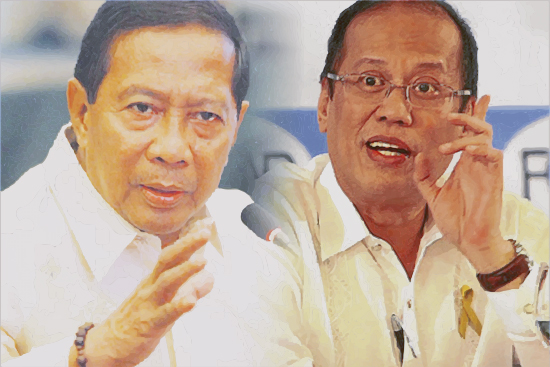 (SPOT.ph) Over the weekend, several groups, including One Billion Rising led by Gabriela and Monique Wilson, renewed calls for President Benigno Aquino III to step down from his position in light of the bungled "oplan" in Mamasapano. The same call was made by Retired Cebu Archbishop Ricardo Cardinal Vidal plus several other Church leaders, without the official support of the CBCP. And, curiously, a group called EDSA dos bente dos Coalition has been rallying online support for a protest. (A bit similar to the People Power Revolution, don't you think? What irony.)
ADVERTISEMENT - CONTINUE READING BELOW
The Palace stated that although people are free to "demonstrate their feelings," they will wait for what the Board of Inquiry has to say on the matter. Prior to this, several other public thinkers shared their opinion on the matter-pointing out that the heir to the throne is no less than Vice President Binay. Caloocan Representative Edgar Erice echoed the sentiment, adding, "If you want P-Noy to resign, then you want Binay."
On Monday, GMA News published an opinion piece by a certain Harvey S. Keh titled "Why Jejomar Binay is going to be our next president." Keh praised the Vice President's "low-key" leadership style, because people can't say much if you don't do much. 

Incidentally, Vice President Binay's son, Makati Mayor Junjun Binay, said on February 11 that his father has every intention of running in 2016-come hell or high water. The next day, the Veep spoke to reporters in Cebu about the waning support for P-Noy, telling them that he is "praying hard" that the President "overcomes the problem very soon."
ADVERTISEMENT - CONTINUE READING BELOW
Aww.
Also read:
10 People Who Should Run in the 2016 Presidential Election
VP Binay's experience with investigations makes him an expert in "Truth Commissions"
Binay Problems
Smackdown: DILG Secretary Mar Roxas vs. Vice President Jejomar Binay
Recommended Videos
Load More Stories