Bench releases a statement on "defaced" billboards, proposes to use original pro-LGBT mock-up
We might actually see their hands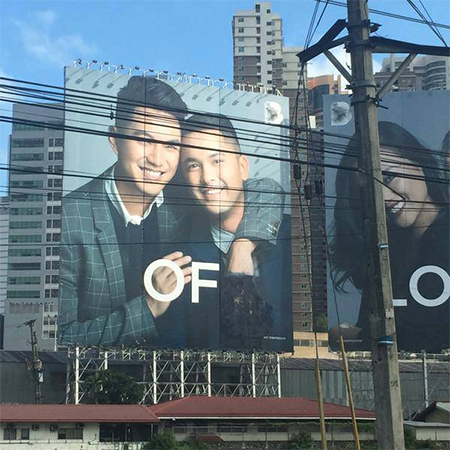 (SPOT.ph) Defaced? Rejected for being "too gay?"...but, according to sources, not actually blurred by the Ads Standards Council (ASC)? The crude black paint over the hands of Preview magazine creative director Vince Uy and boyfriend Niño Gaddi inspired several artists to #painttheirhandsback, eventually propelling it to appear in today's standard for Internet success, BuzzFeed.
ADVERTISEMENT - CONTINUE READING BELOW
But not long after the news broke, several people began stirring the pot. While the support for the campaign grew strong, a handful of people expressed their own theories about who really censored the billboard. A commenter from our original feature sums it up: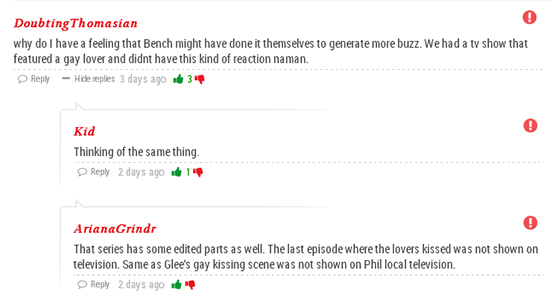 Gay Star News quoted one media outfit reporting about ASC Executive Director Mila Marquez denying that they were responsible for the censorship: "This particular series was not blurred by ASC. We were surprised they blurred it... Possibly because they think they will be given approval if they do that."
ADVERTISEMENT - CONTINUE READING BELOW
Other major news agencies have yet to confirm this statement, but Bench Advertising and Promotions Manager Jojo Liamzon addressed the comment in an official letter sent to Summit Media's StyleBible.ph:
When billboard images for Bench's 'Love All Kinds of Love' campaign were submitted to the governing body, the company received concern over the photo of Vince Uy with his arm around partner Niño Gaddi, hands clasped in a show of affection. Prior, the governing body had rejected photos of the couple looking lovingly at one another, citing 'traditional Filipino family values' as a reason.
The approved version with hands obscured is the billboard that Bench had printed and that now stands on EDSA. A digital mockup of the EDSA billboard showing the unobscured hands of Uy and Gaddi had been disseminated to press and is what likely led the public to assume the billboard had been defaced.
ADVERTISEMENT - CONTINUE READING BELOW
Despite its deviation from the original idea, Bench decided to move forward with the billboard showing obscured hands because the company believes that its message was still intact: that of well represented diversity, and the message that same-sex relationships are just as substantial and valid as heterosexual romantic love and familial love. We respect ASC's commitment to 'adhering to prevailing moral and social standards of the country' and salute them for upholding their beliefs. However, we were resolute at championing a cause we strongly believe in.
The thrust of the campaign had always been inclusion, acceptance, and respect. We saw no better time for it than the week of Valentine's Day, the celebration of love. We still stand by a message of unity, not division. And while the message has been compromised to an extent, the most important thing is that at least, for the duration that the billboards are up, the voices, lives, and loves of the LGBT community are unavoidable and undeniable on an avenue Filipinos from all walks of life cross everyday.
ADVERTISEMENT - CONTINUE READING BELOW
After having discovered the governing body's clarified stance recently, where its director was quoted in Rappler to be accepting of Uy and Gaddi's billboard, Bench would like to propose a replacement of the couple's current billboard with that of the original image, hands clasped.
Also read: One of the "Celebrate Love" ads along EDSA has been defaced, artists #painttheirhandsback
Load More Stories