How People are Helping the PNP-SAF Families
...and the ways that you can, too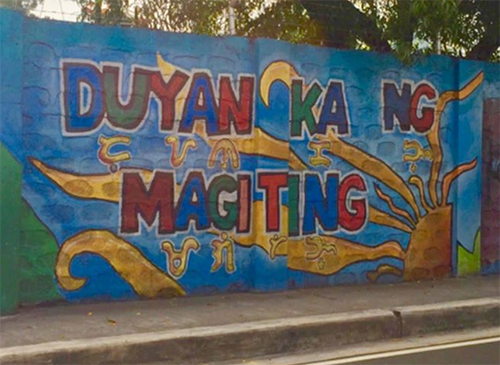 (SPOT.ph) On February 18, President Benigno Aquino III made a surprise visit to the PNP Multipurpose Center during a "one-stop shop" welfare program for those left behind by the SAF troopers now known as the Fallen 44. Although the media was barred from covering the event as it was happening, we know for sure that several heads of different departments were also present to help the families of the 44 process their claims to pension and other benefits.
ADVERTISEMENT - CONTINUE READING BELOW
However well-meaning the event was, it remained shrouded in controversy, with Manila Standard Today reporting about a rumor that voices were raised during what DILG Secretary Mar Roxas dubbed a "Support Day." Politics, it seems, gets in the way of helping.
Quite fortunately, the Philippines is not merely its government. Although the Palace (and Kris Aquino) think that citizens are being unfairly critical of the way the incident has been or is being handled, it only shows that the nation is grieving over a collective loss and that some are even looking for a way to do more.
Without using any affiliations but merely relying on the trust of friends (and strangers even!), people like Diday Veneracion Alcudia and Yvette Fernandez made a simple post on Facebook*: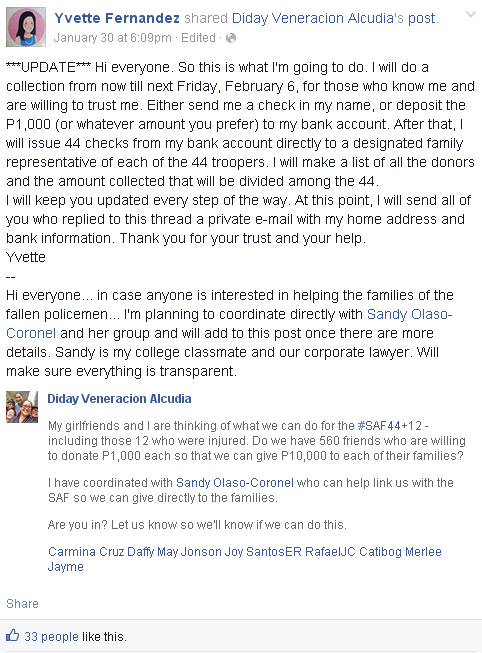 ADVERTISEMENT - CONTINUE READING BELOW
Social media often gets flak for changing our lives for the worse and this outpouring of support, one that Fernandez herself didn't expect, is a wonderful reminder that there's power in the connections we make waiting to be utilized.
The movement wasn't big and it wasn't publicized. If Fernandez had it her way, it wouldn't ever be, because it's nothing more than a group of people pooling their resources together to be productive in their sorrow. By the end of it though, Fernandez realized that her hundred friends have their own friends and from an initial target of P440,000, she ended up with more than twice that amount. Through that simple post, nearly P2 million was raised.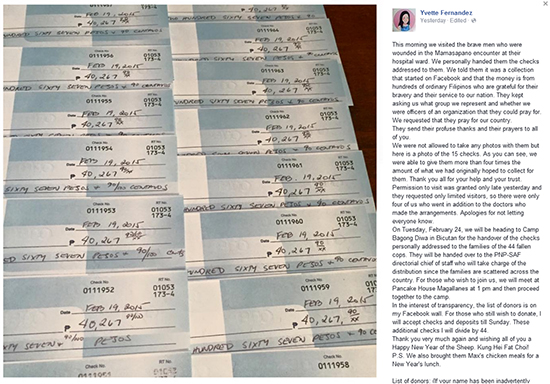 ADVERTISEMENT - CONTINUE READING BELOW
It's a frightening amount of money to handle, but the best part is that the money will be divided equally and the checks will be written out to the Fallen 44's widows or kin. Fernandez shared that she feels that the people who donated took comfort in the fact that it's someone they trust handling the funds-they know it will go to the right people, without deductions of any kind.
Fernandez meticulously listed the names of the donors and the amount, for transparency...something, she candidly shares, she did in PJs, usually in the morning before heading to work. Helping doesn't have to be difficult.
Aside from this initiative, if you want to help in your own way, there are also benefit concerts like Jammin' for Help to be held on February 23 at The Theatre (7:30 p.m.). Prior to this, Tugtugan Para Sa Tagaligtas was held at Tiendesitas on February 19.
ADVERTISEMENT - CONTINUE READING BELOW
*Please note that this particular drive by Ms. Fernandez has concluded.
Recommended Videos
Load More Stories