Hey, Mrs. Clooney. We need to talk about GMA.
We have a feeling you're not familiar with the fun in the Philippines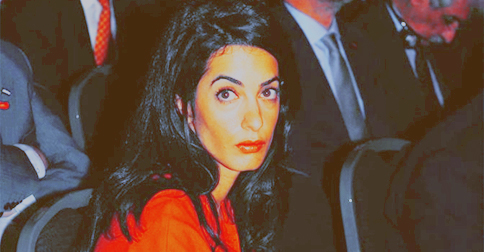 (SPOT.ph) Hey, Mrs. Clooney. We hope it's okay to call you Mrs. Clooney and, also, we're sorry that most of the news about you still focuses on that more than all of your other accomplishments in life. You seem to be a brilliant woman and being a human rights lawyer is the very definition of good.
We reported on your rather peculiar choice of client in May 2014, but that didn't get much attention then. Now that you've made quite a name for yourself as Amal Clooney, well...people are abuzz. Of course, that's probably because most people didn't really think you were serious. Sooner or later, we were all thinking you would come across documentation of certain things that happened in the Philippines during the presidency of incumbent Pampanga Representative Gloria Macapagal-Arroyo.
In between allegations of electoral fraud (there's even a Wikipedia page for it, just ask Google) and the questionable parts of Oplan Bantay Laya, not to mention the long list of extrajudicial killings that neccesitated a United Nations report...are you sure about this, counselor?
ADVERTISEMENT - CONTINUE READING BELOW
We're just a little confused because your client has been tagged in the Fertilizer Fund Scam and the Malampaya Fund Scam. Oh, and the NBN-ZTE Deal. When we read headlines that imply, nay, flat out say that you want our government to apologize to someone who can be argued to have done more harm than good from 2001 to 2010, we feel an influx of emotions that make us want to spew out an alarming amount of expletives not safe for publication.
She said sorry.
There are groups here in the Philippines who also fight for the rights of detainees, like the people who fought for Andrea Rosal and her baby, who died because Rosal was taken to the hospital too late. She was also forced back to prison after giving birth. By forced we mean that she was shoved into a chair, which opened her stitches. She is suing the government for what happened and she could use a pretty good lawyer who believes in human rights.
ADVERTISEMENT - CONTINUE READING BELOW
Speaking of which, have you heard of Jovito Palparan? Our former president is quite fond of him (he was promoted twice during her administration) and she praised him for his counter-insurgency efforts. There are numerous reports detailing what "counter-insurgency efforts" really mean. We regret to inform you that they sound like torture. The family of Karen Empeño and Sheryn Cadapan could use a pretty great lawyer as well, because we think that given Palparan's former position (he was a high ranking army man), he's likely to receive a great deal of comfort despite having given none to people he apprehended. Or abducted, if you want to be technical.
Of course, you're the expert here. You have the degree and everything. We're just worried that we're not meeting eye to eye on the term political repression, to which the Arroyo camp claims they are being subjected. She's currently a representative in Congress and she's in a hospital, being given more than a modicum amount of care.
ADVERTISEMENT - CONTINUE READING BELOW
It's not that we don't understand your position. We do and we're actually used to giving our politicians the benefit of the wheelchair (among other medical aids) when their corruption is on the verge of being exposed. Note that it's always just on the verge-never really exposed. Sometimes we even pay for their hospital bills. They allegedly even have birthday parties in prison.
Speaking of which, have you seen the New Bilibid Prison? It has a recording studio.
CONTINUE READING BELOW
Recommended Videos
Share this story with your friends!
---
Help us make Spot.ph better!
Take the short survey
Load More Stories