10 Tweets That Trended Today: The Twitterati on Dubsmash videos, e-BIR + more
Plus, how would a mushy plate number look like?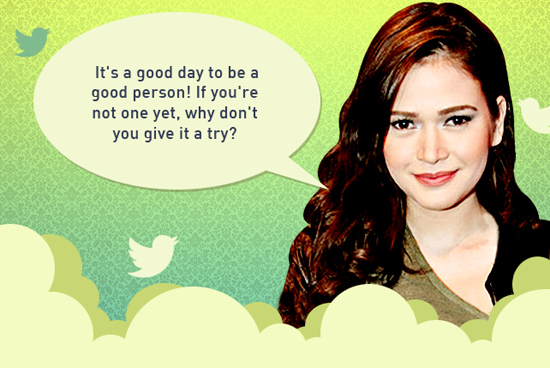 (SPOT.ph) The latest viral trend taking over our Twitter feeds is Dubsmash, an app that lets you dub famous lines from movies, songs, or TV series. Both celebrities and fans are riding on the bandwagon, probably to take their minds off the scorching summer heat. In other news, the Bureau of Internal Revenue (BIR) implemented the online filing of taxes or e-BIR which got people talking about their own BIR encounters.
ADVERTISEMENT - CONTINUE READING BELOW
CONTINUE READING BELOW
Recommended Videos
Did we miss a tweet from your favorite local celeb or personality? Share your thoughts on our comments section below or follow @Spotdotph on Twitter to let us know what you think!
Art by Warren Espejo
dubsmash your own song, that'd be funny. #douche :-)

— Yael Yrastorza Yuzon (@yaelyraz) April 10, 2015
Yael Yuzon, musician
Ibang level ang acting Ng mga Beki friends KO sa #dubsmash grabe.. Pang Olympics 👍 #ricolization #dubsmashpamore

— IG: @Ricochismoso (@ricorobles) April 10, 2015
Rico Robles, radio DJ
"CCT beneficiary to study civ eng in UP"on front p of @Team_Inquirer. Mabuhay! That's spirit:break cycle of poverty,link to strat reforms

— risa hontiveros (@risahontiveros) April 10, 2015
Risa Hontiveros, AKBAYAN chairperson
It's a good day to be a good person! If you're not one yet, why don't you give it a try? 😝

— Bela Padilla (@padillabela) April 10, 2015
Bela Padilla, celebrity
Five seconds prior I said "Oh my God I'm in a DeLorean" #weowntheeighth Thanks @Ryanimay and @Sthanlee for the photo pic.twitter.com/B4Ui9dT18h

— Ivan Dorschner (@ivandorschner) April 10, 2015
Ivan Dorschner, model
Volleyball >>>>> Politics. Let the politicians deal with politics and let the players play.

— Gretchen Ho (@gretchenho) April 10, 2015
Gretchen Ho, athlete
UP Law wins 2015 Oxford Price Moot Court Competition! Congratulations!

— Mikee C. Jaworski (@mikeecj) April 10, 2015
Mikee Jaworski, celebrity
The weather is so nice but I'm indoors staring at my computer screen.

— Annicka Dolonius (@AnnickaDolonius) April 10, 2015
Annicka Dolonius, actress
Awww, bae <3 pic.twitter.com/CMZwqmc3t3

— Atom Araullo (@atomaraullo) April 10, 2015
Atom Araullo, journalist
belated cedula. guy before me in nice clothes does not declare any income and pays P59.40. I declare my salary and pay P249. juskupo Pinas.

— peryodkow (@vindancel) April 10, 2015
Vin Dancel, musician
Load More Stories