10 Tweets That Trended Today: The Twitterati on 4/20, China's reclamation activities + more
Plus, what do rodents love to eat?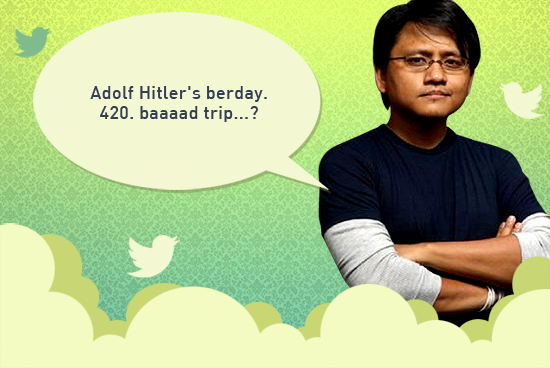 (SPOT.ph) It's April 20 (4/20 in the Twitter world) which is an ordinary workday for some, and Cannabis Day for others. The unusual holiday had some people thinking up clever ways to celebrate the occasion. Meanwhile, the Armed Forces of the Philippines (AFP) has raised concerns about China's reclamation activities in the West Philippine Sea, describing their movements in the territory as "aggressive" and therefore citing cause for alarm.
ADVERTISEMENT - CONTINUE READING BELOW
CONTINUE READING BELOW
Recommended Videos
Did we miss a tweet from your favorite local celeb or personality? Share your thoughts on our comments section below or follow @Spotdotph on Twitter to let us know what you think!
Art by Warren Espejo
— Franco Cruz Mabanta (@FrancoMabanta) April 19, 2015
Franco Mabanta, TV host
— Bogart the Explorer (@BogartDexplorer) April 20, 2015
Bogart the Explorer, comedian
— Jim (@Jimparedes) April 20, 2015
Jim Paredes, celebrity
— Ira Cara Cruz (@iracaracruz) April 20, 2015
Ira Cruz, musician
— Ogie Alcasid (@ogiealcasid) April 20, 2015
Ogie Alcasid, singer
— Daphne Osena Paez (@DaphneOP) April 20, 2015
Daphne Osena Paez, TV host and producer
— Marc Abaya (@MarcAbaya) April 20, 2015
Marc Abaya, musician
— Kylie Nicole Padilla (@kylienpadilla) April 20, 2015
Kylie Padilla, celebrity
— peryodkow (@vindancel) April 20, 2015
Vin Dancel, musician
— benjamin alves (@benxalves) April 20, 2015
Benjamin Alves, celebrity
Load More Stories