10 Tweets That Trended Today: The Twitterati on Maria Ozawa, #LabanManny + more
Plus, how is Apple CEO Tim Cook similar to Venus Raj?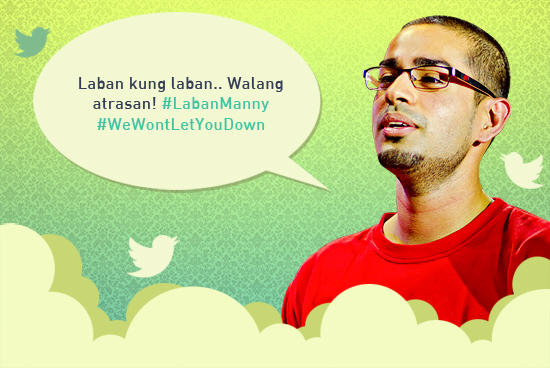 (SPOT.ph) Aside from constantly keeping vigil over Mary Jane's case, netizens got sidetracked when it became known that Maria Ozawa, a popular Japanese adult film star, is here in Manila. As the so-called fight of the century draws near, fans eagerly cheer on Manny Pacquiao, who could very well lift everyone's spirits by the end of this week...that is if he wins against Floyd Mayweather Jr.
ADVERTISEMENT - CONTINUE READING BELOW
CONTINUE READING BELOW
Recommended Videos
Did we miss a tweet from your favorite local celeb or personality? Share your thoughts on our comments section below or follow @Spotdotph on Twitter to let us know what you think!
Art by Warren Espejo
— 小澤マリア (@ozawamaria0108) April 28, 2015
Maria Ozawa, adult film star
— Oscar Oida (@oscaroida) April 28, 2015
Oscar Oida, TV reporter
— SIR BANATERO (@SirBanatero) April 28, 2015
Sir Banatero, parody account
— Lourd de Veyra (@lourddv) April 28, 2015
Lourd de Veyra, writer and TV personality
— Gretchen Ho (@gretchenho) April 28, 2015
Gretchen Ho, athlete and TV host
— Bb Gandanghari (@ImBbGandanghari) April 28, 2015
Bb Gandanghari, celebrity
— Sam Gogna (@sam_yg) April 28, 2015
Sam Gogna, radio DJ
— Jim (@Jimparedes) April 28, 2015
Jim Paredes, celebrity
— Tin Gamboa (@suzy899) April 28, 2015
Tin Gamboa, radio DJ
— Anne Curtis-Smith (@annecurtissmith) April 28, 2015
Anne Curtis, celebrity
Load More Stories