10 Overused Breakup Lines, Translated
"I need to find myself...because I was inside someone else. Sorry, bae."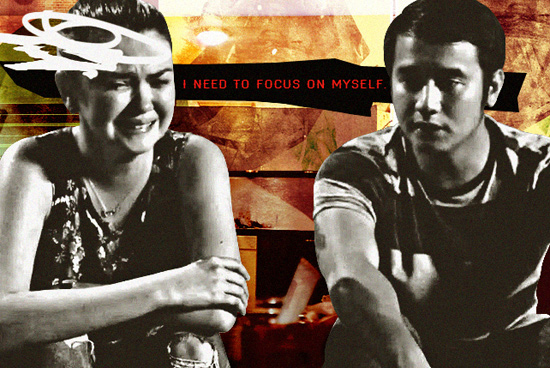 (SPOT.ph) In the movies, there's the trusty "It's not you, it's me" cliché. Obviously, it just means that the other person is removing you from the equation and deciding on their own that it's time to move on. It works because there's not much you can do about it...other than maybe say, "Oh. Okay. It wouldn't make sense to make myself less awesome for you."
ADVERTISEMENT - CONTINUE READING BELOW
Of course, at the time breakup lines were being said, none of us could even think of sassiness. It's all about groveling, pleading with pathetic drivel, and then screeching breakup anthems as a way to announce that you are never, ever, ever getting back together with that loser. Cry. Cry. Cry.
If you're going to be fed an overused line, you might as well have some fun putting your own spin on it. Which is exactly what we decided to do.
1. "I need some space."
Translation: "I met this new person and I want to see where that goes. Mind waiting?"
2. "I need to focus on myself."
Translation: "You're too distracting. And I'm possibly insecure, because you're doing better than me."
3. "I'm just not ready to commit right now."
Translation: "I think I can do better than you. I'm deluded that way."
4. "You deserve better."
ADVERTISEMENT - CONTINUE READING BELOW
Translation: "I deserve better because I'm an ego-maniac."
5. "We're better off as friends."
Translation: "Can I keep your number in case of emergencies? Like when I get a flat tire or something?"
6. "I'm just going to end up hurting you."
Translation: "I may have contracted a venereal disease because I sort of cheated on you."
7. "We've grown apart."
Translation: "My friends told me you're bringing me down. It's peer pressure, it's not my fault."
8. "I still really care about you but..."
Translation: "There's this other person..."
9. "I'm bad at relationships."
Translation: "Relationships are not for me, because I like it when random people hit on me."
10. "I love you, but I'm not in love with you."
Translation: "I'm too in love with myself."
Recommended Videos
Load More Stories