10 Stages of Getting Over An Ex
There's more to it than tears and haircuts.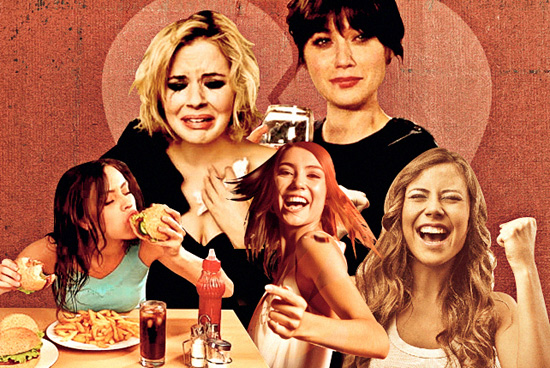 (SPOT.ph) Break-ups are different for every relationship and every person. We've already taught you how to break up in Manila in the simplest way possible, but by no means is the pain any less terrible. There are many roads to take when getting over an ex lover, and while it doesn't always occur in the same chronology, the stages are always the same.
We don't have any band-aids that could heal a broken heart (where do you get those?), but here's a short reassurance (in GIFs) that things will get better in the end. We've also added some helpful guides to help you deal.
Also read:
SPOT.ph's Ultimate Guide to Break-Up Spots: Where to do it in Manila
Break-Up Songs: 10 Tracks for Situation "Ex"
Stage 1: "I'm (not) crying."
Also known as: Tears and more tears
The Flight of the Conchords probably said it best (I've just been cutting onions / I'm making a lasagna for one) but actually, you're really crying more tears than you're drinking water. It's okay. Think of it as a stubborn pimple. You have to squeeze everything out before it gets better. So just let it all out. In fact, put a soundtrack to your pain with our list of 10 Hugot Songs. You can pretend you're in a music video.
Stage 2: "Ugh"
Also known as: Numbness and exhaustion
Your tears have gone dry. Or maybe your eyes are just swollen shut. Either way, you've cried yourself empty and you're not sure what to feel next. Are you still sad? Angry? Resentful? Hungry? With all this confusion, you choose not to feel anything at all. You don't want to see anybody, you don't want to talk to anyone. You need peace. You need a little push with a bit of booze. How about 10 Bars for Drinking Solo?
ADVERTISEMENT - CONTINUE READING BELOW
Stage 3: "I don't need food. I need him/her!"
Also known as: Emotionally induced starvation
We at SPOT.ph don't believe in hunger. Being hungry opens up more chances for the Lashing Out (see Stage 5), which is not a very good phase to be in. But we can't fault loss of appetite. Sadness does that to you. If you don't want to eat, drink instead. Juice it up and turn this into a positive with detox programs. Think of it as a metaphor for what you're going through.
Warning: Juice diets have been reported to cause irrational behavior in actresses. If you're an actress, stay away.
CONTINUE READING BELOW
Recommended Videos
Stage 4: "Wait, I need food after all."
Also known as: The gluttony phase
Conversely, the hunger kicks in. There's a huge emptiness in your heart, and you're trying to fill the void with lots of food. You come across our list of 10 Great Places to Eat Your Feelings in Manila, and you make it a personal mission. A bucket list, if you will. You assure yourself that food will never hurt you.
Stage 5: "Screw him/her!"
Also known as: The Lashing Out
The anger kicks in. You yell...at your friends who are trying to console, at the television airing that annoying cheesy rom-com, at Nicholas Sparks for lying about pretty much everything. Chill out. Looking deranged with your red face and protruding veins isn't going to help. It's okay to be mad, but be cool. Find your inner Zen by doing some yoga or getting a good massage. If he doesn't love you, then that's okay. You love yourself, and that's more important.
ADVERTISEMENT - CONTINUE READING BELOW
Stage 6: "I'm not good enough."
Also known as: Stalking-then doubting
What is he/she doing? Who is that person on his Instagram feed? Who's that boy she keeps tagging? Why does he look happy? I'm not as buff as her new guy. I'm older than his new girl. What? He won an award in college? Why didn't I study harder?! I'm a loser. No wonder he left me. Stalking your former lover's social media accounts only makes matters worse. If you must be on your phone, do something more productive than stalking. Laugh (and distract yourself) silly with ridiculous apps that are actually available.
Stage 7: "I am so lovable."
Also known as: The wild side
You're so down on yourself that you're desperate to prove that other people want you. You're lovable, you have a great personality, you're engaging, you're a keeper. You just need to validate that you are still all those things. You also need to let loose. You need to drink—this time with people who won't judge. You need to dance. You need to go to a cool club where you can be yourself and yet not be yourself. Here are 10 clubs that just might help you find what you're looking for.
Stage 8: "I need a change"
Also known as: Self-improvement
You just need to let go of something. You need to be a different version of yourself-the one without him. Look hot. Look put together. Make him intrigued with your chic bob. We're giving you some much-needed guidance with places that pamper: Top 10 Hair Salons in Manila. After all, looking good is a great way to get revenge. Oh, and so is looking happy. Wear on-trend lipstick that will put emphasis on your smile.
ADVERTISEMENT - CONTINUE READING BELOW
Eventually this will open the gate to overall self-improvement—a regular fitness routine or even just a bit more optimism. You may or may not have been the cause of the break-up, but you still know that you can be a better person.
Stage 9: "It's time to fix that Facebook status."
Also known as: The purge
It's time to dispose of those dried flowers from years back, those stuffed animals that are gathering dust, those dumb love letters that are really just lies. It's time to clean up on social media (you might as well face that dreaded Status Change): un-tag photos, remove cheesy posts, maybe even delete or block him from your Friends list. The stalking is over, and it's time to get productive. If you can't help yourself from visiting his page every now and then, use some of these office-friendly (and now heartbreak-friendly) apps that will help you focus.
Some people ask their friends to hide the keepsakes. You know, just in case you get back together.
Stage 10: "Everything is fine."
Also known as: Closure
You'll be okay. Cheers! Have a burger.
---
Help us make Spot.ph better!
Take the short survey
Load More Stories