Decoding the Dude: The Makati Guy versus the Quezon City Guy
These two subspecies will handle the same situation in different ways.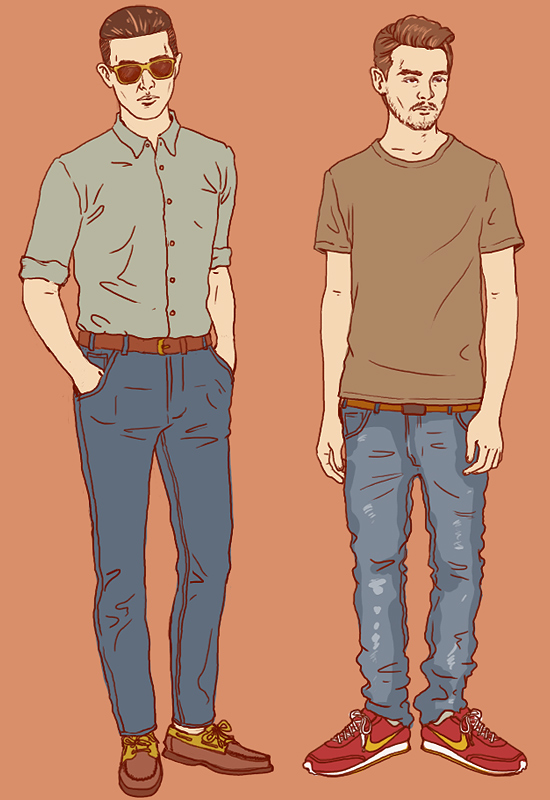 (SPOT.ph) Come on, you've thought about it. We're just writing it down for you. It's not the case of City Mouse versus Country Mouse. (Hey, QC is a city, too!). From our observations—and constant surveys—the difference between a dude from Makati and a man from Quezon City is just a matter of topography.
ADVERTISEMENT - CONTINUE READING BELOW
Art by Warren Espejo
| | | |
| --- | --- | --- |
| | MAKATI BOY | QUEZON CITY BOY |
| Casual Fashion Sense | Sleek office style. Tucked in button-downs, new jeans, brogues, slicked-back hair. For an errand-filled day, boat shoes are ideal. They're for work and play! | A pair of well-worn jeans and a nice T-shirt paired with sneaks (Converse? Maybe Vans?). Or what we'd like to call "Quezon City casual." We need something more oriented towards walking and commuting. |
| House Handiness | Toilet clogged? What's the local for the condo's maintenance department again? | Toilet clogged? Kaya pa naman ata madala sa bomba at Sosa 'yan! |
| Drink of Choice | It's been a long day, and the night's going to be longer. We're going to nurse a few glasses of wine and whisky before bed. | Bottoms up! We need several buckets of beer below zero. The picture's not complete without a plate of sizzling sisig. |
| Sport | We'll stay up to watch the World Cup. Football (no, it's not soccer) rules! | Basketball forever! We don't just watch it. We can play it anytime, anywhere. |
| Budget | P500 for a meal? That's not a bad deal for a sandwich. It's stuffed with real, whole ingredients, so you really get your money's worth. | Anything over P300 is a little too pricey. It's not that we can't afford it, it's just …why spend that much when we could eat at McDonald's? |
| Hangout | Friday night means a trip to the newest speakeasy. Jager shots on Marcus! | Call the rest of the gang. We're hanging out at Bong's place! KKB—Kanya-kanyang Booze. |
| Driving Styles | Defensive. The roads are small, parking is few, and stoplights are many. We don't want any fender benders. | Offensive. The breeding ground for this manic, king-of-the-road driving? Commonwealth. The streets are wider—well, wider than in other cities—and we're used to driving with more abandon! Speed, squeeze, speed. |
| Traffic Patience | Similarly, the inching traffic courtesy of those pesky stoplights and all those one-way streets has developed our driving EQ. We're much more patient when it comes to traffic jams. | @#&%! This traffic Armageddon is madness. We. Can't. Even. Deal. Can we just stop somewhere first and wait it out? |
| Out-of-town Reach | Tagaytay or Batangas is always within reach. Also, Makati is just a little over 20 square kilometers and the number of high-rise buildings makes it feel even smaller. A bit more (fresh) air always helps. | QC is 166 square kilometers of adventure! Teachers Village is a little homey; Katipunan is the budget-friendly strip; South Triangle is that middle ground between cozy and commercial; Cubao is the art hub; Fairview is...the land far away. Why do we even need to go elsewhere? Fine. We can go to Pasig, if you really want to. |
| Language | Don't judge us for speaking English more often. Makati is expat city (BGC, too!); we're just so used to it, that it's become natural for us to talk to people this way. American twang, not required. We can speak in Filipino just as fluently. | English is kept to official paperwork, speaking with bosses and clients, and the occasional jibber-jabber. Conversations with longtime friends are definitely in the language we both grew up speaking. Er, we don't use pa more and i-push mo 'yan though. |
Load More Stories