Decoding the Dude: The Hipster versus The Douche
You need this guide because one is dateable (sort of) and the other is a giant red flag.
(SPOT.ph) Why are we even comparing these two? The answer may not be obvious, but clearly the douche and the hipster share some similarities that may lead to confusion. For starters, they have the same kind of genitalia and both posses the Y chromosome. They can both rub you the wrong way when they start talking about their interests, which can be very, very specific. And that is where the divergence begins.
While one can be just a tad annoying (or, dare we say it, boring) when he starts explaining why the mbira is the only musical instrument worth listening to or when you can see him silently judging you for your regular intake of Swiftamines, the other is the reason why chastity belts were invented.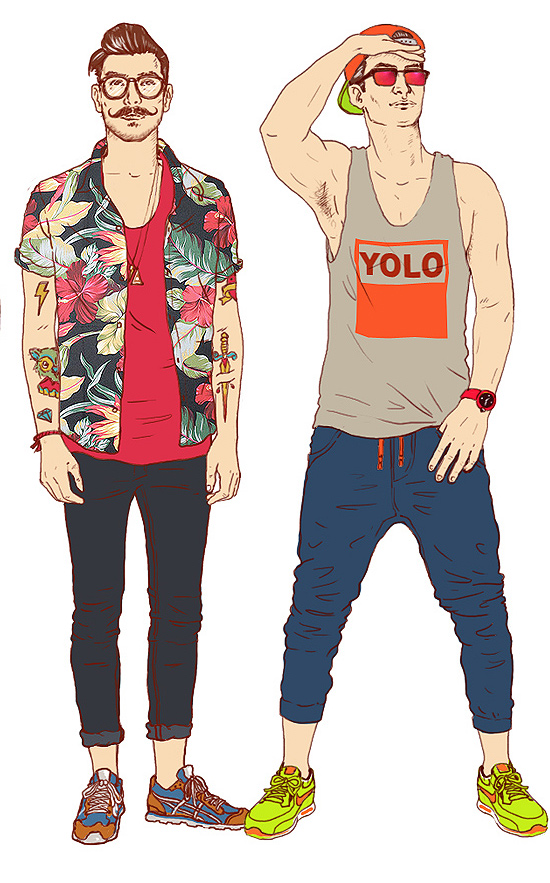 ADVERTISEMENT - CONTINUE READING BELOW
| | | |
| --- | --- | --- |
| | Hipster | Douche |
| Fashion sense | Dark-rimmed glasses, facial hair (or full-on beard, because he can), printed button-down shirt, tight bitin pants, and vintage New Balance sneaks or Onitsuka Tigers. | Reflectorized sunglasses, no facial hair, sando, jeans, neon Nikes. Does his face count? |
| "Poison" of choice | Craft beer. Local craft beer. Served at this specific place, so you have to go there on your next date. | Beer...pong. |
| Hangout | We have a list. Frankly though, you'll find that the hipster-est place is right at (someone else's) home. For reasons we can't tell you. | Gym, bruh. |
| Friday night plans | Future! Also, sidewalks. | The hottest club that just opened. |
| Weekend escape | San Juan, La Union! Time to hit the waves and chill at the beach, yo. | Day trip to Tagaytay, kasi mainit. And Bora, pare. |
| Mode of transportation | Euro Vintage is the dream, but there's literally nothing stopping them from riding their fixie everywhere. | Chromed-out Honda. Do ask him if he named it. (Spoiler: He did.) |
| Language | "You've never heard of this?" followed by, "I heard their demo and it was almost like I was there when they were recording it." Mmm, the unmistakable "you're not as cool as I am yet, but you'll get there" tone. | Sentences peppered with "dude" and most of the mundane things he did today or something he saw on the Internet. Just now. On his phone. "Dude, did you see this video of afhkdfhdagfhdagfda." That's you zoning out. |
| Music playlist | Otter mating sounds mixed with post-rock mixed with folk mixed with electropop mixed with lyrics that reference Marcel Proust's Swann's Way with imagery straight out of a Wes Anderson film (but he's too mainstream now). | EDM. |
| Favorite movie | It has subtitles. | It has explosions. |
| Date activity | An intimate gig or an exhibit in a gallery you've never heard of, in an area of the city you've never been. The two of you will then discuss the meaning of life, the futility of it all, and he'll admit he wants to take it further, but perhaps the tease is better than the act...so uh, good night. | It will start...somewhere. The important thing is he will make an effort to have it end at your place or his. Even if it's the first date, because YOLO. |
Art by Warren Espejo
Load More Stories