10 Other Suggested Terms for Yuccie
For the Young Urban Creatives who don't want to be associated with all things "ew."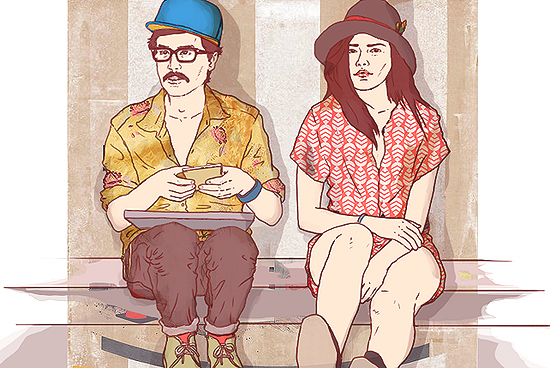 (SPOT.ph) Mashable is calling it: The hipster is dead. But, like a zombie breaking through the tombstone in the middle of the night to feed on the brains of thinkpiece writers, a new creature is roaming the streets. David Infante thoughtfully names them the Young Urban Creatives, or the "yuccies" for better recall.
Yuccies possess the aesthetics of the hipsters—a love for "artisanal" anything and throwbacks to the good old days that they didn't actually live in—and the self-absorption of the well-paid yuppie. Infante provides a handy checklist in his "coming out" article for the yuccie, beginning with this little symptom of yuccie-hood: "Doesn't like gentrification in theory; loves artisanal donuts in practice."
Frankly, we're finding it hard to believe that the hipster is dead, because someone on our staff just saw a guy wearing a fedora, wayfarer glasses, Capri shorts, a "basic" white shirt, and a freakin' apron skating through Maginhawa a few weeks back. But perhaps that was the peak and now we're sliding down the wave of its decline. Infante does make a compelling argument about the Young Urban Creatives...although maybe calling them "yuccie" is a bit too much?
We took it upon ourselves to come up with alternatives.
YouCray
Straightforward and also, possibly appealing to the Young Urban Creatives' assertions that "different" is good.
Yupster
Sort of a throwback to Friendster, except this time, networking is reserved only for fellow members of the Church of Unadulterated Self-Expression.
Hippie
Hipster plus Yuppie! Oh, wait. This one was already a thing in the 1960s…but then again, "hipster" was originally a bebop/jazz movement from the '40s.
ADVERTISEMENT - CONTINUE READING BELOW
"Urban"
Pronounced "yur-ban." It's totes the new shibboleth.
Ban-Yo
Putting a Pinoy twist on Young Urban Creatives, let's just invert the syllables of Young Urban and let that process be the (vintage) creative part. Retro, yo.
Ubracy
Let's not forget that yuccies are ultra-concerned with achieving, achieving, and achieving some more. Picking a name that sounds like a health supplement could provide the young 'uns with psychosomatic energy.
HipYup
Are they hip? Yup.
Y.U.C.
We don't know about you, but acronyms always add a touch of professionalism to things. Your IG description could read, "Sarah Santos, Y.U.C."
CONTINUE READING BELOW
Recommended Videos
Privileged Kids
Before the ends of your perfectly groomed moustache twitches, please turn your attention once again to David Infante. The self-proclaimed yuccie admits that yuccie sounds like yucky because it is, explaining, "Almost by definition, yuccies possess enormous privilege...Being a yuccie is synonymous with the sort of self-centered cynicism that can only exist in the absence of hardship. It's the convenience of being unburdened by conviction; it's the luxury of getting to pick your battles." And thus, maybe we'd do better calling apples, apples.
Yoke
Why be yuccie when you can be a yoke?
---
Help us make Spot.ph better!
Take the short survey
Load More Stories