#VoldeTrump, "Dirty Harry" Duterte are making 2016 look very interesting
J.K. Rowling says Trump is worse than Voldemort, Filipinos say Trump is like Duterte.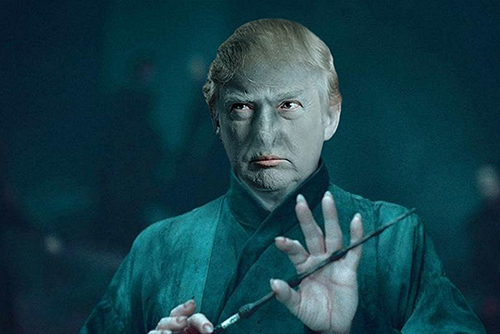 (SPOT.ph) Harry Potter author J.K. Rowling said Republican presidential frontrunner Donald Trump's shocking statement in a new speech is "horrible." People started comparing Trump to Voldemort, to which Rowling said via Twitter, "Voldemort was nowhere near as bad."
She was referring to Trump calling for a "total and complete shutdown" of Muslims entering the U.S. He argued that anyone practicing Islam "should be considered a potential threat." The statement not only raised a firestorm from Democrats, Muslim Americans, and a wide range of Republicans, it also drew flak from the "Wizarding World." In the Philippines, Trump is being likened to presidential aspirant, Davao City Mayor Rodrigo Duterte.
Rowling's tweet got the Internet's attention, especially Harry Potter fans, as they know how grave it is to be deemed worse than the "Dark Lord." For the benefit of those who have no idea what we're talking about, Voldemort hates Muggles (non-magic folk) and wants the world to be purified of them. However, Trump said his call for a ban is only "temporary" until "the country's representatives can figure out what's going on." This didn't stop social media from making memes and jokes about it. Warning: Lots of Harry Potter references ahead.
#Trump Almost casted a Avada Kedavra Spell on himself @jk_rowling @georgegalloway pic.twitter.com/mPFEJSgsfe

— Testosterone Tantrum (@T_Tantrums) December 8, 2015
But Aveda Kedavra is an instant, traceless death spell...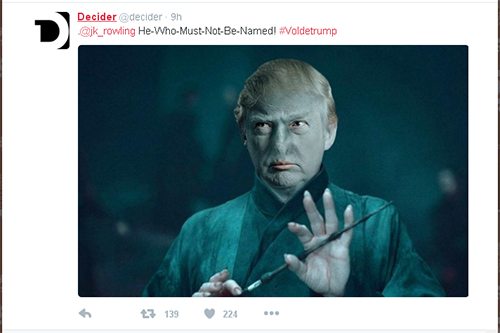 ADVERTISEMENT - CONTINUE READING BELOW
Now we get the picture.
.@jk_rowling is absolutely right - we have a new You-Know-Who: pic.twitter.com/LwucD6GQqG

— Cafe (@cafedotcom) December 8, 2015
It got better.
@djsziff Probably spends as much time trying to look into a mirror as well. pic.twitter.com/P2vYjE0MM8

— Ornery Cuss (@ornery_cuss) December 8, 2015
If that's the case, we support the wig!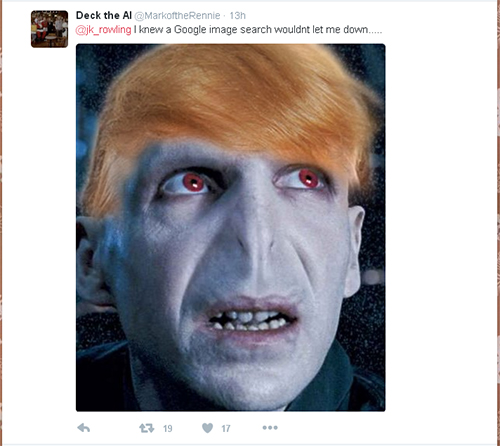 CONTINUE READING BELOW
Recommended Videos
For a moment there, we thought he was a Weasley.

Maybe his hair is one?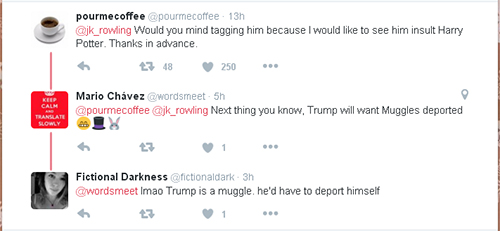 ADVERTISEMENT - CONTINUE READING BELOW
Maybe he's a half-blood? Half Muggle, half crazy.

On second thought, yes. And she was the worst.
Call it some sort of wizardry, but people in Metro Manila can't help comparing the outspoken GOP candidate to PDP-Laban presidential aspirant, Rodrigo Duterte, with Sen. Bongbong Marcos and Senate Minority Leader Juan Ponce Enrile chiming in.

ADVERTISEMENT - CONTINUE READING BELOW
Maybe they have the same playbook.

Seems like people like crazy.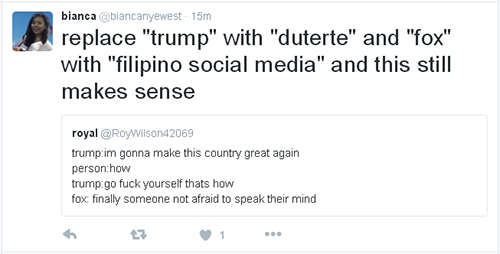 Makes sense.
---
Help us make Spot.ph better!
Take the short survey
Load More Stories