The 10 Kinds of Pinoy Showbiz Fans
Admit it: You see yourself in one of these people. (We do.)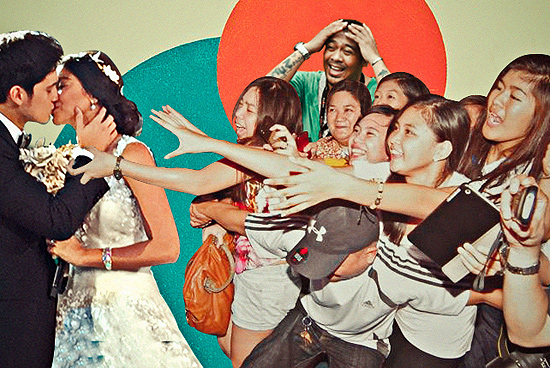 (SPOT.ph) Beyond the nightly teleseryes and beloved love teams, Pinoy showbiz is nothing without its army of devoted fans. After all, there's nothing that stirs up passionate fans more than drama, and we all know how much showbiz is filled to the brim with those. Here are the 10 kinds of Pinoy showbiz fans you will likely see.
The Super-Fan
When we say "Super-Fan," we mean it. If there's a fan club, this person is probably heading it. Is there a hashtag for tonight's teleserye episode? She's likely encouraging everyone to get it trending...via her social media fan account, of course. You can always expect her to be up-to-date on...well, literally everything from new projects to even sneaky paparazzi-like photos on-set. Oh, and did you know she writes poetry for them, too?
The Eager Basher
Read the comments section on any showbiz-related post, and you'll see the Eager Basher there. This person, who is likely a fan some other rival celebrity, isn't afraid to dish out nasty remarks or come up with rude nicknames to piss people off. A leveled-up version of the basher is someone who will directly tweet low-blow messages to the said celebrity...just because they can.
The Low-Key Fan
This person probably considers OTWOL and Pangako Sa 'Yo as guilty pleasures, though you'd never know. The Low-Key Fan will never admit stalking JaDine online, but you can be sure she'll know that they have a new movie coming up. But that's a secret, of course.
ADVERTISEMENT - CONTINUE READING BELOW
The Intense Shipper
For the Shipper, it's all about the reel-to-real romance. You can always rely on her for an in-depth analysis of your favorite love team's tweets and Instagram captions. This person is magically a body language expert with the ability to tell dozens of emotions from a single candid photo of two celebrities. Relationship troubles? She probably predicted this five Instagram posts ago.
The Bandwagon Fan
This is anyone who only started liking a show or celebrity when they suddenly trend. That's not necessarily a bad thing; you want your showbiz personality to keep being popular, don't you? But when drama, controversy, or the hype goes down, don't expect this guy to stay for very long. On to the next trend!
CONTINUE READING BELOW
Recommended Videos
The Supportive Follower
For this fan, it's less about the project and more of the celebrity. They're the folks who leave thoughtful comments like "I love your style, ate!" or "Love you talaga, idol!" or "Have a nice day po!" No matter how many onscreen partners this celebrity has, you can be sure the Follower will be there, happily supporting them. They'll watch anything and everything this celebrity does...heck, they'll probably even buy every product they endorse!
The Love Team Cheeleader
Think of her as the Supportive Follower...but for love team tandems. Their loyalty knows no bounds; they will fight to the death to defend KathNiel or promote LizQuen like no one else. Is AlDub on another magazine cover? You can be sure they already bought five copies.
ADVERTISEMENT - CONTINUE READING BELOW
The Network Hater
It's unclear which celebrities this fan specifically likes, but it's definitely not the ones from the other network. In fact, they dedicate most of their time bashing said network and analyzing competing show ratings down to the last decimal and date. Here's a line you'd typically hear: "X network is the best forever, Y network walang kwenta!"
The "Businessfan"
We're not sure if this person is an actual fan or he's just really opportunistic like that. Expect lines like "FOR SALE: Authentic designer bags" or "Want to lose 15 pounds in just 10 days? Check our page!" Then there's the more direct approach, where he personally addresses the celebrity to sell accessories or a diet delivery program. One thing is for sure: They're not going to let dozens of other fan comments drown out their business.
The Veteran
No DongYan or KimXi here. We're talking old-school, like the days of Guy and Pip or Sampaguita Pictures. This guy starts his sentences like "Iba talaga 'yong mga Pinoy movie dati..." and launches into a spiel of the days before ratings, trending topics, and hugot lines. The concept of hashtags are probably new to him, and he will likely never understand what those love team portmanteaus mean.
Also read:
The 10 Kinds of Basketball Fans You See During Finals
The 10 Kinds of Drunks You Will Meet in Life
The 10 Kinds of People You Encounter During Group Work
10 Kinds of Friends You Make in Life
Share this story with your friends!
---
Help us make Spot.ph better!
Take the short survey
Load More Stories