10 Signs You've Mastered the Art of Commuting
Commuter Level: 999999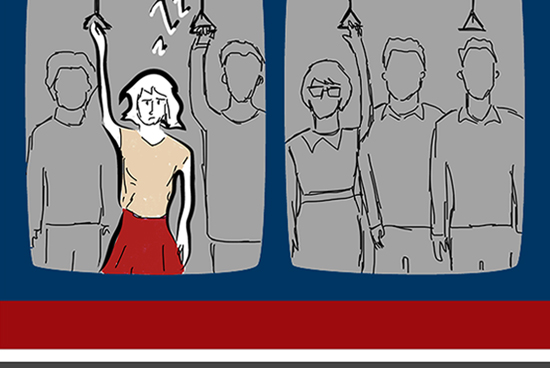 (SPOT.ph) Oh Manila, you with your confusing road signs, cramped spaces, and unending traffic. If you've navigated these streets long enough, then you start developing a very particular set of skills...kind of like Liam Neeson, but for commuting. Here are 10 sure signs you're a master in the complicated art of commuting in the Metro.
ADVERTISEMENT - CONTINUE READING BELOW
Also read:
10 Things a Manila Commuter Wouldn't Want to Hear
10 Motivational Comics for the Manila Commuter
Illustrations by Criselda Carreon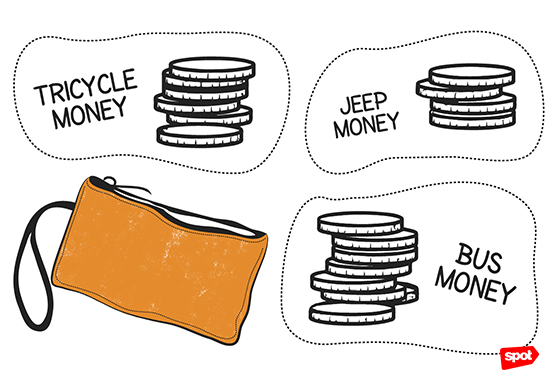 You prepare loose change like a boss
Because you're a seasoned commuter, you know exactly how much change you'll need to get to your destination. If you're making multiple stops, you set aside exact fare for every stop (heck, it's probably neatly divided per stop, too). The most important part? You'll keep the change somewhere accessible, like a small coin purse or just your pocket, so you won't have to take out your actual wallet.
ADVERTISEMENT - CONTINUE READING BELOW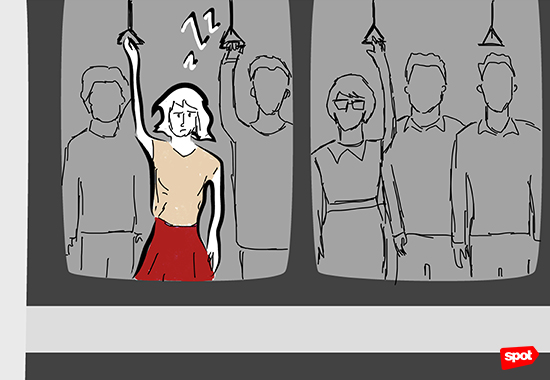 You can sleep standing up...or with your eyes open
Remember all those days in college when you pulled an all-nighter and you somehow learned to sleep with your eyes open during lectures? (Admit it, you've done this.) When you're a master commuter, you eventually learn this skill, too. It's a tricky one, but it's especially useful when you're in a bus or the train during rush hour.
ADVERTISEMENT - CONTINUE READING BELOW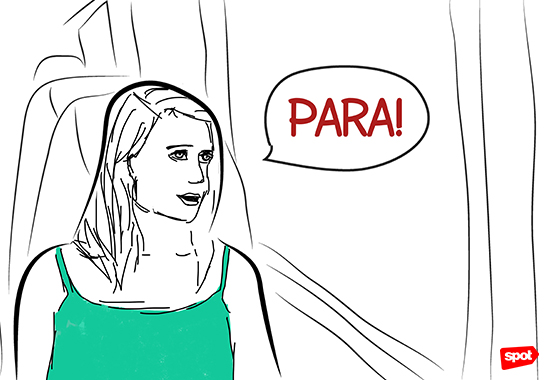 You wake up exactly at (or just before) your stop
No matter the destination or how exhausted you may feel, you just magically wake up at the perfect moment...just in time to yell, "Para sa tabi!"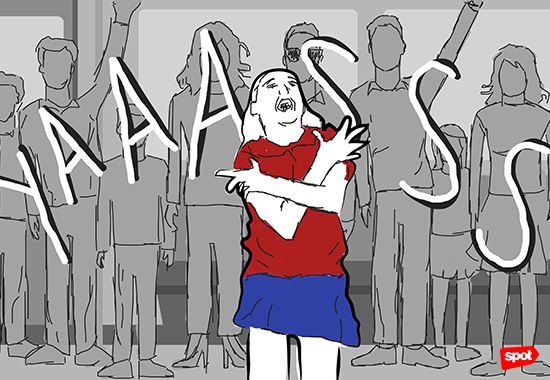 ADVERTISEMENT - CONTINUE READING BELOW
You're an expert at squeezing into incredibly tiny spaces
When there's a will, there's a way. Or maybe you're just really, really desperate to get home. Whatever the reason, you know exactly how to twist and squeeze yourself into the tiniest corner of the MRT, breathing room be damned. You've probably also mastered all these poses.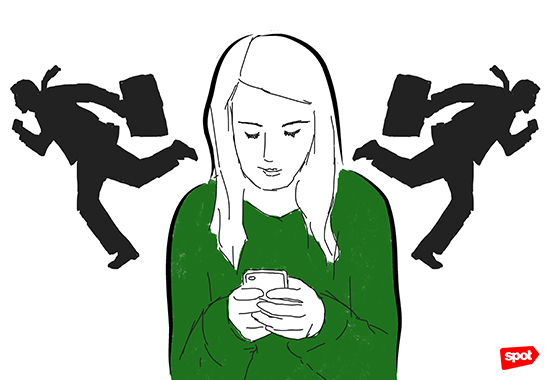 ADVERTISEMENT - CONTINUE READING BELOW
You can text or read during rush hour and remain unfazed
Most of us wouldn't dare whip out our phones when it's rush hour and the threat of a magnanakaw looms. For the expert commuter, you know how to keep an eye on your valuables, no matter how hectic it gets. You also have no problem texting the whole time during your commute. (Bonus points if you can read a book through whole trip!)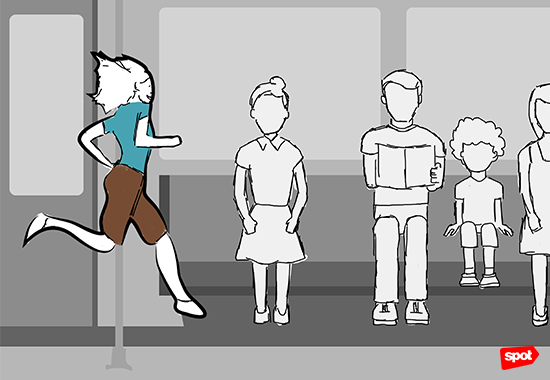 ADVERTISEMENT - CONTINUE READING BELOW
You have lightning speed when it comes to unoccupied seats
When it comes to empty seats, it's like the Hunger Games and everyone is determined to win. You've trained yourself to keep your eyes on the prize, making guesses on who's most likely to stand at the next stop and calculating how fast you need to be to get there. And when it's rush hour and you've been on your feet for the past hour, you'd be surprised at your sudden super speed.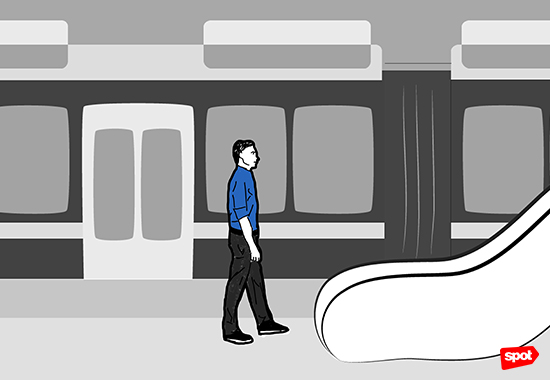 ADVERTISEMENT - CONTINUE READING BELOW
You've mastered the MRT doors
If you take the MRT often enough, then you know which particular doors open nearest to the station's exit. Why is this important? If you ride the train car that's farthest from the escalator, you'll end up waiting in another long line just to leave the station.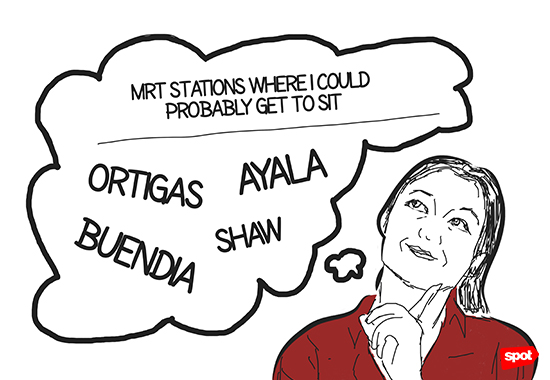 ADVERTISEMENT - CONTINUE READING BELOW
You keep track of busy stops
By now, you've memorized the stations and stops that have the most number of people. You know at which stop most passengers get off, so you have the opportunity to seize an empty seat or at the very least, get a better standing position. Then, if you're an incoming passenger, you're guaranteed breathing room or more standing space because you know there are fewer in the train, bus, or jeep!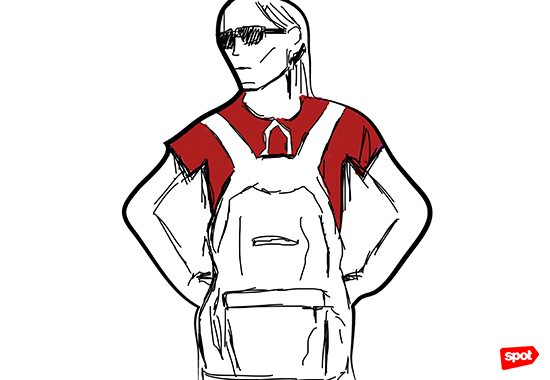 ADVERTISEMENT - CONTINUE READING BELOW
Backpacks are always part of your OOTD
Say what you want about backpacks, but when you're a regular commuter, you know that placing it in front of you gives you some much-needed breathing space on the train. (No one can stand directly in front of you!) And of course, it also helps you keep an eye on your belongings.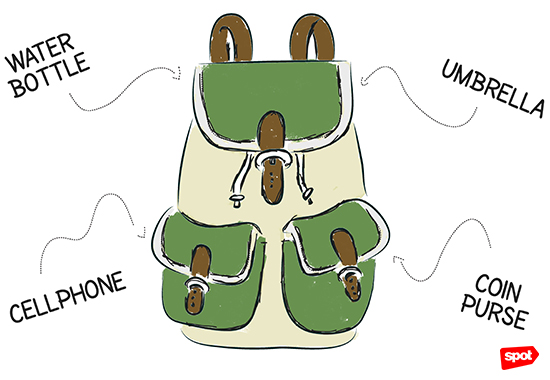 ADVERTISEMENT - CONTINUE READING BELOW
Everything in your bag is strategically placed
You don't just throw all your stuff in your bag. Everything is strategically positioned in case you need something fast, no matter how crowded it gets. Pro-tip: Keep your umbrella, water bottle, coin purse, and fan close to the zipper for easy access!
Also read:
10 Things a Manila Commuter Wouldn't Want to Hear
10 Motivational Comics for the Manila Commuter
Illustrations by Criselda Carreon
Recommended Videos
Load More Stories