10 Struggles Only Online Shopaholics Would Understand
You had me at free delivery.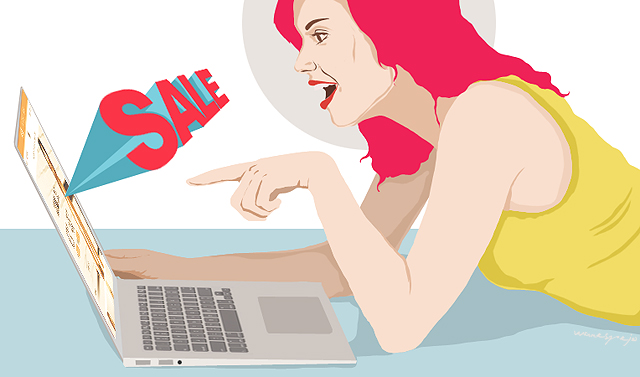 (SPOT.ph) The Internet is your sanctuary to de-stress and enjoy the wonders of shopping conveniently right at your fingertips, but it's not fun all the time. Here are the bittersweet failures and heartbreaks every online shopaholic can relate to.
Innocent browsing often turns into a shopping spree.
How many times have you browsed websites with no intent of buying and suddenly you have a cart full of stuff? Spoiler: Too many times.
Your wish list is never empty.
It's all fun and games until you have to sacrifice. With the state of your finances, you know you can't just buy everything. Chances are your wish list is almost never empty. But hey, it's the best motivation to keep working hard!
You're a sucker for deals.
There's an evil side to online shopping also known as free delivery. Two words are enough to make you buy more than you should. Yes, you only want to buy that top, but free delivery for P2,000 and up? Score!
ADVERTISEMENT - CONTINUE READING BELOW
Not knowing exactly when your order arrives
Websites give you an idea of when your package should arrive, comes but shopaholics know the pain when it looks like it will take seven days instead of just three. Oh, the agony of waiting until you can finally rock those new heels.
The horror of seeing your credit card bill
Shopping is the best thing ever. All you have to do is click "ok," and the next you know, the item's knocking on your door. The con? Paying invisible money. Your credit card bill is always a shocker becuase did you really spend that much money on clothes? You don't realize how much you spend until it all adds up.
CONTINUE READING BELOW
Recommended Videos
The bitter truth of shopping fails
Since you're basically an online shopping pro, you come to terms that nothing is truly perfect. You can't try on clothes to see if it fits or if the material is good. You've probably been scammed or received an order that's a big fail but it won't break you. There are plenty of great brands out there and based from experience, you know which ones to avoid because you learned it the hard way.
Instagram is not safe for leisure browsing.
Online shopaholics know that Instagram is one of the best online marketplaces. Loads of local start-up brands sell via Instagram. For a shopaholic like you, your feed is most likely different from a normal person's. Want to see that new picture Kylie Jenner posted? You've got to scroll through hundreds of discounted clothes first!
ADVERTISEMENT - CONTINUE READING BELOW
Convenience is questionable.
While it's true that you'll save transportation and a few more things when you shop online instead, convenience is still quite questionable. Returning items is supposed to be the solution but it's also the biggest hassle of all. Why do some stores have to make it so complicated?
"Buy" is your fave button.
Although probably not your wallet's! For real though, is there ever a three-letter word more beautiful than this? With one click of a button everything in your cart is yours. Do keep in mind that one cute top in, a few bucks out. Reality really sucks.
Flash sales are chaotic.
In just mere seconds you can lose everything you want in life. Not to be too dramatic but while discounts are huge, the heartbreak is even bigger.
Share this story with your friends!
---
Help us make Spot.ph better!
Take the short survey
Load More Stories