10 Millennial Terms and How to Use Them
You know, if you want to.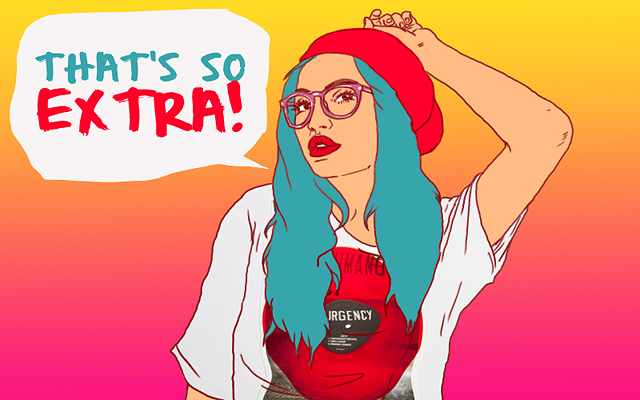 It's easy to think that kids are speaking an entirely different language these days, with new terms popping left and right, seen and heard on their social media feeds. We can't blame you if you find it hard to keep up, so we're giving you a cheat-sheet of just some of the words that are now part of the millennials' vocabulary.
Cancel(led)
Definition: verb. It means to reject something because it's no longer trendy.
How to use it:
"Are you going to wear that top?"
"No, that trend is cancelled."
Dead
Definition: noun. When one dies (figuratively) after seeing something that slays (or really looks good); can also be used to refer to oneself when he or she is in big trouble or stress.
How to use it:
"I have never seen her in sleek hair! So dead!"
"I have a lot of things to do here. I'll be dead in no time."
Extra
Definition: adj. Something that is over the top, excessive, overly dramatic
How to use it:
"Oh my goodness, she did not make a cake for her dog! That's so extra!"
Fam
Definition: noun. Short for family; the new term for squad
How to use it:
"Fam, aren't we all looking so glam today?!"
Gucci
Definition: adj. Associated with the rise of the fashion house Gucci, the said slang term pertains to something cool, of high quality or flashy.
How to use it:
"OMG, your car is so Gucci!"
Low Key
Definition: adj. Refers to something that you do that you don't want everybody else to know. Think of it as your guilty pleasure.
ADVERTISEMENT - CONTINUE READING BELOW
How to use it:
"I am low key obsessing over KUWTK. I watch even the re-runs!"
Salty
Definition: adj. Feeling of irritation or bitterness towards some event that may be happening or have happened in the past
How to use it:
"My, my, someone's still feeling salty the last pair isn't their size."
W (pronounced as /dub/)
Definition: noun. Not to be confused with the small letter w (which means "with"), W means to catch a win. It's the antithesis of L or a loss.
How to use it:
"That deal is such a W! Get it before anyone does!"
V
Definition: adj. Abbreviated form of very, mostly used in online conversations.
How to use it:
"Just how excited are you for our GNO tonight?"
"vvvvvvvv!!!"
Woke
Definition: adj. To be enlightened or socially aware; associated with the #BlackLivesMatter movement.
How to use it:
"Are you still using that thing?"
"Nah. I got woke, fam."
This story originally appeared on Preview.ph.
*Minor edits have been made by the SPOT.ph editors.
Load More Stories