10 Ways to Get an Order of Lapu-Lapu
Which one's your favorite?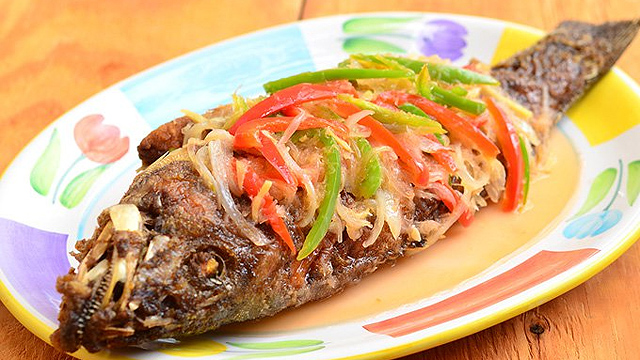 (SPOT.ph) Lapu-Lapu, often dubbed as the Philippines' first hero, is a figure in our history that's shrouded in legend and mystery. Very little is known about him except for an account by Italian scholar Antonio Pigafetta who claimed that he killed Ferdinand Magellan in 1521. There was no written description of what he actually looked like, and statues and artworks depicting him are all products of the imagination. Even a prominent historian, Dr. Danilo Madrid Gerona, contends that Lapu-Lapu was too old at the time to lead a battle.
ADVERTISEMENT - CONTINUE READING BELOW
CONTINUE READING BELOW
Recommended Videos
Me: anu yung "Order of Lapu-lapu"
Waiter: yan po ang bagong dish ng restawran na 'to. Ilan po order nyo?!

— DeVin (@bryanicole20) April 17, 2017
But one thing is for sure, the Philippines is a lapu-lapu country. There are at least 27 species of the lapu-lapu (a.k.a. grouper) in our archipelago. The most common is the Epinephelus, which has a yellowish white or brown color with dark spots and rounded tail. Of course, being the innovative cooks that we are, we serve this in different ways.
Here are some ways you can order lapu-lapu:
"Order of Lapu-Lapu" pic.twitter.com/XgnVoglyvP

— Aqinka (@aqinka) April 17, 2017
@thecorpusjuris Isang Order of Lapu Lapu, yung fried po. Extra rice.

— Christopher Castro (@christopher_alf) April 17, 2017
Order of Lapu-Lapu. Sinigang sa miso at kamias please. @NormaChikiamco @Inq_Lifestyle https://t.co/rWpjqo5xuK pic.twitter.com/9OBbAEXeHz

— ???? (@NievesBuscayno) April 17, 2017
One Order of Lapu-Lapu please.

Sweet and sour, plain rice

— Jesse J (@jessetheHOTTIE) April 17, 2017
Order of Lapu-Lapu: In soy and sesame oil pic.twitter.com/OGv7d46SFB

— MTS (@Asinofloo) April 17, 2017
Order of Lapu-Lapu: Escabeche pic.twitter.com/aJNuBpNCLl

— MTS (@Asinofloo) April 17, 2017
Order of Lapu-lapu.
Fried or steamed?
Don't forget the sugar beets and mayo.

— Louie Checa Montemar (@louiemontemar) April 17, 2017
Order of Lapu-Lapu: Sinigang pic.twitter.com/i2rcTpnjZt

— MTS (@Asinofloo) April 17, 2017
Order of Lapu-Lapu: Steamed with mayo pic.twitter.com/hb3tvdbtli

— MTS (@Asinofloo) April 17, 2017
@DZMMTeleRadyo Order na "Sweet and Sour na Lapu Lapu" sa Chinatown #yumyum pic.twitter.com/I9qXSjRE2Q

— ? l? yé ?r (@BLDSKER) April 17, 2017
I changed my mind. I don't want The Order of Lapu-Lapu.

I want an Order of Sinigang na Hipon. ????

— Angel (@MassEffect2017) April 17, 2017
Load More Stories