7 Date Ideas That Are #MoreThanTheUsual
Enough with just movie and dinner, okay?
CREATED WITH GRANNY GOOSE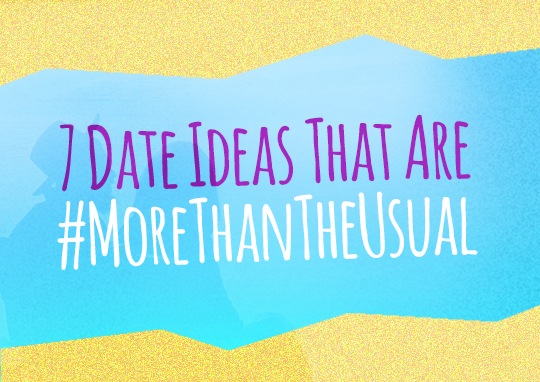 Hey, we heard you're going on a date! Dinner and a movie sure sounds nice, but don't you think it's starting to sound a bit formulaic at this point? Surely that's not the best you can come up with. 
So how do you make a date more interesting without spending a fortune and going over the top? Check out some of our suggestions:

1. Watch the sunset on a rooftop. 
Really, all it takes is a good hangout spot (rooftop bars such as Straight Up and Sky Deck have a fantastic view of the city), a bag of Granny Goose Tortillos, and a long and meaningful conversation.


Photo via huffingtonpost.com

2. Crash someone else's party and pretend to be a couple.
Give each other names and a unique backstory on how the two of you met. If things go as planned, you can even get away with a couple of smooches!

GIF via giphy.com

3. Make a video and upload it on YouTube.
Just make sure the clip you're planning to put up won't come back to bite you in the butt in the long run. Keep it silly, funny, and wholesome. The goal is to get a laugh out of it.

GIF via giphy.com

4. Write a piece of fiction together.
If the chemistry is clearly there and you're able finish each other's sentences, then you might be on to something. For all you know, you may have found your intellectual soulmate!

GIF via wifflegif.tumblr.com

5. Go to a thrift shop and get each other presents. 
Make a game out of thrift shopping to locate the coolest, weirdest, and creepiest item you can find without burning a hole in your pocket. It's kind of romantic...in a #MoreThanTheUsual way.

GIF via wifflegif.tumblr.com

6. Order breakfast food for dinner. 
Head to a joint that serves all-day breakfast, order a plate of bacon and pancakes, and pig out like it's the top of the morning. It shatters the expectations that come with dinner dates.

GIF via wifflegif.tumblr.com

7. Wander the bookstore.
You can tell a lot about a person by the section of the bookstore he or she wanders in. It's definitely not a bad way to get to know someone.


GIF via primemag.me

Have you ever been on a date that was #MoreThanTheUsual? Proceed to the Granny Goose Facebook page and let us know about it!
This article was created by Summit Storylabs in partnership with Granny Goose.