10 Funniest Tweets About Oblation Run 2017
But let's not forget what it means. #NeverAgain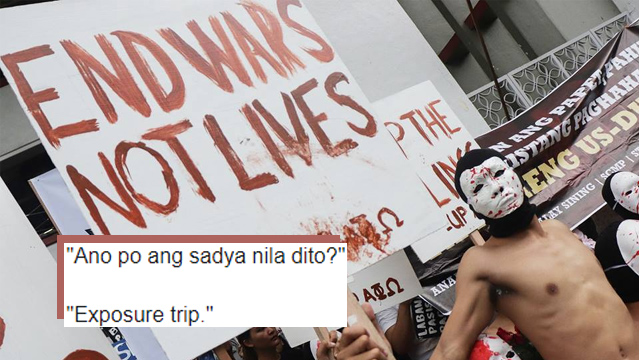 (SPOT.ph) Students of the University of the Philippines Diliman once again were witnesses to the annual Oblation Run held today, December 1, at the Palma Hall. This year, members of the Alpha Phi Omega Fraternity stripped down and picked up their placards as they protest the recent alleged killings and human rights violations under the current administration. This follows the group's tradition of running naked for a cause, the same way they did in 1977 to protest the banning of the movie "Hubad na Bayani," which depicted human rights abuse during Ferdinand Marcos' Martial Law.
ADVERTISEMENT - CONTINUE READING BELOW
As with any event, people were quick to express their giddy feelings about the yearly tradition. We round up some of the funniest tweets:
Tito: "Sama ka lang?"
Me: "Saan po?"
Tito: "UP. Tatakbo ako. Oblation run today eh."
Me:
Inner demon:
Acads:
The father, son and holy spirit:

— Pauline (@plndltra) December 1, 2017
Palma Hall:
(OBLATION RUN)

Friend: Uy, Kel. Bakit di ka sumali dyan?

Me: Wag na ayokong mag-stampede dito.

Friend: Ulul bakit? May stripes ba yang ano mo? Special edition pala.

qaqu ka haha

— Kel (@kelodl) December 1, 2017
True friendship.
yung after ng oblation run ay may maraming bumili ng ice cream, yes?#StopTheKillings #ResistCrackdown #EndStateFascism #OustDuterte

— Van Sulitas (@VanSulitas) December 1, 2017
Maybe bottled water for the thirsty ones, too.
[topic is edgar allan poe]

*door slams shut*

prof: 'tis the wind and nothing more

*oblation run*

prof: can we call your urge to go see what's outside The Imp of the Perverse?

chz we love u sir

— selya, a skeptic believer (@pandesel) December 1, 2017
Edgar Allan Poe would be proud.
*while looking Oblation run pictures*

Friend 1: Bakit angtataba... ng mga tiyan? Bat may bilbil?
Friend 2: Yung isa nga mahaba na, hindi pa gising. Di pa bumabangon

HAHAHA bakit ko 'to friends

— ;buddy; (@Emmanggg) December 1, 2017
If you know what we mean.
Oy mga ate gurl, re oblation run:

hindi porque maliit nakita niyo, maliit na and porque malaki ang nakita niyo, malaki na. (Ano daw?) May concept tayo ng grower at shower. Yung kala niyong jutay, may ilalaki pa pala.

Sabi nga ni Tatiana, what you see isnt always the truth.

— Sister Mary Mildred (@ReddieFerdie) December 1, 2017
Take note!
My reaction to the oblation run pic.twitter.com/hP1s6BVX5j

— Ga????? (@Gablooblue) December 1, 2017
Well...
prof, talking about the oblation run: pasensya na class may klase tayo ah

— espapy (@edmarmalaaade) December 1, 2017
The prof gets it.
*sits in org tambayan to evade seeing Oblation Run*
Me: *eating lunch*
*enter: wave of naked boys with roses at hand*
Me: ......There goes my lunch.

— Marky Justin Torres (@freeMARKYt) December 1, 2017
Sorry 'bout that. It's for a cause!
Daming bumisita sa UPD kanina, nakapila pa ang iba.

"Ano po ang sadya nila dito?"

"Exposure trip."

(Oblation Run pala.)

— ??????????????? (@paolomanalo) December 1, 2017
Define "exposure."
Recommended Videos
Load More Stories