How Bb. Joyce Bernal Can Turn Duterte's SONA Into a Blockbuster Hit
Starring Rodrigo Duterte and maybe Dingdong Dantes.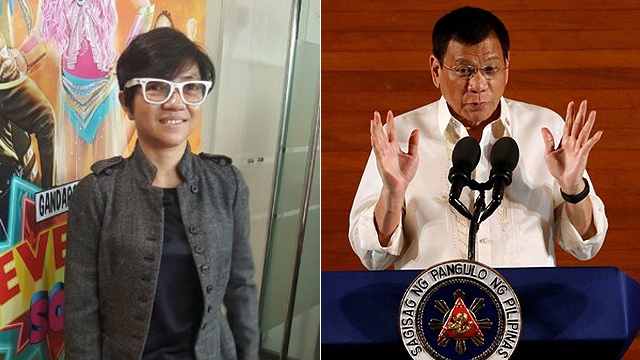 This year, the Duterte administration is upholding its tradition of enlisting a famous Filipino filmmaker to direct the President's annual State of the Nation Address. In 2016 and 2017, the President's first and second plenaries were both directed by Brillante Mendoza, a filmmaker known for his gritty imagery and often harrowing social realism.
ADVERTISEMENT - CONTINUE READING BELOW
But for 2018, by recommendation of Robin Padilla, the President's third State of the Nation Address (SONA) will be helmed by no less than Bb. Joyce Bernal, the filmmaker behind hits like Kimmy Dora: Kambal sa Kiyeme, Gandarrapiddo: The Revenger Squad, Segunda Mano, Da Possessed, and the upcoming Filipino adaptation of Korean dramedy Miss Granny. So just as Mendoza brought his style of filmmaking to previous SONAs with brutal symmetry, intense close-ups, and emotive focus on detail, Bernal is sure to bring her own.
And because we're excited to see how Bernal's style will manifest in the upcoming SONA, we took the liberty of browsing through her body of work to look for hints. So here's us, stretching our imagination with a few subplots that we'd love to see on July 23, Monday:
It is revealed during the State of the Nation Address that President Rodrigo Duterte as we know him has actually been Robbie Duterte, his identical twin brother, this whole time. Years ago, Robbie was forced to fill his brother's shoes as Mayor of Davao, because Rody had been accidentally kidnapped by his own (totally non-existent) Death Squad. Now that he has escaped, Rody is surprised to learn that in his absence, Robbie managed to meander his way to the presidency. Rody quickly assumes the position and announces that he will reverse all of his brother's policies and pronouncements. The entire Batasang Pambansa then breaks into a colorful song and dance number.
ADVERTISEMENT - CONTINUE READING BELOW
On the eve of his third SONA, Duterte is endowed with the power of super speed, which earns him the nickname, Rapiddu30. Simultaneously, Presidential Communications Operations Office Asec. Mocha Uson suddenly recalls her past life as a crime-fighting, truth-telling, real-news-spreading superhero. Armed with a magical lipstick staff and the power of super sass, she defeats Presidential Spokesman Harry Roque in a pak ganern contest, before joining Rapiddu30 and a team of PDP-Laban superheroes as they ride super-fast jet skis to Benham Rise. There, Rapiddu30 finally plants a Philippine flag to declare our sovereignty before returning to deliver the SONA in the nick of time.
Ahead of his scheduled SONA, Duterte buys a secondhand barong to wear to the occasion. He later discovers that the barong is haunted by the ghost of its previous wearer, Juan Ponce Enrile. A few jump-scares and budget-constrained visual effects later, Duterte decides to consult a spiritual medium, who tells him that the only way to exorcize the barong is to leave it in a church where it may be cleansed of the evil poltergeist. Duterte is reluctant at first; doubtful that a stupid god would help him. But after a lengthy off-camera discussion with members of the Catholic Bishops Conference of the Philippines, Duterte is finally allowed passage into the church, where he leaves the barong for good. However, Enrile's exorcized spirit merely leaves the barong and returns to his body in a cliffhanger ending that suggests the possibility of a sequel.
ADVERTISEMENT - CONTINUE READING BELOW
Duterte's third SONA seemed completely disjointed and incoherent. Later, it is revealed that Duterte only seemed to ramble because he was possessed by three different ghosts throughout the duration of his speech. Each ghost meant to use President Duterte as a vessel for vengeance, which explains why the speech was littered with invectives aimed at different groups. One ghost was killed by a drug addict; thus, "Putanginang droga 'yan." Another ghost was molested by a priest; thus, "Putanginang simbahan 'yan." The last ghost was the ghost of Ferdinand Marcos; thus, "My countrymen, As of the 21st of this month, I signed proclamation 1081, placing the entire Philippines under martial law. This proclamation was to be implemented upon my clearance, and clearance was granted at nine o'clock in the evening of the 22nd—last night." Thankfully, it was proven that Duterte was merely possessed, so all his statements were revoked and the do-over SONA contained no foul language or surprise declarations.
ADVERTISEMENT - CONTINUE READING BELOW
After getting his portrait taken by a mysterious press photographer on the eve of the SONA, 73-year-old Duterte magically finds himself in the body of 20-year-old Duterte. Now, instead of pursuing heavy-handed state policies, the only thing young Rodrigo wants is to become a heavy metal rockstar. So he forms a band with his son Baste and instead of delivering the SONA, plays a wicked sick concert for the country's top government officials. After rediscovering his youth and finally living out his dreams, young Rodrigo, still President of the Philippines, decides to ease his hardline politics and play more shows at the Mall of Asia Arena.
Catch President Rodrigo Duterte's third annual State of the Nation Address, directed by Bb. Joyce Bernal, live at 4:00 p.m. on Monday, July 23.
This story originally appeared on Esquiremag.ph. Minor edits have been made by the Spot.ph editors.
Recommended Videos
Load More Stories