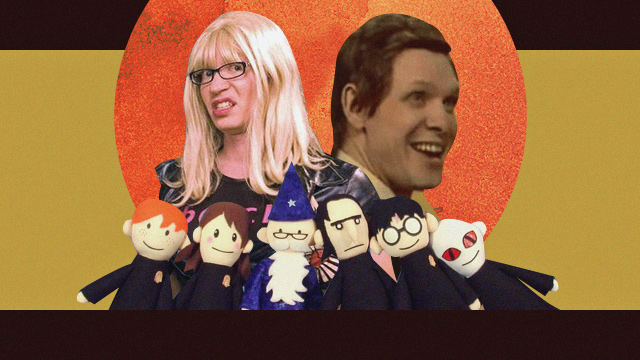 (SPOT.ph) The early 2000s and Internet humor, as separate concepts, are already pretty wild; So expect only the strangest of the strange when you put the two together. Before Snapchat, Vine, and TikTok, even came to life, people were already showing their, um, creativity online with Flash animation, low-resolution home videos, and whatever else they could get their hands on. Take a trip down memory lane as we round up some of the funniest—and weirdest—online videos that made us LOL.
Also read:
10 Funniest Viral Videos of 2018
10 Funniest Pinoy Viral Videos of 2018 So Far
Here are 10 strangely funny videos that made the early 2000s truly special:
Peanut Butter Jelly Time (2002)
Don't lie: You sang and danced along with this banana at one point in your life, most probably while making a peanut butter-and-jelly sandwich. This highly annoying—and equally entertaining—Flash animation first made the rounds in 2002 after it was uploaded into Newgrounds. Fun fact: The song used here is a real song recorded by DJ Chipman of The Buckwheat Boyz.
ADVERTISEMENT - CONTINUE READING BELOW
Badger Badger Badger (2003)
A bunch of badgers, a couple mushrooms, and a snake: That's it, that's the video—oh, and a super catchy, almost hypnotic song, of course. This Flash animation was created by Jonti Picking in 2003 and we're still not sure why it spread so rapidly across the Internet—not that we're complaining.
The End of the World (2003)
Who knew the end of the world could be so funny? We all did our best to copy the accent of this Flash animation's narrator back then, but just couldn't quite get his complete and utter apathy towards a world-ending nuclear war. It was first uploaded as End of Ze World in 2003, and nearly two decades later in 2018, creator Jason Windsor uploaded a sequel: End of Ze World …Probably For Real This Time, and yup, it's a doozy.
Numa Numa (2004)
This low-res video of then 19-year-old Gary Brolsma losing it as he sings along to Romanian pop song "Dragostea Din Tei" is credited as the first ever video to really go "viral." Brolsma uploaded the video to Newgrounds in December 2004—a few months before YouTube launched in February 2005. We may have laughed at this video as kids, but, TBH, we're a little jealous now of how much fun he's having.
The Llama Song (2004)
You won extra street cred for being able to memorize this entire 40-second ditty back in school. The song's not exactly about a llama, or anything else in particular, really, but it does make for an awesome party trick. It was composed by DeviantArt user Burtonearny in 2004 and spawned a lot of GIFs and video versions, including an Obama Llama one.
Charlie the Unicorn (2005)
If you squint really hard, you might call this off-kilter animation the world's weirdest anti-drugs ad. The pilot episode has Charlie the Unicorn being manipulated by his "friends" to go to a mysterious land called "Candy Mountain," only for them to take his kidney. Created by animator Jason Steele, this wacky video made it to TIME's list of YouTube's 50 Best Videos in 2010.
Kelly's Shoes (2006)
This song was pretty much the anthem of an entire generation; mixing techno with just the right amount of sarcasm and wacky self-deprecation. "Kelly" was created by comedian Liam Kyle Sullivan as a stereotype of the typical materialistic American girl angry at the world, and we can't deny—our angst-filled teenage selves totally got where she was coming from.
Chocolate Rain (2007)
An original composition by Tay Zonday, "Chocolate Rain" took the Internet by storm thanks to its puzzling lyrics and Zonday's strange habit of leaning away from the mic to breathe. The video has been parodied dozens of times. Also, despite the usually pointless nature of a viral video, "Chocolate Rain," is reportedly about institutional racism.
Harry Potter and the Mysterious Ticking Noise (2007)
The only thing more popular than the actual Harry Potter series in 2007 was a YouTube video of the gang (as puppets) trying to sniff out a bomb while singing the catchiest a capella song ever composed. For sure, you and your friends tried countless times to perfect a cover and fighting over who got to be who.
ADVERTISEMENT - CONTINUE READING BELOW
Mr. Trololo (2009)
We can't exactly understand why an old clip of Russian singer Eduard Khil performing a Soviet-era pop song, entitled "I Am Glad," suddenly became popular in 2009—all we can say is that it did. People were incredibly amused by the song (which doesn't seem to have any real lyrics) and Khil's singing-slash-laughter. Khil, who is a highly respected singer in his country, passed away in 2012 at the age of 77. In 2017, Google honored his 83rd birthday with a doodle of his own.
Share this story with your friends!
---
Help us make Spot.ph better!
Take the short survey
More Videos You Can Watch
Load More Stories