7 Very Pinoy Ways to Refresh During the Summer
Beat the heat like a local.

(SPOT.ph) Welcome to summer 2018! That lovely time when the humidity hits you like a brick wall, the sun feels like a nuclear blast on the skin, the pavement shimmers like a river in the midday heat, and we sweat in places we didn't know we could sweat.

It's hot in the Philippines pretty much all year round but the temperature can go from warm to unforgiving from March to May. Luckily, Pinoys have found countless ways to beat the summer heat. Here are a few of them:

We check out the neighbor's halo-halo stall.
Our favorite official shaved-ice dessert trumps calorie counting any day. You're going to sweat off those pounds just by standing outside in this heat anyway, so go ahead and get your halo-halo. Espesyal. Large.

We take a nap...outside.
If you're lucky enough to have a patio, veranda, or backyard, hang up a hammock and snooze outdoors. Under the shade and after applying copious amounts of insect repellant. If you want to be extra Pinoy about it, whistle to attract a breeze every once in a while.

We scour the premises of our favorite mall.
Whoever said Baguio was the summer capital of the Philippines must have never seen the inside of a mall this time of the year. That's where the entire nation converges when the temperature begins to rise to, you know, go shopping. Just kidding. To enjoy the AC, of course!

We spend our weekends at a nearby resort.
It's all well and good to splash around in the inflatable pool with your niece or nephew, but it's not like the rest of the family will fit in there.

We wait for manong sorbetero to arrive.
When you're out on the street in the sweltering heat, nothing beats dirty ice cream from the friendly neighborhood manong sorbetero. You can't go wrong with flavors that are distinctly Pinoy, like keso, ube, and tsokolate.

We drive up north or down south.
You're not Pinoy unless you have summer memories (and the pictures to go with them) in these two popular destinations. Say it with us: Baguio and Tagaytay. Enjoy the weather, enjoy the sights, enjoy the food, and just chill.

We stock up on our go-to summer drink.
Before, it was ice tubig. Now, it's a nice, cold serving of C2. And the good news is our go-to summer drink just got a makeover: It's the same C2 goodness with a whole new look. And did we mention that it's made of 100% green tea leaves? Stock up on all the green tea flavors (Apple, Lemon, and Classic) and just reach for a bottle when the thirst is—literally—real.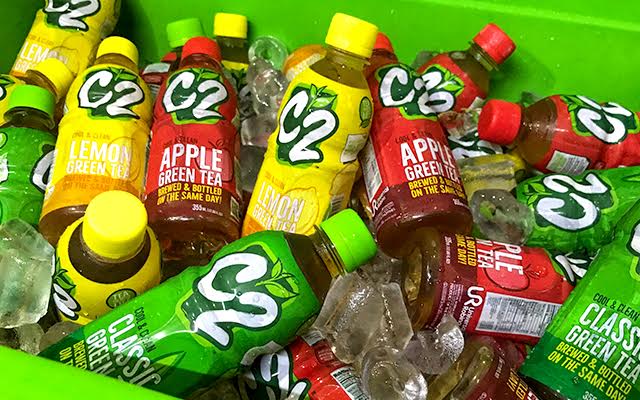 Go beat the heat like a local! Follow C2 Cool and Clean on Facebook, Instagram, and YouTube to know more about the new variants.