Why are all the geeks hot for Cosplay Queen Alodia?
SPOT.ph chatted with cosplay celeb Alodia Gosiengfiao about dating, wearing skimpy outfits, and what you need to wear to get her attention.
Self-proclaimed geek, recent college graduate and Philippine Cosplay "princess" Alodia Gosiengfiao is known for her chameleon good looks. This self-styled transformer dons boots and bazookas as readily as she does elfin ears and faerie sandals, with wigs at the ready.
"Cosplay," Gosiengfiao says, "is a combination of two words: 'Costume' and 'roleplay.'" A cosplayer assumes the role of a character from an "animé show, a video game, manga, comic series, or movies," complete with costumes, prosthetics, make-up and accessories. Cosplayers not only have to look like characters, they have to act like, sound like and essentially be the characters they portray down to the last giggle. Cosplay has been elevated into an art form and subculture in countries like Japan, the US and Europe, while in the Philippines, the popularity of cosplay has spiked in the last few years.
Like most cosplayers in the country, Gongsiengfiao got involved in cosplay out of a love for animé. Encouraged by her friends from an Internet fan forum called Animé Club, she entered her first cosplay contest in 2003 as Magic Gunner Rikku from the Final Fantasy X-2 game. She was the crowd favorite. Soon after, she and her sister Ashley appeared on the cover of Culture Crash 14 as Magic Gunner Rikku and Magic Gunner Yuna. She's since judged other cosplay contests and appeared in teen magazines, as well as being part of the Official Muse Guild for the Massive Multiplayer Online Role-Playing Game (MMORPG), Mu Online. She was also named endorser for Sega's beat game, Love and Berry. This year, she ranked 87th on  FHM's 100 Sexiest Women in the World.
ADVERTISEMENT - CONTINUE READING BELOW
Gosiengfiao still stars in strikingly realistic cosplay photo shoots that become viral Internet hits, and she's acquired a devoted fanbase of anime and gaming enthusiasts. Her fans write her Wikipedia entries, put up Friendster sites, blog about her, check her website regularly for updates and flock to anime conventions and fan days hoping for that rare photo op and autograph.
Â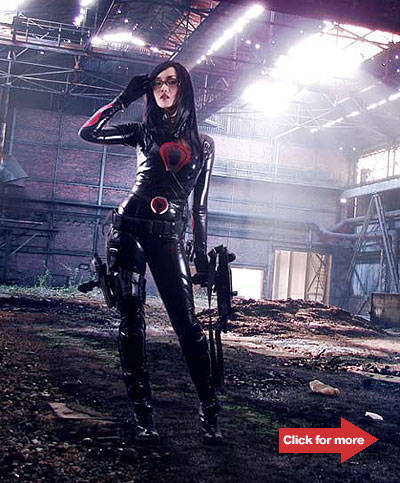 As G.I. Joe's The Baroness. Photo by Ashley Gosiengfiao.
CONTINUE READING BELOW
Recommended Videos
SPOT.ph chatted with Gosiengfiao about dating, wearing skimpy outfits, and what you need to wear to get her attention:
What keeps you busy these days?
Modeling, freelance art-related work, and cosplay events and conventions.
When asked, "What do you do for a living?," you say:
Free-lance work...Well, I have this little online business where I ship things abroad. Doll accessories. More often than not, I have the basic structure sub-commissioned then I do the finishing; [paint the] details.
ADVERTISEMENT - CONTINUE READING BELOW
Speaking of details, do you make all your cosplay costumes yourself?
I have the basic outfit done by a seamstress. But sometimes, I also do my props and accessories. I do my own make-up and style wigs.
Where do you get the materials for your cosplay (outfit, accessories, props)?
We go to Kamuning or Divisoria to pick and buy cloth ourselves. Accessories and props–we have them made or I make them myself.
How expensive is cosplaying? Do materials cost a lot?
It depends on the costume. The cheapest one I've done was P1,500, "Quistis" from Final Fantasy 8. This is because I already had the wig, shoes and eyeglasses. The most expensive one was P25,000, "Pink Creature" from Gunbound.
How long does it usually take to make a costume?
At least two weeks, to be safe.
Any favorite characters to cosplay?
As of now, my fave would be Baroness from GI Joe because [she] wears eyeglasses, and I wear eyeglasses in real life.

Who would you never cosplay as?
Those with bikini outfits, like Dead or Alive. I'm not comfortable wearing very, very skimpy clothes. Bikini-types and costumes that show panties are a no-no. Hanging blouses are okay. Mini-skirts too, but I wear shorts underneath.
Who was your most daring cosplay?
Isis, half-human half-snake. I wore a breezy top [with a] nude-colored bra to be able to imitate the character. But I was 16 and skinny then so it didn't look trashy.
Would you do it again?
Nope. I don't normally repeat my costumes. I'd only repeat those that are comfy and easy to wear. But more often than not, I do not repeat my costumes. I sell them online after and usually they go to international clients.
ADVERTISEMENT - CONTINUE READING BELOW
Do you have a cosplay philosophy?
Cosplaying is supposed to be fun! Some people take it too seriously, to the point that unnecessary issues come up. And I'd like to say that, despite those things. Cosplaying is really a fun hobby!
For you, what is the best part about cosplaying?
The best part about cosplaying is it being one of the ultimate expressions of all my hobbies. It's a combination of art, fashion and Japanese culture. I also like putting on make-up and modeling, so it's like a fusion of all of these things.
The hard part about cosplaying?
There are some critics that come [with it]. They nitpick about your costume and how you carry it. But it's fine. This can either help you improve or make you a tougher and better person when handling criticism.
How did you get into anime?
Sailor Moon! [That] started it all!
Which anime series is your favorite?
Full Metal Alchemist.
Would you consider yourself an exhibitionist?
In the sense that you try to prepare a lot for it. Not only the costume, but you prepare yourself. How to act, the gestures, the performance, manner of speaking of a certain character.

Which video or anime character most resembles you and your personality?
Let's see…maybe Baroness of GI Joe, because she's a kick-ass chick who wears glasses. And her outfit is black and red too.
Would you date a fellow cosplayer? Which character should the guy imitate?
Dante of Devil May Cry. [Laughs] Or maybe Balthiere of Final Fantasy XII.
ADVERTISEMENT - CONTINUE READING BELOW
Do you get stage fright?
I always get stage fright. I keep saying to myself that I can do this. And every time I do so and finish, it kind of helps me deal with the next one.
Any advice for first timers?
They should attend a convention first to get to know the feel of the cosplaying scene. If they're done with that, then it's time to assess the character they want to cosplay
Check out Alodia's online cosplay community at cosplaycircle.com.
Download free Alodia wallpaper and get exclusive backstage access to her photo shoots at Techie.com.ph.

Share this story with your friends!
---
Help us make Spot.ph better!
Take the short survey
Load More Stories