Top 10 Pinoy Sports Icons
We list kick-ass Pinoy athletes who blazed trails and brought fame to our country.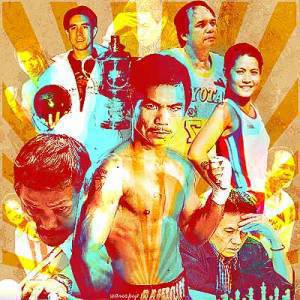 Athletics, basketball, billiards, bowling, boxing, chess, and swimming are some of the sports that gave the Philippines international fame. SPOT.ph lists 10 athletes who blazed trails and brought great pride to our country.
Inside the ring, the soft-spoken Manny Pacquiao turns into a lean mean fighting machine.
1. EMMANUEL "MANNY" PACQUIAO (Boxing)
Pacquiao, whom sports pundits dubbed "Pacman" for his speed, is the first boxer in the world to win seven world titles in different divisions (flyweight, super bantamweight, featherweight, super featherweight, lightweight, light welterweight, and welterweight). His superstar status and triumphs inside the boxing ring finally spilled over to the political arena when he won as congressman of Sarangani province in the 15th Philippine Congress. Nevertheless, talks are still underway for his November 13 match with the flamboyant Floyd Mayweather Jr. A fighting congressman? Why not? Just don't make him sing that awful "Para Sa 'Yo ang Laban na 'To" or do a Wapakman sequel.
ADVERTISEMENT - CONTINUE READING BELOW
Fil-Am swimming sensation Daniel Coakley is Teofilo Yldefonso's great grandson.
2. TEOFILO YLDEFONSO (Swimming)
Yldefonso, a native of Ilocos Norte, won the 200-meter breaststroke bronze medals in the 1928 Olympic Games in Amsterdam. He won another bronze at the Los Angeles Olympics in 1932. He was the first Filipino athlete to win multiple Olympic medals. He earned the nickname "Ilocano Shark" for incredible swimming skills. But he wasn't just a swimming hero. He also fought against the Japanese in World War II. He survived the Bataan Death March, he died in Tarlac's Capas Concentration Camp in 1943. Though it's hard to find photos of Yldefonso, his legacy lives on in his great grandson Daniel Coakley, who swam for the Philippine team in the Southeast Asian Games in 2007 and broke the record in the 50-meter freestyle by clocking 22.80 seconds. The boy's got some good genes.
CONTINUE READING BELOW
Recommended Videos
ADVERTISEMENT - CONTINUE READING BELOW
Paeng Nepumuceno is a world-class bowling champ.
3. RAFAEL "PAENG" NEPUMUCENO (Bowling)
Nepumuceno, a six-time World Bowling Champion, is listed in the Guinness Book of World Records for having the most Bowling World Cup wins (four: 1976, 1980, 1992 and 1996), being the youngest to win the Bowling World Cup at 19 years old, and having the most career bowling titles with 118. He is the only bowling athlete to win titles in the Americas, Europe, Asia, the Middle East, and Africa. His image has been displayed at the International Bowling Hall of Fame Museum in St. Louis Missouri since 1993. He's still active and is currently the US Bowling Congress' International Bowling Ambassador. It figures. This bowler is easy on the eyes.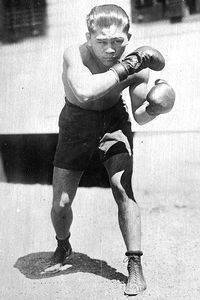 ADVERTISEMENT - CONTINUE READING BELOW
The phrase, "small but terrible," fits Francisco Guilledo, who's now better known as Pancho Villa.
4. PANCHO VILLA (Boxing)
Francisco Guilledo decided to call himself after the Mexican revolutionary leader Pancho Villa when he started fighting in the US. Ironically, reigning boxing sensation Pacquiao has defeated a lot of Mexican fighters. The 5'1" Guilledo was dubbed "the greatest Asian fighter in boxing history when he rose to prominence after a 7th round knockout win over reigning champion Jimmy Wilde of England in their world flyweight boxing title bout in 1923. Guilledo was never KO'd in his short boxing career. He died 17 days before he turned 24 on July 14, 1925 due to complications following a tooth extraction.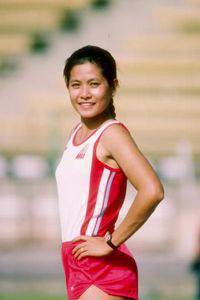 ADVERTISEMENT - CONTINUE READING BELOW
Lydia de Vega shows off her winning form.
5. LYDIA DE VEGA (Athletics)
Dubbed as Asia's Sprint Queen in the 1980s, De Vega followed the footsteps of two former holders of the title: Inocencia Solis in the 50s and Mona Sulaiman in the 60s. She won the Asian Games gold twice--in 1982 and 1986--in the 100-meter run. She ruled the same event for three straight Southeast Asian Games meets: 1987, 1991, and 1993. When she retired, De Vega served as a councilor in Meycauyan, Bulacan. She is currently the coach of Singapore's track and field team.
Eugene Torre likes playing mind games.
6. EUGENE TORRE (Chess)
You could say that Torre's name was tailor-made for chess. At 22, he became the first Asian to earn the title of International Grandmaster. He has raked in medals at the World Chess Olympiad, where he has represented the Philippines for three decades now, and led the Philippine team to a 7th place finish in the 1988 Chess Olympiad in Greece. But beating chess legend Anatoli Karpov in Manila in 1976 could be Torre's crowning glory.
ADVERTISEMENT - CONTINUE READING BELOW
No wonder they call Efren "Bata" Reyes "The Magician."
7. EFREN "BATA" REYES (Billiards)
Also knows as "The Magician," the 55-year-old billiards master used the pseudonym Cesar Morales when he first competed in the US. The reason? His reputation had already preceded him in the US pool circuit. He was worried that nobody would go up against him if they knew who he was. Considered as one of the great nine-ball players, he won the 1999 World Pool-Billiard Association (WPA) World 9-ball Championship. In 2004 bagged the WPA World 8-ball title, his fourth. He was the first Asian to be inducted into the Billiard Congress of America's Hall of Fame in 2003.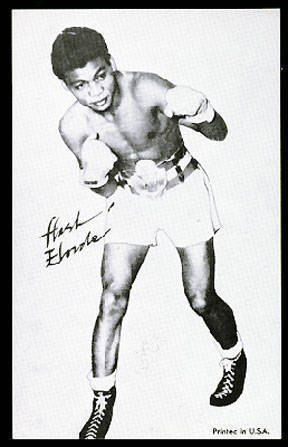 ADVERTISEMENT - CONTINUE READING BELOW
They nicknamed Gabriel Elorde "Flash" for his fast fists.
8. GABRIEL ELORDE (Boxing)
This southpaw from Bogo, Cebu ended the country's 20-year world championship drought in boxing when he defeated WBA junior lightweight champion Harold Gomes of the US on March 16, 1960. His reign as the world junior lightweight division champion was the longest at seven years and three months. He was the first Asian boxer to be inducted into the International Boxing Hall of Fame. After his retirement, he became a popular commercial endorser. He died on January 2, 1985. To continue his legacy, his family has put up the Elorde Boxing Gyms, where anyone can train with professional boxers.
Fans admired Robert Jaworski's "never say die" attitude.
9. ROBERT JAWORSKI (Basketball)
He was University of the East Red Warriors player. Then, in 1966, he was part of the national team that represented the country in the Asian Games held in Bangkok, Thailand. The following year, he was part of the Asian Basketball Confederation (ABC) team that played in Seoul, South Korea, where they beat the host country. He was also part of the national team that won the 1973 staging of the ABC Games at the Rizal Memorial Coliseum in Manila. He played professional basketball for 23 years (from 1975 to 1998), playing for Toyota and, of course, Ginebra. Though Jaworski, who was nicknamed "The Big J," was criticized for being too intense on the hardcourt, he won many fans. He was 52 when he finally hung up his jersey. He ran for senator the year he retired from playing and won.
ADVERTISEMENT - CONTINUE READING BELOW
Eric Buhain inspires young swimmers to go for gold.
10. ERIC BUHAIN (Swimming)
When he was seven, Buhain suffered from primary lung complex. Luckily, he overcame it--though nobody ever thought he'd be a swimming champ one day. He became a member of the Philippine swimming team at age 11. At 15, he won his first cache of Southeast Asian (SEA) Games medals when Thailand hosted the event in 1985. He contributed to RP's 90-gold haul when the event was held in Manila in 1991. He retired from swimming after the 1993 SEA Games and was appointed by former President Gloria Arroyo as Philippine Sports Commission (PSC) chairman in 2001. He was later named as Games and Amusement Board (GAB) chairman in 2005.
Art by Warren Espejo.
Image credits: Athlete.com (Lydia de Vega), PopularWallpapers.com (Manny Pacquiao), Cyberboxingzone.com (Pancho Villa), and Philboxing.com (Gabriel Elorde).
Share this story with your friends!
---
Help us make Spot.ph better!
Take the short survey
Load More Stories