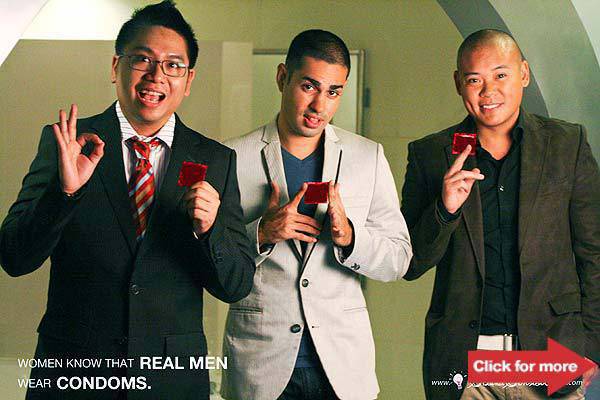 DJs Slick Rick, Sam YG and Tony Toni . Click for more photos.
Three DJs, a personal trainer, a financial analyst, a budding actor, a bachelor and a student athlete shun inhibitions and proudly talk condoms for the "Real Men Wear Condoms" campaign of Sex and Sensibilities, a website that hopes to be a haven for practical information about sex. Founder and editorial director Ana Santos says in an article published in FemaleNetwork.com, that men who think of safer sex and equal responsibility when it comes to birth control do exist. The eight "Real Men" advocates are "passionate about keeping the act of giving in to passion as safe as possible, not just for themselves, but for the women they're with as well."

For Magic 89.9 "Boys' Night Out" DJs Sam YG, Tony Toni and Slick Rick, being suave is synonymous to using the love glove. "When you become intimate with someone, you somehow entrust not just your body, but also your health," says Slick Rick. "The rising number of HIV infections, the huge number of single mothers--these are real issues that listeners ask us to talk about." Sam YG a.k.a. Shivaker the Love Guru, says, "If you can't control it, at least be responsible about it. As they say, spread the love, not the virus."

DJ Tony Toni, who grew up and studied in Canada where he was exposed to the importance of using condoms at an early age says, "It's just second nature to me." Surprised that some women don't want their male partners to wear protection, he quips, "I tell them I have premature ejaculation. I'm a premmie."

Harry Tan, 34, who wore nothing but a red ribbon for last year's World AIDS Day campaign to declare his support for condom use says, "Buying condoms and using them are nothing to be squeamish about. At a certain age, it's likely that both of you would have been in relationships before; (condom use is a way) of showing that you are looking out for your partner."

Using condoms and getting tested for STDs are all part of being in a relationship, says Sam Fogg, a 24-year-old personal trainer who grew up in Manchester, United Kingdom. He recalls his mother leaving a brown paper bag containing condoms in his room when he was 17. "Until now, my Mum regularly sends me care packages from home filled with my favorite things: tea bags, chocolate and condoms."

Financial analyst Xander Graham, 20, says, "I really believe (safer sex) affects the population and impacts the economic growth or decline of a country."

For student athlete Alex Von Ramm, 18, it's surprising "that people still have to make campaigns to persuade people to use condoms." In Germany, where he grew up, he says third graders were already taught sex education and refresher courses were taught every year. "I don't feel embarrassed at all when I buy condoms. I had an interesting conversation with a cashier who asked me why I was buying a particular brand, and she even encouraged me to buy another. When I asked her why she liked the other brand better, she just giggled."

Student and budding actor Dale Villarama, 20, looks barely legal. "Yeah, I've gotten disdainful looks from some cashiers, especially the older ones, when buying condoms. But who cares? Why should I let their judgment cloud mine? I, along with my partner, will benefit from using condoms, not the cashier, so it shouldn't matter."
ADVERTISEMENT - CONTINUE READING BELOW
Photos by Ena Terol, courtesy of Sex and Sensibilities.
Share this story with your friends!
---
Help us make Spot.ph better!
Take the short survey
Load More Stories