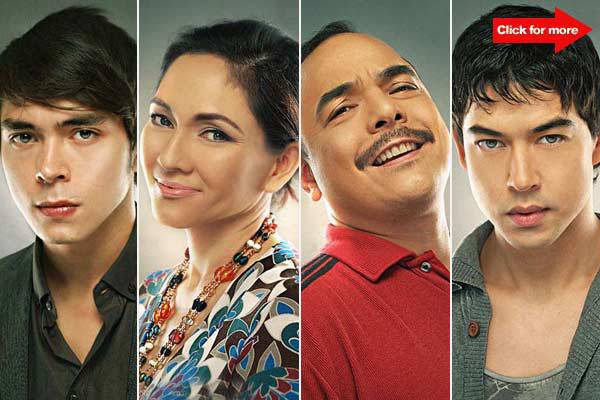 Jake Cuenca, Risa Hontiveros-Baraquel, Carlos Celdran, and Jon Avila for Project Headshot Clinic's ACT online exhibit. Click for more photos.
Project Headshot Clinic (HSC), the group that introduced the use of photography and social networking sites as a means to market and advertise, launched its latest campaign against HIV and AIDS in time for the World Aids Day 2010 Celebration on the eve of December 1 via an online photo exhibit titled ACT. Celebrity photographer and Creative Director and Founder of HSC Niccolo Cosme said, "we can save humanity through photographs, one headshot at a time. #Preventionrevolution"
The exhibit features key trendsetters from different fields who support HSC's HIV and AIDS awareness campaign as well as HIV and AIDS testing. Among the personalities included are performance artist and activist Carlos Celdran, actors Jake Cuenca and Jon Avila, LGBT advocate Risa Hontiveros-Baraquel, Chef Sau Del Rosario, Speaker of the House of Representatives Feliciano "Sonny" Belmonte Jr., DJs Sam YG, Tony Toni and Slick Rick, Filipino rock icon Pepe Smith, actress and VJ Kat Alano, and director Bibeth Orteza, among others.
ADVERTISEMENT - CONTINUE READING BELOW
According to Cuenca, "HIV is something that people should be very aware of, especially the youth. When you're young, you're curious. We do things for the fun of it and to be cool. But there is a responsible way to do it."
"Our governmental institutions primarily need to recognize that there is a problem...They should take their heads out of the sand and work with the LGBT community and the broader community of LGBT rights advocates to put into practice the myriad of outputs that we know can be easily done so that citizens can internalize health-seeking behaviors and institutionalize support mechanisms for all citizens, regardless of gender or sexual orientation to combat HIV&AIDS and to support people living with HIV&AIDS," said Hontiveros-Baraquel.
Celdran said in his exhibit entry: "We as a society have to work on tolerance. We have to work on the acceptance not only of HIV but also of sexuality. A lot of people are afraid to come out of the closet, while some are simply in denial of their sexuality. And because of this denial, they end up getting infected because of lack of information, especially on risky behavior. Everything is interconnected. Reproductive health, including access to information on sexuality, is directly related to decreasing the infection rate."
In his entry, Avila said, " the population is getting bigger and the chances of spreading the virus is bigger too. Schools should be obliged to teach about the virus hand-in-hand with sex education. It's no joke."
To read more and to view the exhibit, log on to wwwcloudcab.com/headshotsite. You may also see the photos on the Project Headshot Clinic Facebook page.
CONTINUE READING BELOW
Recommended Videos
Share this story with your friends!
---
Help us make Spot.ph better!
Take the short survey
Load More Stories