CHECK HIM OUT: Marlon Stockinger, Filipino-Swiss Formula Race Driver
Meet the circuit cutie who's bound to get hearts racing.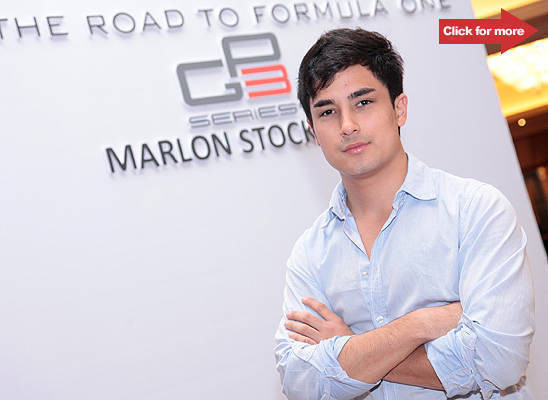 At 19, Stockinger is the first Pinoy race driver to win a Formula race in Europe. Click for more photos.
Nineteen-year-old Formula racer Marlon Stockinger recently proved his speedway supremacy and became the first ever Filipino to win a Formula race in Europe. The Filipino-Swiss circuit driver won the ninth round of the Michelin Formula Renault UK 2010 held last October and finished eighth overall in the series.
ADVERTISEMENT - CONTINUE READING BELOW
Son of Swiss racing enthusiast and businessman Tom Stockinger and Filipina former model Egin San Pedro, Stockinger was born and raised in Manila. He started racing at the age of 10 and left for Europe when he was 17 to pursue a career on the track. Stockinger's CV is impressive for his age: he was the first Filipino to win a Formula BMW Pacific Scholarship in 2008; was a consistent champ at the Philippine Rotax Max Series from 2004 to 2007; and was hailed as the Asian Karting Champion in 2006.
Fresh from a sweet victory in Formula Renault, Stockinger will be moving to another series-GP3 starting in May-which will put him closer to his goal of being the first Filipino F1 racer. SPOT.ph got a chance to get up and close and personal with Stockinger in a press con held on January 20 at the Makati Shangri-la Hotel. See what the circuit cutie had to say on turning down TV offers, having no time for a girlfriend, weird racing rituals, and which Pinoy driver would make a great Formula One racer.

ADVERTISEMENT - CONTINUE READING BELOW
Marlon Stockinger in On The Road To Formula One
On showbiz offers:
"In terms of movies, all I can say is that right now, my racing career is most important. And because of the priorities I have with that, I don't really have time for anything else. If it's Too Fast, Too Furious, no problem. If Vin Diesel's in there, okay."
On dating:
"I can't be too serious I guess with relationships right now because of my commitments with racing. I think I have to be a hundred percent focused on what I'm doing."
On why he loves staying home when he's in Manila:
"When I'm home, I normally like to just be home because very often I don't see my house here or I don't see my family so that's very important to me."
ADVERTISEMENT - CONTINUE READING BELOW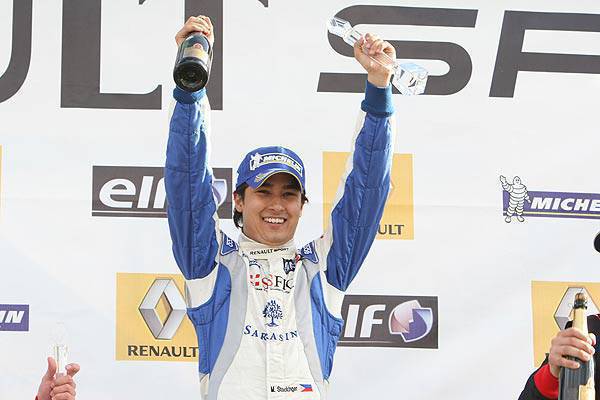 Stockinger at the Michelin Renault Formula UK 2010
On racing rituals:
"First is I always do the [sign of the] cross before I get into the car. Another is I always have to enter my car from the left side. It's weird, I feel better when I enter from the left side...And normally before the race or before any practice I like to just be by myself, alone so I can just focus on what's up ahead. I also like listening to music...Normally I listen to some rock or a bit of hip hop, something to just pump you up a bit."

ADVERTISEMENT - CONTINUE READING BELOW
On feeling "old" at 19:
"When you enter the sport, you are already surrounded by people a bit older than you simply because that's the nature of the sport...I'm not normally around people the same age as me...so I guess sometimes I feel like I'm not 19."
On his off-track ride:
"When I was in England, I had a 1.3 liter Polo, a very small car."
On driving in Manila:
"It's actually tougher here on the roads than it is on the race track. It's just people cut you off. It's a great training base. I think everyone should start driving here. We have very good Formula One prospects, especially the bus drivers."
To know more about Marlon Stockinger, log on to his website marlonstockinger.com.
Recommended Videos
Load More Stories