On the Spot: National Geographic Photo Contest Winner Yen Baet
The England-based Filipino on her blue hour photos, being her own worst critic and her wish to shoot her homeland.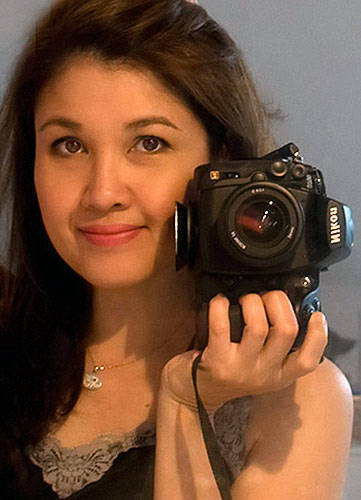 Filipino-American photographer Yen Baet. Photo courtesy of Baet.

Yen Baet has been taking photos for just about three years but she's already got something most shutterbugs aim for: a National Geographic feature. In March, the England-based Filipino-American bagged the grand prize in the National Geographic Exceptional Experiences Photo Contest, the final stretch of which was decided via online voting of US residents.

Her photo "Rainy Night in Hallstatt" won her a nine-day expedition for two in Peru. She hasn't decided if she's going to the scheduled trip in July, September or October but she's definitely eager to see and capture the sunrise in the Inca site Machu Picchu.

The photographer, who also writes feature and travel pieces, and paints as well, gravitates toward the "blue hour" or twilight, her favorite time of the day to shoot. "I like darkness and mystery, places that are winding down to the day's end, lights that pierce darkness, the feeling of calm and serenity."

Born in Ozamiz, Misamis Occidental, she graduated from the Holy Angel University in Pampanga with a degree in English. She lived in Pampanga with her family until the early 1990s, when she migrated to the US where she later became a legal resident. She is now based in Suffolk, England.

SPOT.ph chats with Baet, who's now getting more material for her portfolio and planning on publishing a book compilation of her blue-hour photos shot in Europe.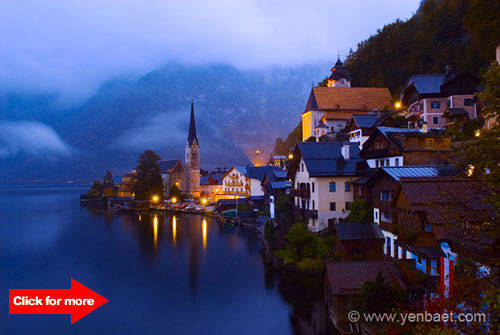 ADVERTISEMENT - CONTINUE READING BELOW
"Rainy Night in Hallstatt." Click for more blue-hour photos by Yen Baet.
What inspires and motivates you to take pictures?

Beauty, in general, inspires me. We see so many beautiful things and places in our daily lives, that mere oohs and aahs are not enough to complete the experience. Beauty needs to be captured and frozen in time so it can be shared and appreciated further.

How would you describe your style of shooting?

I don't feel that I have been in photography long enough to have a defined shooting style. Right now, it's still a big playground for me. I enjoy both traveling and photography and I'm more inclined to shoot during twilight, so I guess I can safely say that I am a travel photographer with a special interest in the blue hour.

The blue hour has such a limited time frame, and being one who's always up for a challenge, I like the idea of chasing the light. It gives me a different level of satisfaction when I come up with something under pressure.

Tell us about "Rainy Night in Hallstatt." Did you get rained on while shooting this? Why did you choose to enter this photo in the Nat Geo contest?

I probably would have picked a more poetic title for this photo had I taken it more seriously when I submitted it, but having said that, it's still an apt title albeit literal. It was raining the whole day, I was in Hallstatt-a UNESCO World Heritage site in Austria. I already knew what I wanted to shoot and I also knew I had to get my shot whatever the odds were, being that I only had a day in that town. Knowing that all hopes for the rain to stop were futile, I took the shot under the shelter of a small umbrella.

It seemed to me, at that time, the most obvious choice for a photo entry. Even though I don't really have a personal favorite among my shots, I value other people's feedback and often consider that as a basis for a good photograph. My image of Hallstatt happens to be my most popular image on Flickr so I thought to myself, "If many people liked it, then there must be something in it." Apparently, the folks at National Geographic saw "it" too.
CONTINUE READING BELOW
Recommended Videos
ADVERTISEMENT - CONTINUE READING BELOW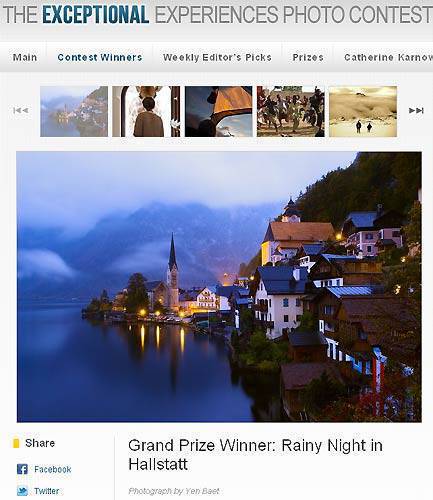 Yen Baet took home the grand prize in the National Geographic Photo Contest. Screencap from NationalGeographic.com.
What is your favorite photo of all time?

There's this quote by American photographer Imogen Cunningham that I love: "Which of my photographs is my favorite? The one I'm going to take tomorrow." I'm like most artists-I am my own worst critic and I'm never satisfied with what I have now. I'm still waiting for a favorite, for that one photo where I can say, "This is it." Although I must admit, with my "Rainy Night in Hallstatt" having just won a National Geographic photo contest, it's hard to say that it's not in the running right now.

What places or scenes in the Philippines do you dream of shooting?

I only discovered photography when I moved to Europe and I had limited time in the Philippines when I visited in December 2009, so sadly, my Philippine gallery is scant. There are so many places I want to visit and shoot that I don't know where to start. I feel like I'm a stranger in my own country, but in a way that's good, so I can come in fresh and look at it from a foreigner's perspective. Definitely, places on the list include Ilocos, Baguio, Cebu, Bohol, and wherever there are farmlands and fishing villages. I would also like to see my birthplace, Ozamis City.

As someone who frequently moves, how do you deal with homesickness? What is home to you?

Moving is always tough. There will always be people, places and habits to miss, but I don't like to look at it that way. I like to look at what good it will do to me. Not many people are given the chance to travel, and I feel fortunate to be able to do that. I always look forward to new things and new experiences. While the Philippines will always be where my roots are grounded in, home is wherever I may be at any given time. Home is not just a physical place.

You've been to 30 countries. Which ones would be in your Top 3 and why?

That's a tough question to answer so I'll narrow it down to my Top 3 countries as I see it from a photographer's point of view, and for now, that will be Italy, Japan and France. Italy is a given-there's so much history in that place that you don't even have to try too hard to capture it with a camera. Italy's colors and textures are also so rich and antiquated; it has a nostalgic appeal.

I did not own a dSLR when I lived in Japan and I wish I did. Japan's beauty lies deep in its culture; it's a combination of people and places and how everything fits together nicely with a common purpose, and that is artistic simplicity. I also picked France because it's a broad spectrum of old and new art and architecture, and a nice blend of urban sprawl and lush countryside. One day I could be out shooting city lights on a rooftop in Paris, the next day I could be down on my knees shooting vineyards or sunflowers in the South.

Having said all these, I know that I have only scratched a tiny surface of the globe, and I'm sure that my selection will change quickly as soon as I explore more of Asia and other continents.
ADVERTISEMENT - CONTINUE READING BELOW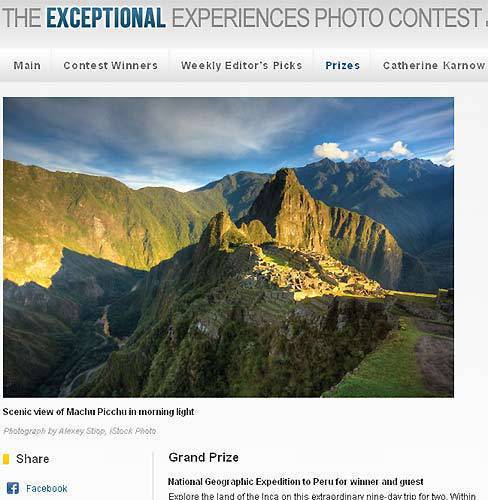 The grand prize of the National Geographic Photo Contest is a trip for two to Peru. One trip highlight is getting to "watch the sunrise over the Incan mountaintop ruins of Machu Picchu." Screencap from NationalGeographic.com.
What are five things you've crossed off your bucket list?

I have not invested a lot on my bucket list and have never really given it much thought. I know that as a young girl, I've always dreamed of Rome because of its amazing art history. After seeing The Creation of Adam at the Vatican's Sistine Chapel not too long ago, I felt that a part of me had been satiated. The Mona Lisa also has sentimental meaning to me, and in all the three times that I saw her at the Louvre, she never failed to bring me back to my childhood.

It's funny because when 2011 came, I took out a notebook and started to write a list of what I want to accomplish this year as a photographer. I knew, somewhere in the back of my mind, National Geographic had to be a goal. After all, it is in most photographers' bucket list. But before I could even set my pen down on paper, the opportunity came. What can I say? Sometimes, you just have to drop one in the bucket as you go. There are some things in life you just can't plan, that's when you have to live in the now. And when that opportunity comes, don't let it go-claim it even before it gets dropped.

If you had to choose and do just one thing-photography, painting or writing-what would you choose and why?

I have not painted in a long time, so it will be between photography and writing. I am not a very vocal person, so writing comes to me almost like an alter ego. It's the only way I can fully express my thoughts without inhibitions. While writing is an extension of my mind, photography is an extension of my eye. Photography is also more visceral and provides instant gratification.
ADVERTISEMENT - CONTINUE READING BELOW
If there's one common bond between writing and photography that I've discovered, it's that they're both selfless. Writers and photographers can't just keep their writings or photographs to themselves, otherwise it's pointless. Whichever can reach that one person and hit that special nerve, and have him or her tell me that I am an inspiration, is what I would continue doing. For now, that seems to be photography.

What tips can you give to aspiring photographers and people who like taking pictures?

Never be satisfied. Never settle for the one that's already in your camera. Remember what another great photographer, Henri Cartier-Bresson, once said, "Your first 10,000 photographs are your worst." Double or triple that now in the digital age. As they say, pixels are free; take as many photos as you want. Shoot like there's no tomorrow. A photograph never takes itself; you're responsible for that. And only show your best ones.
Share this story with your friends!
---
Help us make Spot.ph better!
Take the short survey
Load More Stories